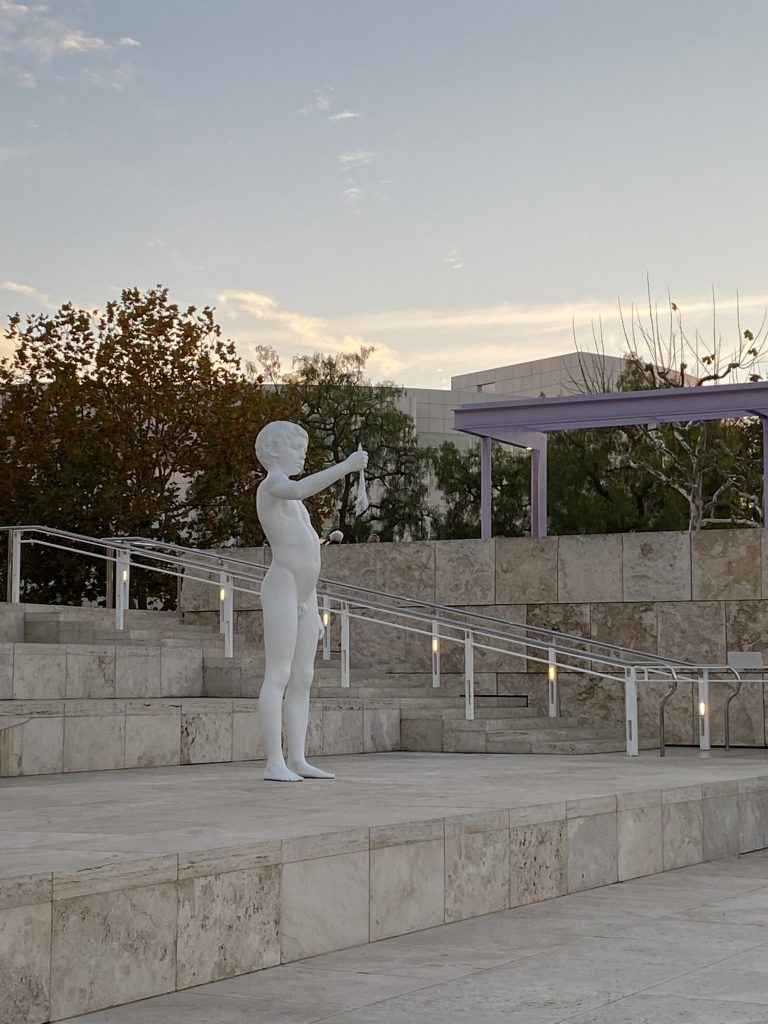 The J. Paul Getty Museum announced today that a work by the acclaimed contemporary American sculptor Charles Ray has been loaned to the Museum and will be placed on view beginning July 26, 2011 at the Getty Center, on the steps leading into the Museum's main entrance. It will be on view until January 2012.
Report by Pauline Adamek
An ephemeral sculpture, Boy with Frog, is an impressive, 8-foot-tall figure of a boy holding a frog and projects a sense of power and youthful inquisitiveness. This sculpture, reminiscent of the bronze David by Donatello, is full of pride and satisfaction, and the boy seems to take a malicious delight in having captured the frog. The larger-than-life adolescent figure, painted white, is a 2008 fiberglass pattern that until recently has been a popular outdoor installation at Francois Pinault's Punta della Dogana museum in Venice, Italy (as pictured). Last month Ray completed a final version of Boy with Frog that is identical to the one on view at the Getty Center but made of stainless steel and painted white.
The installation of the sculpture at the Getty was championed by James Wood, the former President and CEO of the J. Paul Getty Trust, who died unexpectedly a little more than a year ago. During his tenure as director of the Art Institute of Chicago, Wood became friends with Ray. The two of them often hiked together on the hillside behind the Getty Center. In the spring of 2010, Wood asked Ray if he would be interested in displaying the sculpture at the Getty when it returned from Italy. Ray enthusiastically embraced the idea.
Boy with Frog continues a series of temporary installations at the Getty Museum in recent years that have focused on contemporary art and its relationship to the Museum's mission. While Ray's sculpture developed out of a modernist sensibility, it also resonates with the Classical, Renaissance and Baroque images that are integral to the Museum's permanent collection.
Boy with Frog has been compared to Donatello's bronze David holding the head of Goliath, a famous Renaissance sculpture of a youthful male nude, dated to about 1440, which is in the Bargello museum in Florence. It also calls to mind the Apollo Sauroktonos, an ancient Roman sculpture at the Musee du Louvre in Paris of a nude adolescent reaching out his arm to catch a lizard climbing a tree; and, the Spinario, a bronze statue at the Palazzo dei Conservatori, Musei Capitolini, of a seated Roman boy plucking a thorn from the sole of his foot.
"We feel this piece works beautifully at the Getty. It was something that we wanted to do when Jim was alive, and now, sadly, with his death, it has become something that has a more poignant significance for us," explains Antonia Bostrum, the Senior Curator of Sculpture and Decorative Arts at the Getty Museum, who is overseeing the project. "The whole project has become a memorial as the installation falls a little over a year after Jim died."

Ray said that Wood often visited his airy Venice, California, studio while the Boy with Frog model was being constructed and prepared for its journey to Venice, Italy. "He understood the spirit of the sculpture," Ray said. "I'm really happy it is going to be up at the Getty because it's nice to show it in the city where it was made."
Boy with Frog will share the Museum steps with Aristide Maillol's Air, one of more than two dozen modern and contemporary outdoor sculptures donated to the museum by the late film producer Ray Stark and his wife, Fran. It will be on view until January 2012.
About Charles Ray
Born in Chicago in 1953, Charles Ray lives and works in Los Angeles. Ray studied at University of Iowa (B.F.A. 1975) and Mason Gross School of Art, Rutgers University (M.F.A. 1979). He had a major exhibition at the Museum of Contemporary Art, Los Angeles, and his works have been widely shown at major museums and exhibitions including the Whitney Museum of American Art, the Whitney Biennial, the Hirshhorn Museum and Sculpture Garden in Washington D.C., the Venice Biennale and Documenta, an exhibition of modern and contemporary art in Germany.
A foremost contemporary American sculptor, Ray is known for his arresting and often poignant images of refashioned commonplace objects that challenge a viewer's perceptions and judgments.
The artist's meticulously constructed sculptures are made from diverse materials that range from wood, clay, fiberglass, steel, glass and everyday clothing. He has often used his own body as a subject for his creations, as in his life-sized self-portrait.
Ray's installations have been acquired by major institutions, such as the Art Institute of Chicago's acquisition of Hinoki. Ray's critically acclaimed Firetruck, a full-size aluminum, fiberglass and Plexiglas installation, has been exhibited at the Whitney Museum of American Art. The giant replica of a red toy firetruck was also exhibited outside the Los Angeles County Museum of Art in 2008.
***
J. Paul Getty Museum, Getty Center
1200 Getty Center Drive, Los Angeles, California.
The J. Paul Getty Trust is an international cultural and philanthropic institution devoted to the visual arts that includes the J. Paul Getty Museum, the Getty Research Institute, the Getty Conservation Institute, and the Getty Foundation. The J. Paul Getty Trust and Getty programs serve a varied audience from two locations: the Getty Center in Los Angeles and the Getty Villa in Malibu.

Visiting the Getty Center

The Getty Center is open Tuesday through Friday and Sunday from 10 a.m. to 5:30 p.m., and Saturday from 10 a.m. to 9 p.m. It is closed Monday and major holidays. Admission to the Getty Center is always free. Parking is $15 per car, and $10 after 5pm on Saturdays and for evening events throughout the week. No reservation is required for parking or general admission. Reservations are required for event seating and groups of 15 or more. Please call 310-440-7300 (English or Spanish) for reservations and information. The TTY line for callers who are deaf or hearing impaired is 310-440-7305. The Getty Center is at 1200 Getty Center Drive, Los Angeles, California.