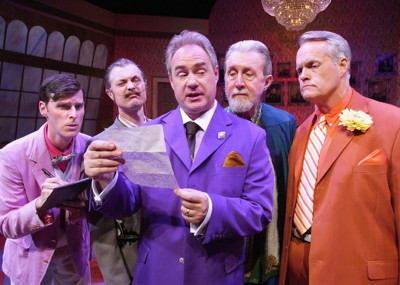 Russian dramatist Nikolai Gogol's satire about political corruption and mistaken identities, The Government Inspector, is a timeless comedy classic. Re-envisioned as a biting, tragic farce, this world premiere adaptation with original 'Disney-style' songs is written by Oded Gross and now playing at The Theatre @ Boston Court in a co-production with Furious Theatre Company. The screwball play benefits from some updating and contemporary references, but fails to soar as high as expected.
A fat cat mayor of a small town in Tzarist Russia (John Billingsley) and his corrupt and self-serving cronies are shaking in their shoes when they hear of the imminent arrival of an important government inspector who is sure to expose their crooked ways. When they mistake a penniless cad of a clerk (Adam Haas Hunter) for the government official, it leads to comedy chaos, recrimination and retribution.
With its non sequiturs, inane word association and gags, Gogol's play is crammed with madcap nonsense, operating with a crazy logic that is reminiscent of a Marx Brothers movie. The device of breaking the fourth wall is occasionally used, but not in any consistent fashion. Unfortunately there are few big laughs to be had; mostly giggles and mild amusement.
The main issue seems to be the uneven acting styles from the energetic cast of ten that somehow drains a lot of the humor out of the wacky situations. Director Stefan Novinksi permits some members of his cast to play their parts as broadly as possible, while others opt for a more muted comedic approach. Billingsley as the Mayor, in particular, is fond of punching and kicking the air or stamping his foot for clowny comedic punctuation while his wife, played quite well by Shannon Holt, has a tendency for mugging and exaggerated expression. Hunter is good as the imposter who gleefully encourages the undeserved largesse from this daffy bunch, while his servant (played well by Eileen T'Kaye) does a good rendition of the stoic and downtrodden worker who is quick with the sassy asides. Joe Fria is very good as the dim-witted and inept Minister for Communications, one of the Mayor's daffy and easily distracted cabinet.
It's mostly fun and frothy – just not a truly great production – although the set, designed by Donna Marquet, and the sometimes exaggerated costumes, by Tina Haatainen-Jones, are excellent. The art works executed by Christopher Komuro (hanging on the upstage wall) also add to the amusement.
Photos by Ed Krieger.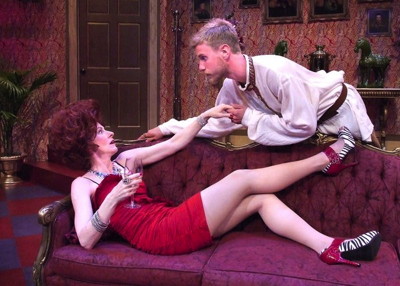 The Government Inspector
The Theatre @ Boston Court
70 North Mentor Avenue,
Pasadena, CA
Performances:

Thursdays through Saturdays at 8 p.m. and Sundays at 2 p.m. through August 26.
Running time:
Approximately 2 hours and 10 minutes, including a 15 minute intermission.
Box Office:
Tickets can be purchased online here or by calling (626) 683-6883.