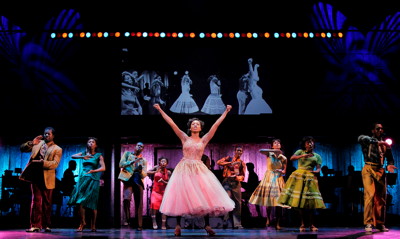 Kicking off with a frenetic pace that never lets up, Memphis is a high energy, original musical about the explosion of black musical artists into the mainstream during the late 1950s.
The winner of Four 2010 Tony Awards® including Best Musical, and composed by David Bryan (music and lyrics) and Joe DiPietro (lyrics and book), the plot loosely follows the saga of a Memphis radio personality Dewey Phillips, who was one of the first white DJs to play black records during the 1950s. The musical style of the numerous songs ranges from classic (early) rock, through gospel and rhythm and blues tunes.
Set during the last decades of segregation in the deep south, the musical begins with Huey Calhoun (Bryan Fenkart), a white fellow who dares to venture into Delray's, an underground rock 'n' roll bar in a black neighborhood in 1950's Memphis. Equal parts annoyingly persistent and goofily charming, Huey manages to convince the hostile regulars to let him stay and listen to the music. We follow Huey's enthusiastic career trajectory as he finds opportunities to play black records and ignite the enthusiasm of music-hungry teenagers. Before long Huey is doing what he loves – playing 'race music' on a chart-topping (white) radio show. He tentatively forges a forbidden romance with a talented singer Felicia (Felicia Boswell), promising to make her a recording star. But his own talent for self-sabotage threatens their future happiness.
While the characters never rise above hastily sketched caricatures and clichés, this race-relations storyline is mostly a cheesy, feel-good romance although there are flashes of the terror of those times, such as the unchecked (condoned) violence by white supremacists against blacks for perceived violations. The central character of Huey is goofy and fun but also corny and unlikeable, particularly during his numerous episodes when his flair for unconventional behavior turns destructive and dangerous.
Tissue-light songs are fun and upbeat, but neither hooky nor memorable; act one tunes have dissolved by intermission. The first really good song occurs early on – the suggestive "Scratch that itch" – and proves a highlight thanks to the acrobatic dance moves, with dancers literally bouncing off the floor and counter-tops. (Choreography is by Sergio Trujillo.)
Unfortunately there is a histrionic pitch to the performances from the large and talented cast who really need to ramp their energy down and settle into a rhythm.
Felicia Boswell as our endearing heroine Felicia has a knockout vocal range and style, bringing the house down time and again with her killer singing voice. All the key secondary characters surprise us with their own songs.
All in all, Memphis is a lively and entertaining musical, but not a memorable one.
Production photos by Paul Kolnik.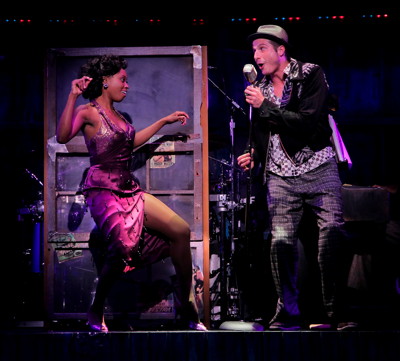 Memphis
Pantages Theatre
6233 Hollywood Boulevard,
Hollywood CA
(just east of Vine Street)
Performances:
Runs for limited 2-week engagement, July 31 – August 12, 2012. 
Running time:
Approximately 2 & ½ hours, including a 20-minute intermission.
TICKETS:
$31.00—140.00
Box Office:
Purchase tickets here or by phone at 1-800-982-2787.