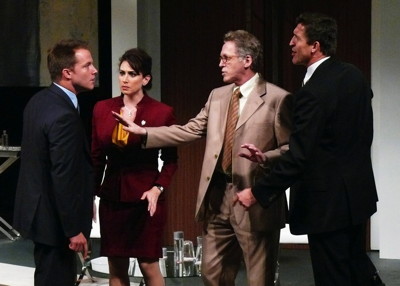 I've been struggling to find a tasteful way to describe Jordi Galcerán Ferrer's fine play that is currently running at the Falcon Theatre in Toluca Lake, but I can't seem to come up with a better term than 'mind-fuck.'
Nicely translated by Anne Garcia-Romero and Mark St. Germain, Catalanian playwright Ferrer's work unfolds like a nightmarish job interview that becomes increasingly disturbing.
The story tells of four people (played by Jonathan Cake, Stephen Spinella, Graham Hamilton and Lesli Margherita) that have been selected from several applicants for one final round of interviews to determine who will get an enviable, executive position for a mysterious corporation. Each of the four shows up for the final interview, dismayed to learn it is a group interview. Before long, each applicant is pitted against the other in increasingly absurd scenarios as the stakes get higher.
The similarities between this play and Harold Pinter's The Dumb Waiter are inescapable. In both, slightly surreal, plays, the characters receive written instructions via a device. Here, the applicants learn they must undergo a series of psychological tests – known as the 'Grönholm Method' – before each is eliminated from the running.
In Ferrer's sinister play, there is a lot of second-guessing on behalf of the applicants as to who might be the company stooge. There are numerous plots twists and unexpected revelations, hence the whole 'mind-fuck' aspect of this engaging and clever play, which had this critic squirming throughout.
Performances from the cast of four are great, as directed by BT McNicholl.
Catch The Grönholm Method before it closes!
Photos by Chelsea Sutton.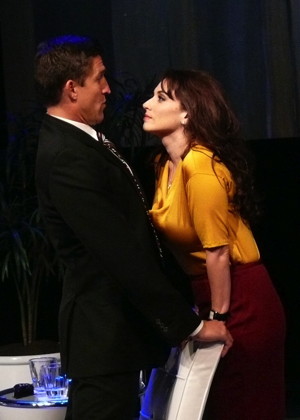 The Grönholm Method
Now playing Tue. – Fri. at 8pm, Sat. at 2pm & 8pm, Sun. at 4pm & 7pm
Continues through Sunday, September 30, 2012 .
4252 Riverside Drive,
Toluca Lake
818-955-8101
Tickets can be purchased online here.