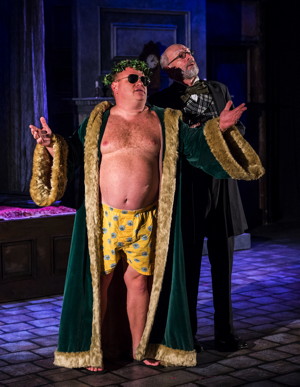 'Tis the season for Christmas-themed shows and every year there are numerous versions of "A Christmas Carol." One show – Zombie Joe's Underground Theatre's A Down and Dirty Christmas – gives it a sexy lesbian theme and makes it fun.
Now playing at the Center Theatre Group's Kirk Douglas Theatre is a barely above-average sketch comedy show based on the ghostly old Holiday chestnut by Charles Dickens. Written by Second City alums, Peter Gwinn and Bobby Mort, The Second City's "A Christmas Carol: Twist Your Dickens!" runs through December 30, 2012.
At least it's not a tired old rendition of the classic tale… The comedians do their best to mix it up, ostensibly setting the story in its original Victorian period, but playing around with the storyline and adding modern touches here and there as well as inserting new dialogue and numerous comedy sketches throughout. But while there are some laughs to be had, this approach is hit and miss.
Directed by Marc Warzecha, the cast features alums from Second City – the renowned sketch comedy troupe – such as Frank Caeti, Larry Joe Campbell, Dan Castellaneta (voice of Homer Simpson etc), Amanda Blake Davis, Brian Stepanek, Jean Villepique and Ron West.
Additionally, that the cast also features an ever-changing special cameo performance (which means a different person will appear every night at the beginning of Act Two) barely rates a mention. On opening night it was Tom Everett Scott and all he did was read a little bit at the top of Act Two and plug his holiday movie, Parental Guidance.
Lame.
Basically we have a show that starts off as the Dickens' classic, but with various anachronisms, such as a blue tooth earphone prominently placed in Bob Cratchit's ear. (Brian Stepanek). Pretty soon an audience member calls out to protest, and is told off in no uncertain terms by cranky old Scrooge (Ron West).
Then the sketches kick in. The first, overlong sketch, in which a woman who seems dismayed that her husband has given her a valuable antique ring instead of a cheap one from Kaye's Jewelers, falls completely flat. Throughout the show there are a handful of filler sketches in front of the house curtain (while they change some scenery), including an amusing one of a TV ad where barristers Chuzzlewit and Pumblechook (famous Dickens characters) urge us to call them for representation.
The whole show is sprinkled with political satire and pop culture references, including a scene with the beloved characters from the comic strip Peanuts and references to famous orphans such as Harry Potter, Annie and Batman.
In fact, there are more comedy bits than storyline, which I suppose is to be expected from this troupe. The Second City's hybrid of satire mixed with a beloved Christmas tale results in a two-hour evening of slightly above average sketch comedy.
Photos by Craig Schwartz.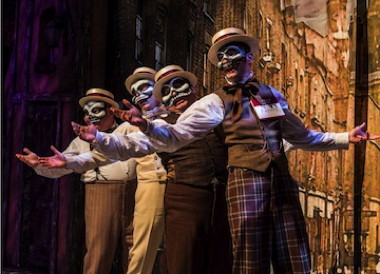 The Second City's "A Christmas Carol: Twist Your Dickens!"
Kirk Douglas Theatre
9820 Washington Blvd.,
Culver City
Performances:
Tues.-Fri., 8 p.m.;
Sat., 6 & 9:30 p.m.;
Sun., 3 & 6:30 p.m.
Runs through December 30, 2012
Tickets and more info here.
Box Office – (213) 628-2772