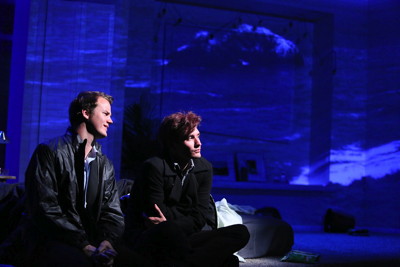 Dealing with the emotional highs and lows of adolescence is tough enough, but in Daniel Talbott's coming-of-age drama, Slipping, the lead character Eli also has to contend with the sudden death of his father, grapple with his sense of self-worth within an abusive sexual relationship and cope with starting at a new school.
Rocked by the loss of his father, Eli, a high school senior (played well by Seth Numrich – currently replaced by Wyatt Fenner), and his English professor mom Jan (played by Wendy vanden Heuvel) relocate from San Francisco to start a new life in Midwestern Iowa. Talbott's drama explores the complications of young love and the angst that most teenagers experience as they come of age.
By employing brief scenes that switch time and location, plus a choppy pace, Talbott makes it difficult for us to get to know and empathize with his characters and their journey. Snippets from a random collection of grungy pop songs blast out intrusively in-between the short scenes, serving more to illustrate a teenager's fleeting interest than musically commenting on or propelling the drama. Talbott further alienates his audience by blinding us from time to time with bright lights, suggesting the headlights of an oncoming car.
It's an effective combination of distancing effects designed to put us in the headspace of his confused and troubled central character Eli, a kid who flinches whenever his Mom attempts an affectionate gesture. The nervy monologues are problematic – it's unclear who is being addressed.
Numrich, who originated the role of Eli off-Broadway almost five years previously, brings an endearing, Johnny Depp-like fragility to his performance. Under Talbott's direction, Numrich captures and authentically conveys adolescent confusion. Also well captured is the self-loathing that spawns abusive behavior, as seen in the actions of the supporting characters.
Slipping is written and directed by Daniel Talbott.
Produced by David Van Asselt, Wendy vanden Heuvel and Addie Johnson.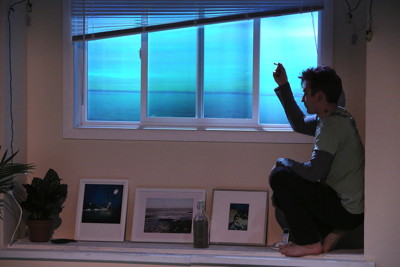 Slipping
Rattlestick Playwrights Theater
Elephant Stages' Lillian Theater
1076 Lillian Way,
Los Angeles, CA 90038.
Performances: Thur-Sat 8 pm, Sun 3 & 7 pm.
Runs through Sunday, May 5, 2013
Tickets: $34.00
323-962-0046