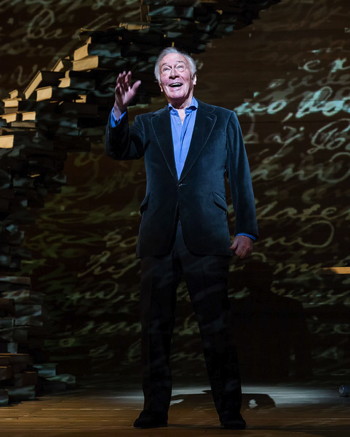 An exuberant celebration of language is the most apt description for actor Christopher Plummer's self-created one-man show. A Word or Two is playing through February 9, 2014 at the Ahmanson Theatre, downtown LA.
Early on in the show, Plummer selects a book from a heap and begins to read from a lectern. But this is no ordinary stack of books—the stage is dominated by a massive and elegant sculpture made from a twisting pile of books, piled on top of each other in a stack that curves upwards to resemble a spiral staircase and magically suspended in mid air. The whimsical and slightly surreal scenic design is beautifully realized by Robert Brill.
Christopher Plummer is perhaps best known for his role as the autocratic widower von Trapp in The Sound of Music, with notable film performances in The Return of the Pink Panther, Star Trek VI: The Undiscovered Country, The Man Who Would Be King, and The Insider. Plummer's career spans seven decades and includes substantial roles in each of the dramatic arts, meaning on stage, on TV and on film. Now 84, the distinguished actor observes in this latter part of his life that he harbors a little trepidation for what lies beyond.
But A Word or Two is so much more than 'an evening with a famous actor, reminiscing in his twilight years.' Throughout the well-modulated one-act show, Plummer lightly sketches his upbringing in Quebec, touches on a few of his famous roles (Hamlet) but above all quotes lines and snatches of poetry that have enchanted him; he, in turn, enchants us.
He recalls how he first became "hooked on words" when, as a child, he encountered the famous works of Lewis Carroll, describing how he fell in love with the "intoxication of music and color." An only child – "a monster" – he was often left on his own and escaped into the world of books and his own vivid imagination.
Written, arranged and performed by Plummer, (and directed by Des McAnuff) the text features some droll turns of phrase, limericks, some seemingly spontaneous spouting of poetry, assorted musings, a few pop culture gags inserted here and there and various witty epigrams, such as "A gentleman is a fellow who can play the bagpipes—but doesn't!" [A version of this line is attributed to the English playwright Noel Coward.]
Throughout the show Plummer adopts the manner of a bemused raconteur, quoting Kipling, Milne, Shaw, Keats, 'Kit' Marlowe, Dylan Thomas and others. A highlight is an exquisitely pure love poem by Modernist American poet and writer Archibald MacLeish that is a tribute to his wife, entitled Poem In Prose.
This poem is for my wife.
I have made it plainly and honestly:
The mark is on it
Like the burl on the knife.

I have not made it for praise.
She has no more need for praise
Than summer has
Or the bright days.

In all that becomes a woman
Her words and her ways are beautiful:
Love's lovely duty,
the well-swept room.

Wherever she is there is sun
And time and a sweet air:
Peace is there,
Work done.

There are always curtains and flowers
And candles and baked bread
And a cloth spread
And a clean house.

Her voice when she sings is a voice
At dawn by a freshening spring
Where the wave leaps in the wind
And rejoices.

Wherever she is it is now.
It is here where the apples are:
Here in the stars,
In the quick hour.

The greatest and richest good,
My own life to live in,
This she has given me —

If giver could.

Poem In Prose by Archibald MacLeish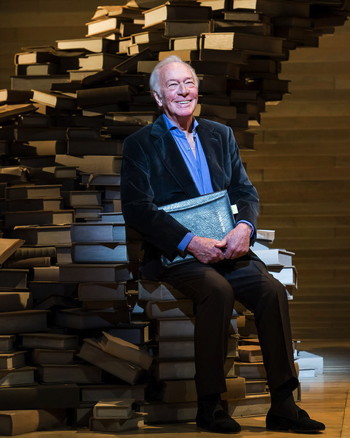 A Word or Two by Christopher Plummer
Presented in association with the Stratford Festival of Canada.
Ahmanson Theatre
135 N. Grand Avenue
Downtown L.A. 90012.
Runs through February 9, 2014
Performance Days and Times:
Tuesday through Thursday at 8 p.m.
Saturday and Sunday at 3 p.m.
EXCEPTIONS: Sunday, February 2 performance is at 1 p.m.
Ticket Prices:
$20 – $90 (Ticket prices are subject to change.)
Tickets are available:
By calling Center Theatre Group Audience Services at 213.972.4400
In person at the Center Theatre Group box office at the Music Center
Call 213.972.723 for Group Sales.
For tickets and information, please visit CenterTheatreGroup.org or call (213) 972-4400.