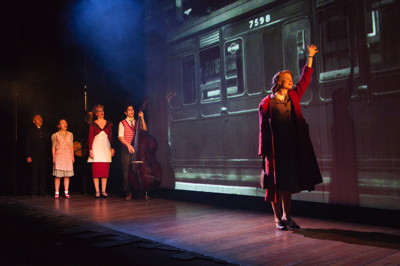 Noël Coward's 1936 one-act play Still Life was expanded into a feature-length film, directed in 1945 by David Lean and scripted by Coward.
The play depicts the love affair of Alec and Laura across a twelve-month period. The melancholy nature of Alec and Laura's serious and secretive affair is contrasted throughout with the boisterous, uncomplicated relationship of Myrtle and Albert, two of the train station's staff.
Now UK's Kneehigh Theatre has brought their version to the Wallis, adapted and beautifully directed by Emma Rice. In this lively staging (which essentially is a mixture of the film and the short stage play) the basic plot line remains yet it is spun into a frothy confection of bittersweet romance enhanced by lush cinematic projected visuals, puppetry, live music, song and dance interludes and mild comedic flourishes. This is the all inclusive and highly creative 'storytime' approach to theater we are seeing in such plays as Peter and the Starcatcher, The 39 Steps and Stoneface (gaining a remount at the Pasadena Playhouse this November).
While waiting for her train, a woman Laura (Hannah Yelland) meets an amiable fellow Alec (Jim Sturgeon). Both are middle class and married with two children. The pair strike up a friendship and pretty soon they are agreeing to rendezvous every Thursday (which is the day of Laura's weekly jaunt to town). Over the course of these "stolen afternoons" their friendship soon blossoms into an illicit, though highly restrained, romance. Although it appears never to be consummated, Laura is nevertheless wracked with angst about her emotional transgressions. Nor do either seem willing to jettison their respective marriages and parental responsibilities… Meanwhile, the working class staff at their primary meeting spot—the refreshment room of "Milford Junction" railway station—observe their goings on, joke, dance and sing and enjoy uncomplicated liaisons.
While it's all a bit cute and "twee," Brief Encounter is a highly entertaining show that celebrates the magic of theater by incorporating as many delightful elements as the 90 minute one-acter can bear. The cast impress us with their range of talents, at times plucking out a melody on a ukelele, piano and cello and so on. The notion of the lovers being swept away is occasionally—though somewhat obviously—referenced by crashing waves on the large projection screen upstage.
Above all there is a playful tone to the music and movement that underscores the central doomed romance.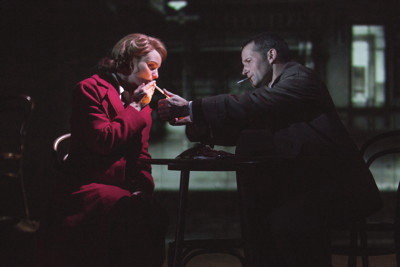 Brief Encounter by Noël Coward.
Bram Goldsmith Theater at the Wallis Annenberg Center for the Performing Arts
9390 N. Santa Monica Blvd.,
Beverly Hills
Performances:
8 p.m. Tuesdays-Fridays, 3 and 8 p.m. Saturdays, 2 and 7 p.m. Sundays.
Runs through March 23, 2014.
Tickets: $59.00—$129.00
Box Office: (310) 746-4000 or online.
Running time: approximately 1 hour, 35 minutes—no intermission.