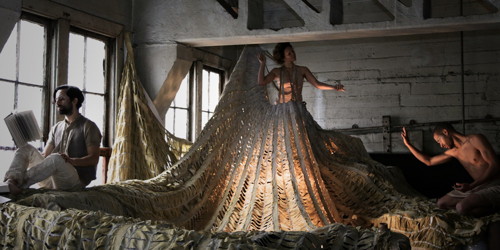 Four Larks' gorgeous production of Orpheus made its premier last night in Downtown Los Angeles.
Previously developed and presented at the J. Paul Getty Museum's Getty Villa as part of their Theater Lab Series (March 2014), the workshopped production then moved to a Downtown warehouse, where audiences had to traverse a fabric maze before they entered the performance space. What greeted us upon entry was an upper floor magically transformed by tree branches festooned with small round opaque light globes, dimly lit. Old suitcases, books and assorted but well-selected junk littered the sand covered stage. Live musicians were seated on boxes upstage right.
What followed was a dreamy, 70-minute one act expressionistic interpretation of the classical Greek myth of Orpheus and his forlorn yet bold descent into the underworld to retrieve his beloved Eurydice, snatched away from him on their wedding day by a viper's fatal bite.
Throughout, the beige-clad and slight grubby (!) performers move, sway, declaim, sing and either perform percussion or play musical instruments—all in a deftly choreographed and pleasingly natural fashion, like the ebb and flow of a gentle tide. The gorgeous harmonies contained within this operatic tone poem are heartrendingly pure and the delicately plucked melodies are pretty. Harp substitutes for Orpheus' famous lyre that, legend has it, could make the nymphs and gods and very stones of Hades weep.
The company infuses the melancholy tale with occasional flashes of humor and whimsy while preserving its solemnity. The transition as Orpheus approaches the banks of the River Styx to attempt a crossing was especially beautiful. While some of the lyrics seemed a bit obvious "You're not supposed to be here!" others were muddy and indistinct. So a familiarity with the myth is helpful though not essential.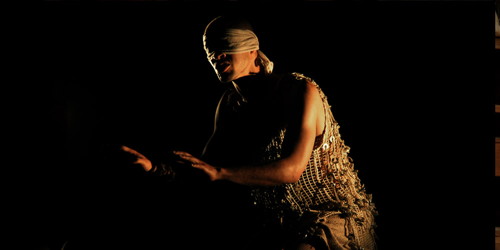 Four Larks' production of Orpheus
Premieres at a secret location in downtown Los Angeles from March 25—April 6, 2014.
Address revealed upon purchase.
Tickets are approx $28.00, including service fee ($22 for students) and can be purchased here.
Performances:
TONIGHT—through Sunday, March 30, 2014
Also Tuesday April 1st 'till Sunday April 6th.
All perfs commence at 8.30PM — no late admission.
O R P H E U S
Four Larks' Orpheus is an immersive theatre event staged in a secret location in downtown Los Angeles. A dozen performer-musicians will lead you through a mythic maze and across an electric desert, in this physically-charged lyrical tone poem. This unforgettable performance experience will run for a limited season in an intimate space.
Four Larks' wildly inventive orchestration fuses ancient traditions and modern avant-pop with an acoustic soundscape created by folk and classical instruments, found objects, and otherwordly vocals. This exuberant and eclectic ensemble of actor-musicians brings together some of Melbourne and Los Angeles' most exciting new voices.

About ORPHEUS:
The Orphic katabasis resonates across cultures and centuries, inspiring poets, painters, and musicians with the potential for art to shift the course of history. This bold new adaptation weaves electrifying visual and physical theater with a hypnotizing live score.

Orpheus follows the golden-voiced hero on his journey through the underworld to rescue his lost love, Eurydice. He sings his way across the River Styx, past the three-headed hellhound, and into the House of the Dead. As he descends into the heart of Hades, Orpheus dares to defy the fates, convincing Persephone to return Eurydice. But will he be forced to accept her mortality once they reach the light of day?

Melbourne-based performance troupe Four Larks creates a "thrilling theatrical bricolage" leaping from Ovid to Virgil, with a melody from Monteverdi and a rhyme from Rilke, to resurrect this myth embedded in our cultural memory.

About FOUR LARKS:
Four Larks is a trio of American and Australian performance makers. Mat Diafos Sweeney, Jesse Rasmussen and Sebastian Peters-Lazaro met in Los Angeles in 2006, and have created immersive 'junkyard operas' in and around Melbourne and San Francisco. They work collaboratively to create visually spectacular theater with a musical backbone, devised from found objects and adapted texts.  Four Larks has collected awards and acclaim on both sides of the Pacific.