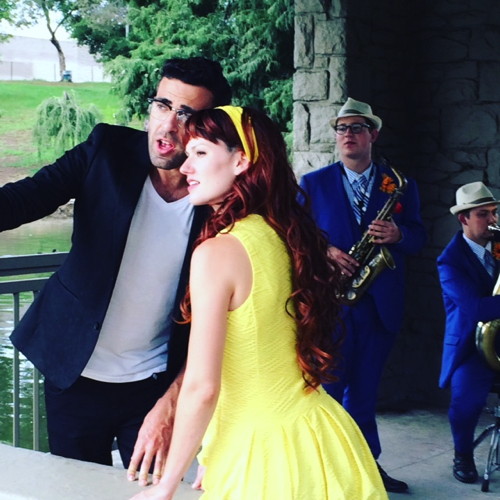 Bold, ambitious and complex. A mobile opera for passengers in 24 limousines, where you sit opposite or next to the performers in transit. Hopscotch takes mini posses of audience members on a musical tour of East L.A., offering a creative opera experience that becomes a journey with an elusive narrative and no clear destination.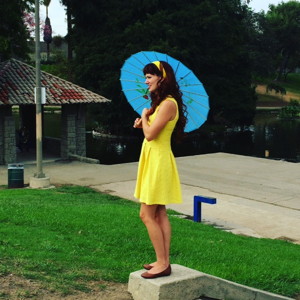 Firstly, this adventure is strictly for the able bodied. You have to clamber in and out of a limousine every ten or so minutes, as you and your group move from one car to a new location (such as a park or a plaza) to an different car to climb stairs to yet another location (such as a roof top), and so on. It's a magical mystery ride, accompanied by an astonishing range of musicality, from modern opera to French horns and violin to piano accordion to Spanish guitars to sweet harp accompaniment.
Secondly, this adventure is also for the agile minded. You also have to negotiate the detailed instructions: Meet at a specified location by a specified time. As there are no bathroom facilities, you need to factor in a pit stop in before you get there. Because you end up at a different place to where you began, you might have to use the Luxe valet service to have them move your car, so that requires downloading an app to your phone and communicating with that independent organization. It's all very complicated but not impossible.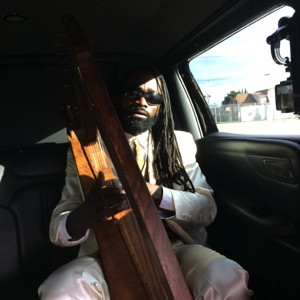 Hopscotch is the latest project from The Industry, a Los Angeles-based experimental opera company lead by director Yuval Sharon. Under Sharon's inventive direction, the company is redefining the nature of the operatic art form, both for the artists and the audience.
The work is the result of a collaboration between six composers and six writers. There are 128 performers, 56 musicians, 42 singers, 24 actors, 6 dancers plus countless drivers, stage managers and technicians behind the scenes, coordinating it all to happen seamlessly. Which it does. Brilliantly.
What you experience is actually a large fragment of a whole. The opera's narrative is broken into 36 ten-minute segments, and there are three separate journeys happening concurrently, so you are never going to see the story in its entirety. Well, you can purchase a ticket to The Hub, which is the final destination for all the cars and their passengers. The show concludes with everyone converging at that place, and there are 24 video screens that have been displaying the live action in real time, so you conceivably could watch the who show there, if you have a spare six hours…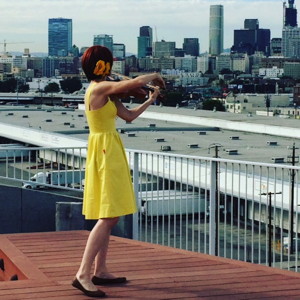 For each performance, the audience is split into three main groups, each traveling on a different route. (Mine was the Red Route.) Everyone has a different pick up point, where they embark upon a journey that crisscrosses with others on the same route. In fact, you might step into a limo just after four others step out.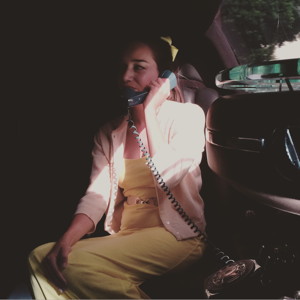 So, what you experience is eight chapters from a 36-chapter story, consisting of a 90-minute experience. It's a series of fragments — songs with unclear purpose, character encounters with vague connections… The diverse music is gorgeous but the lyrics are muddy. This is very much an experience of being present, focusing on what is happening right in front of you, rather than trying to piece it together or make sense of it. You have to go with the flow.
All the limousines are different, too, which is nice. One has Maria Elena Altany as Lucha, a forlorn woman (almost all of the women wear a sunny yellow dress) singing into a rotary phone about her lost ring. Later we see a young girl celebrating her Quinceañera (young Lucha, played by Angel Ng or Natasha Sanchez) swathed in tulle clutching a ring on a chain around her neck. The most remarkable musical performance was from Phillip King, a fellow stylishly clothed in a cream-colored three piece suit, delicately plucking his diminutive harp while beat boxing and scat singing. Impressive! One limousine had blacked out windows and piped music, lit only by two concertina paper lantern "books," softly glowing red and offering a contemplative respite.
Hopscotch truly is an adventure. See this show if you can!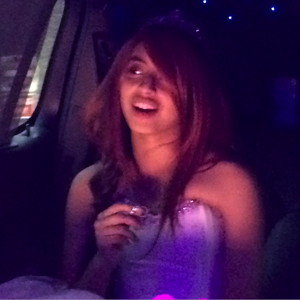 Approximately 90-minutes duration.
Limited run:  October 31 — November 15, 2015
More information and tickets can be found here.

Technical information:

Sennheiser MOMENTUM, AVX, guidePORT and 2000 Series wireless systems help shape artistic perspectives in Hopscotch, the world's first opera for cars.

The opera, which consists of 36 chapters or 'scenes', sees performances of over 100 singers, actors and dancers both inside outside the vehicles, all spread across the city of Los Angeles and connected to each other and audience members using Sennheiser audio technology.

Four core audio technology elements from Sennheiser have made Hopscotch possible: these include its MOMENTUM headphones and its guidePORT wireless audio guide system; Sennheiser's AVX digital wireless microphone systems and its 2000 series wireless microphones and wireless monitoring systems, in addition to dozens of headset and lavalier microphones.

All of the wireless audio for the production is being transmitted to and from any of the 24 limousines, which are each provisioned with either camera microphone systems in the interior and/or professional rackmount wireless systems hidden in the trunk. Additionally, in one scene, there are three rooftops, which transmit and receive audio up to a quarter mile away from one another.

At the Central Hub — an interactive pop-up technology sculpture located in the parking lot of Southern California Institute of Architecture in downtown Los Angeles (SCI-Arc) — audience members are able to 'dial in' via Sennheiser's guidePORT system and MOMENTUM 2 headphones and listen to any of 24 giant monitors for the duration of the opera, each transmitting audio and video from a different limousine scene in real-time. The live-stream of the performances creates a dizzying panorama of life in Los Angeles, allowing each audience member in the Hub to experience the work their own way, sharing a personal slice of the huge shared journey.
Hopscotch would not have been possible without Sennheiser's masterful audio and wireless expertise.  Here are the fundamental tech components that made it fly:
Sennheiser AVX systems and hidden microphones in the limo interiors
The A/V 'star' of Hopscotch is Sennheiser's new AVX digital wireless microphone system, which discreetly captures ambient audio in (10) different limousines and sends this back to the Central Hub. Typically, lavalier microphones are 'planted' in the limousine's ceiling, under a table, or beside a seat and plugged into an AVX wireless belt pack transmitter. This transmitter then sends the signal to a nearby receiver, which is plugged into a Samsung S5 smartphone / camera. The smartphone then sends the A/V signal, including the Sennheiser digital wireless audio, to the Central Hub via carrier signal using the Livestream broadcast application.
Sennheiser 2000 and G3 Series wireless equipment in the trunks and on rooftops
Three of the limousines (one for each route) feature Sennheiser 2000 series multi-channel rack units, consisting of six channels of EM 2050 receivers and four channels of SR 2050 IEM wireless transmitters for in-ear monitoring. On the three limos with the 2000 Series wireless system in the trunks, Sennheiser A 1031 U passive, omni-directional antennas are mounted to the roof of the limos to facilitate transmitting audio to and from the vehicle to performers and production staff.
Sennheiser guidePORT and MOMENTUM headphones at the Central Hub
Once the AVX audio is received at the Central Hub, it is fed into an HDMI matrix, which routes each of the 24 A/V signals to the appropriate large screen television monitor. The audio output of each monitor is then fed into the Sennheiser guidePORT system, which then broadcasts each respective audio signal to one of 24 channels. Audience members at the Central Hub are supplied with a guidePORT receiver with a keypad, on which they are able to enter the corresponding number of the monitor they would like to watch and listen to.
Finally, each audience member at the Central Hub is outfitted with a pair of Sennheiser MOMENTUM headphones, which plugs directly into the guidePORT receiver and provides a comfortable listening experience for the entire duration of the performance. Since guidePORT is capable of delivering CD quality audio, each MOMENTUM provides a crisp, intelligible listening experience for audience members, providing a fully immersive Hopscotch experience — no matter what channel they are tuned in to or what perspective of the production they are following.