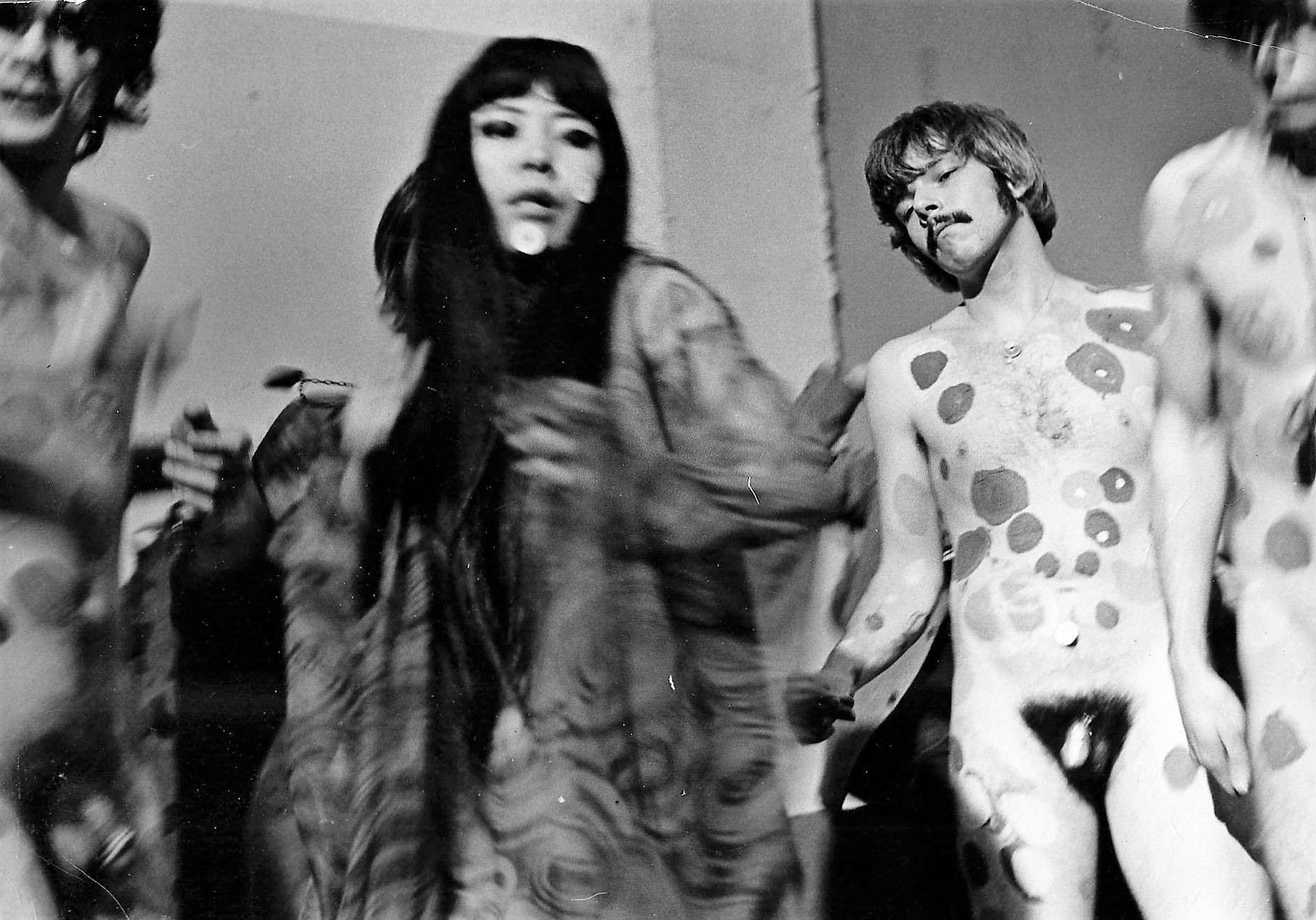 The following is guest article by Neal Weaver that touches on the theatrical history of New York City.
"It was the late 1960s, the years of 'happenings' and other free-form artistic events, some of which defied definition. It began to seem that "Art is anything you can get away with." I was working in New York City as associate editor of an entertainment magazine called AFTER DARK, which was a spin-off of DANCE MAGAZINE. We'd started it with virtually no staff—just editor Bill Como, me, art director Neil Applebaum, and one clerk, and a couple of stringers. That meant that everybody did a little bit of everything, which was sometimes maddening, but also gave us a lot of freedom. Plus, it made it easy for anyone to get in touch with us.
One day I got a call from someone who called herself Kusama, who wanted to invite us to something called "Kusama's Infamous Spectacular."  She was short on concrete information as to what kind of event it was, but there were faint hints that there might be something scandalous about it, and we were urged to take photos. Since I knew nothing about her, I was careful not to commit us to publish 'till I knew more about her. But on the appointed evening, I armed myself with my 35-mm still camera, and went to the specified address.
The space was Kusama's loft, somewhere downtown. She proved to be a pretty young Japanese woman, clad in a sort of filmy green chiffon outfit, with long flowing sleeves. The press release informed us that she was a well-known (but not to me) avant garde sculptor and artist. (In press releases everybody is well-known, famous, or much loved.) There was a small live musical combo, and a few invited guests, including a Japanese film crew, and a man I recognized as the designer of ballet sets, costumes, and posters for, I think, the Ballet Russe de Monte Carlo.
The studio was rather grungy, with various works in progress, featuring hundreds of small free-form pillows and lots of polka dots everywhere, including on the pillows. Nothing much seemed to be happening yet, but the musicians were setting up their instruments, Kusama was darting around busily, and a stark naked and slightly fey young blond man was wandering about. I tried to engage him in conversation, in the hope of learning more about the event, and how he felt about his part in it, but he retreated to a sort of makeshift dressing room.
Meanwhile, Kusama and her assistants were preparing Styrofoam coffee cups full of paint in various vivid colors. And several young men had begun drifting in, and shucking out of their clothes. Once they were all naked, Kusama and her minions began painting them with multi- colored polka dots, and in some cases, sticking paper dots on their faces. The Japanese film crew was shamelessly pushy, sticking their camera in so closely that it began to seem that photography was a contact sport. When the boys/men were covered with polka dots everywhere, including on their genitalia, the combo struck up with some percussive rock and roll. The boys began to dance, genitals flapping and flopping. Soon Kusama joined them, in a swirl of green chiffon.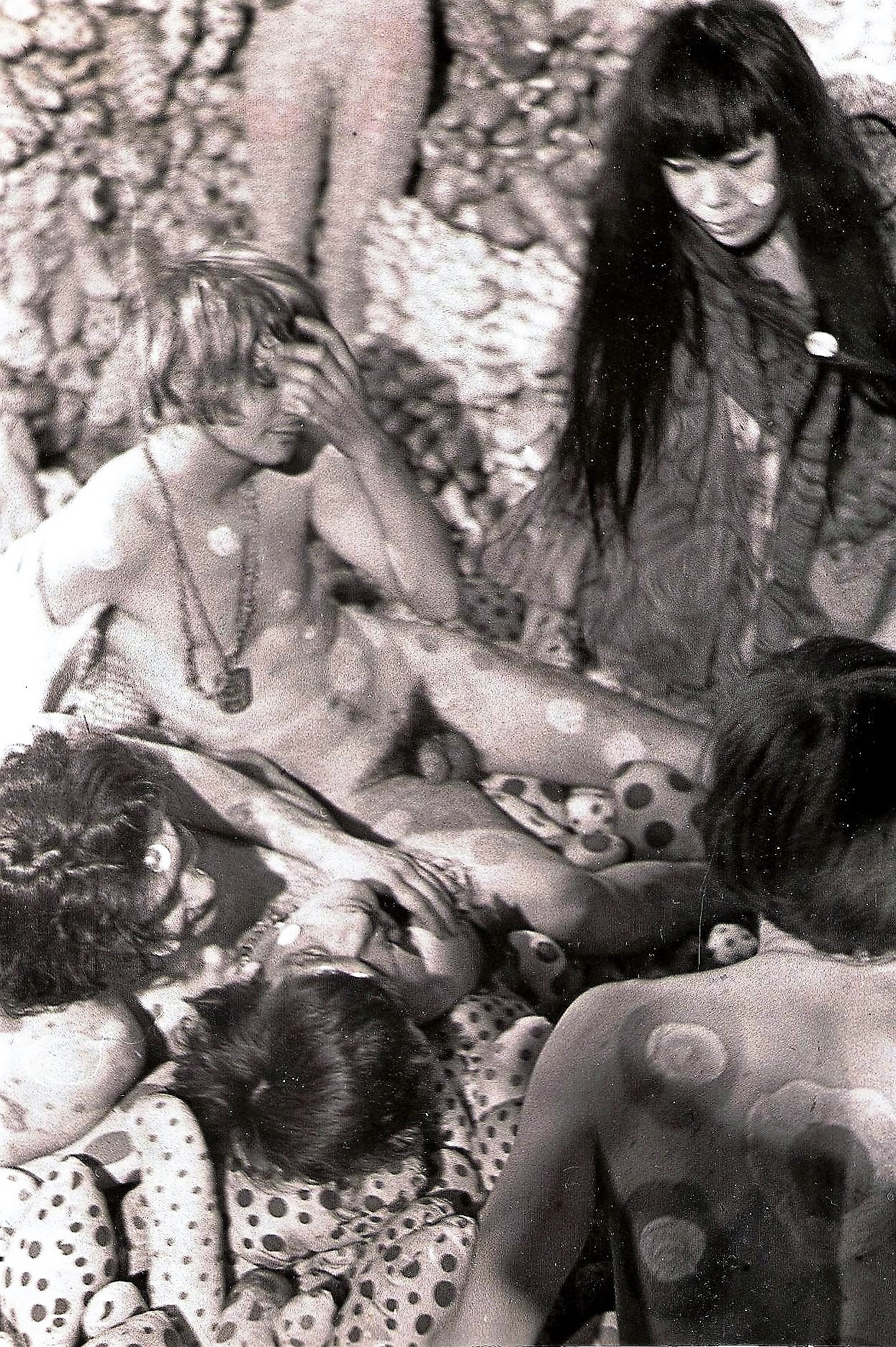 The dancing went on for quite a while, but if there was any point to it all, it was not apparent. The dancers continued bopping away with zombie-like concentration, totally ignoring the spectators. Kusama retreated to what looked like a mosh-pit or a play-pen full of the polka dotted pillows, and two or three of the boys joined her, lying down among the pillows, and apparently preparing for an orgy. Some of the nude dancers, including the guy with the handle-bar mustache, seemed to be freaked out by the overt gay sexuality, and hurriedly pulled on their clothes and fled. The boys who were lying amongst the polka dot pillows seemed to be on the slutty side, including the blond boy I'd encountered earlier. And Kusama was hovering over them. The blond boy seemed emotionally drained and exhausted, but he plunged into the action as the orgy became more intense. The Japanese camera crew moved in for extreme close-ups, 'till they seemed like part of the action. But there was something dispirited about it all… It was not remotely erotic. Soon, it became downright boring.
This gave me the chance to ponder what I had seen and wonder about the motivation of Kusama and her dancers. She seemed to be making no particular point, other than getting the boys out of their clothes, and shocking the 'squares.' And what were the boys up to? Were they being paid, or was the opportunity of indulging their exhibitionism enough reward? The guy with the handle-bar mustache seemed totally detached, like a man doggedly completing a rather boring task. And a long and lanky fellow I thought of as 'the bopper' seemed to be trying to see how many ways he could brandish his penis.
I don't recall how the evening ended, but I was bemused by the experience, and acutely aware that if we were to use any of my photos, they'd have to be severely cropped. Photos of the penis were still verboten in mainstream publications. We did print a story, but the photos were demure and sanitized.
Evidently that was enough to make a friend of Kusama. She began calling me regularly to keep me posted on her activities, including a nude dance-in at the New York Stock Exchange. She was eager to shock and to get press coverage, but paranoid about being thwarted or arrested by the authorities. She would talk only on public phones, convinced that her own was tapped. And even then, she never talked long. She'd say one or two sentences, then hang up, and race to another phone booth to continue the conversation.
In the event, the dance-in was a disappointment. This time the dancers included girls as well as boys, but they were so scared of getting arrested that they cut the presentation very short indeed. And nobody seemed particularly shocked.
It was only later that I discovered that in some highbrow artistic circles, Kusama was a force to be reckoned with, praised and analyzed in art magazines. I had always thought she was just an amusing nut-case. And I'm still not sure I was mistaken."