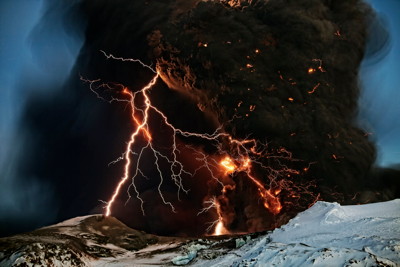 ***
Witness the spectacle of nature's fury from a safe distance – Lucas Jackson's magnificent images of the recent volcanic explosion in Iceland, entitled Eyjafjallajokull: Images from The Land of Fire and Ice, will be on exhibit in the WindowBox Gallery at Raw Materials, in Downtown LA.  This stunning exhibition runs until October 2, 2011.
Lucas Jackson is a former resident of Downtown Los Angeles and currently a staff photographer for Reuters out of New York City. Assignments covered by Jackson for Reuters include a wide array of domestic and international assignments that range from the Academy Awards the bitter conflict and ongoing war in Afghanistan.
His dramatic images of Iceland's tempestuous volcano Eyjafjallajokull have graced the cover of The Economist, been featured in a Time Magazine inset as well as a doubletruck (a pair of facing pages) in Newsweek, and on the front pages of countless newspapers.
Eyjafjallajokull: The Land of Fire and Ice is a collection of stunning photographic images taken in April 2010, when Eyjafjallajokull, one of Iceland's largest volcanoes, exploded and sent clouds of ash and volcanic matter soaring over European airspace, affecting millions of travelers around the world. It was the worst peacetime air travel disruption in history.
Playing on the intersection between fire and ice, in Eyjafjallajokull, Jackson's award-winning photographs of the ethereal Northern Lights and lightning engulfing the exploding volcano take their place alongside images of the devastation on the surrounding landscape, livestock, and farmers living in the shadow of the volcano.
"I hope that my images convey even a fraction of the natural splendor that is almost commonplace here in Iceland. I have been humbled, and I do consider myself lucky, not because I took some pretty pictures, but because I got to be in the position to take them and was able to witness the event in the first person," says Jackson.
Jackson has garnered numerous international awards for his work, including:
China Press Photographers Association
Pictures of the Year International
PDN Photo Annual
Prix de la Photographie
National Press Photographers Association Best of Photojournalism
New York Press Photographers Association
***
Eyjafjallajokull: The Land of Fire and Ice
Runs from August 11 to October 2, 2011.
WindowBox Gallery at Raw Materials
436 S. Main Street
Downtown Los Angeles, CA 90013
phone – (213) 627-7223
[email protected]
Validated parking (1½ hour with any purchase) available at the Old Bank District Garage (425 South Main Street).
Gallery hours:
Monday – Friday: 11am – 7pm
Saturday: 11am – 6pm
Sunday: noon – 5pm