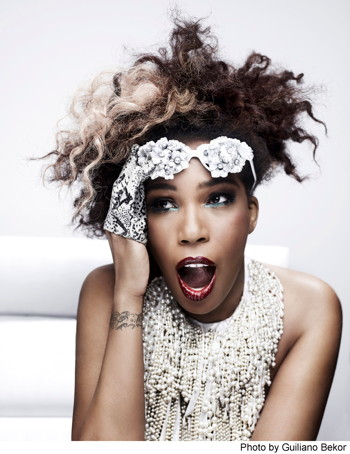 ***
Macy Gray joins Rhythm & Roots – a 
benefit performance at the Ford Amphitheatre in Hollywood for one night only!
Grammy Award-winning, multi-platinum vocal artist Macy Gray has signed on to perform at the Rhythm & Roots benefit performance at the Ford Amphitheatre on Sunday, August 28th, 2011. All proceeds from ticket sales will go to support Children Uniting Nations, an organization that brings attention to the plight of at-risk and foster youth, and Keshet Chaim Dance Ensemble's youth education programs, which serve to eradicate ethnic and cultural barriers through the arts.
Celebrating the connection and diversity of the world's cultures through music and dance, Rhythm & Roots also features performances by Israeli American Keshet Chaim Dance Ensemble; African American Lula Washington Dance Theatre; multi-ethnic, interfaith Agape International Choir; Israeli pop star Harel Skaat; R&B singer Abraham McDonald; and legendary female rapper MC Lyte.
The incomparable and talented singer Macy Gray first burst onto the music scene with her debut album On How Life Is and the massive hit single "I Try" both of which went No.1 all over the world. The album went on to sell 7 million copies worldwide, with Gray winning a Grammy for Best Female Pop Vocal Performance and an MTV Video Music Award for Best New Artist.
Macy Gray has gone on to sell more than 15,000,000 albums worldwide and has been nominated for 5 Grammy Awards and 6 MTV Video Music Awards. She has collaborated on stage and in the recording studio with some of music's greatest artists including Justin Timberlake, Common, Outkast, Rick Rubin, Carlos Santana, Erykah Badu, Fergie, will.i.am, John Frusciante (of Red Hot Chili Peppers), Nas, Mos Def and Natalie Cole, among many others. She has also acted in numerous films including Training Day, Spider Man, Idlewild and the award-winning HBO Film Lackawanna Blues.
***
Rhythm & Roots
The Ford Amphitheatre
2580 Cahuenga Blvd. East,
off the 101 Hollywood freeway across from the Hollywood Bowl and south of Universal Studios.
Sunday, August 28 at 7:30 pm.
Tickets are $75, $100 and $150.00
For more information and reservations, please call the Ford Theatres Box Office at 323-461-3673 or visit their official site.