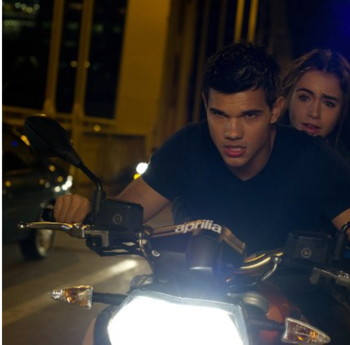 Taylor Lautner, the hunky young co-star of the Twilight movie series, has graduated to leading man status.
Lautner goes full throttle for his first solo vehicle, not only taking on the kind of challenging action-hero roles that Tom Cruise, Will Smith and Matt Damon are famous for playing (think The Firm, Enemy of the State and the Bourne franchise) but is also co-producing. The young actor has his hands firmly on the wheel of his own career.
In Abduction, an action-packed thriller directed by John Singleton (Boyz n the Hood, Four Brothers) and scripted by Shawn Christensen, Lautner plays Nathan, a teenager who suspects he was kidnapped as a child after he stumbles upon an image of himself as a little boy on a missing persons website. Just as he begins to piece together his true identity, Nathan's family come under deadly attack by agents of a menacing organization and our hero is forced to flee with the only person he can trust, the girl-next-door Karen (Lily Collins). Industry heavyweights such as Alfred Molina, Jason Isaacs and Sigourney Weaver co-star in the action and suspense-heavy drama.
Polite and humble in person, Lautner doesn't play down how thrilled he was by the experience. "I can't even describe how much fun it was. This character is completely different to Jacob Black [from Twilight]. It was cool to play a character that starts out as a normal highschooler and then everything collapses and his life is turned upside down."
The fit young star says he threw himself into training for the challenging action sequences. "There was a lot of training needed beforehand, a lot of physical preparation and also emotional. I took boxing for a couple of months before I started filming, which was awesome." Lautner also picked up some motorcycle and wrestling skills required for the role.
But he's no stranger to physical demands. Now 19, Lautner began studying martial arts at the age of six, demonstrating a unique and natural talent for the sport. By the time he was eight, he was representing the States in the 'twelve years and under division' in the annual championships of the World Karate Association (WKA) where won three gold medals.
It was around that time that he showed promise as a kid actor, appearing in bit roles in comedy TV shows such as The Bernie Mac Show (2003) and My Wife and Kids (2004). In 2005, he appeared in the large cast of the movie Cheaper by the Dozen 2. His first starring role, aged 13, was in the adventure fantasy flick for kids, The Adventures of Sharkboy and Lavagirl in 3-D (2005), written and directed by Robert Rodriguez. Then he was cast in Twilight and the rest is history.
Presumably his extensive martial arts background also informed the physicality of this role? Lautner agrees, adding, "Yeah, it was exciting to finally be able to use some of my martial arts skills. I pull a few tricky moves. I didn't have to train super hard with that beforehand, but I did have to kick off the rust a bit."
For an actor as physically competent as Lautner, this movie must have been a breeze. "Oh, it was the farthest thing from a walk in the park." Lautner counters. "There were a lot of things that I didn't know beforehand, like the boxing and wrestling. This was a major challenge, physically and emotionally, but that's what I look for in roles. I never want to do anything that is a breeze."
Despite his teen heartthrob status, the teenager comes across and earnest, humble and grounded, claiming the most important preparation he did was what he describes as 'emotional training.' "My character faces a lot of complicated emotions. John [Singleton] and I sat down and watched a lot of movies, mainly ones with actors that I look up to, like Tom Cruise and Harrison Ford. We watched Minority Report and The Fugitive, where they were leading men and on the run, searching for the truth. We studied those characters and tried to bring some of them into this."
Lautner recently formed his own film production company with his father, Dan, appropriately named Tailor Made Entertainment. Abduction marks their first release. Lautner and his dad will also have executive-producer credit on Stretch Armstrong, based on the popular superhero toy, with Lautner reportedly earning a sweet $7.5 million for the title role.
He claims he was hooked the minute he was pitched the concept. "The first time I heard the idea, I knew that I wanted this character to be the next one I played. And it's always been a dream of mine not only to be in front of the camera, but be behind the camera, be involved in the creative process like writing the script – everything involved in making a movie from the ground up. I'm seriously honored to be able to do that and this one was the first movie in my production company, and I had a blast with it. It was a lot of fun."
The young star confesses he felt "weird" after filming his final scenes for Twilight, having worked on the franchise for the better part of the past four years. "It's strange to know I'm not going back; I'm not going to be Jacob Black anymore… But on the other hand, we're going to be promoting these movies for the next two years." The Twilight Saga: Breaking Dawn Part 1 opens later this year, two months after Abduction.
With all these high-octane roles on his slate, it's pretty obvious Lautner is poised to be the action poster boy for a new generation of moviegoers. At a recent star-studded press luncheon, actor Mark Wahlberg admitted he was ready to pass the torch to Lautner, declaring to the assembled crowd, "I'm sitting at a table with a gentleman who is better looking than you and is in better shape than me," Wahlberg joked, directly addressing fellow actor Leonardo DiCaprio, "So, we're both out of a job, dude. Taylor Lautner! We're screwed."
After the toast, Lautner admitted he was surprised but flattered by the unexpected shout-out. "Hearing words like that from Mark and everybody – people that I looked up to my entire life – it's just really surreal."
Interview by Pauline Adamek.
This interview first appeared in Filmink Magazine.