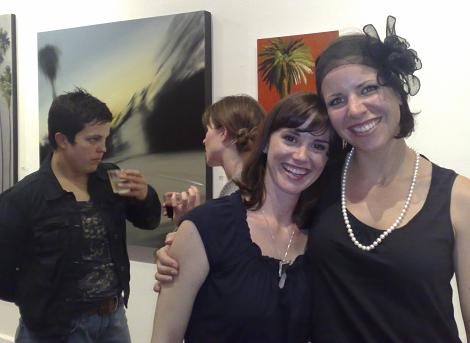 On Saturday, November 12, 2011 from 12-8 PM, the inaugural Experience NoHo Festival will be launched. This lively neighborhood arts festival is the work of McKenzie Alexander and Shannon Currie Holmes, two energetic young women who are currently galvanizing the arts and music scene in North Hollywood.
Committed to nurturing the local creative community, Alexander came up with the idea to set up music events in their own Cella Gallery and their pop-up art spaces, known as Cella Satellites. Alexander devised and then organized the Hear NoHo concerts, which became a monthly event featuring live music at multiple venues around NoHo. This popular project ran for two years until late 2010.
Recalls Alexander, "Hear NoHo was staged in multiple venues, but it was not well-funded."  The project was seeded with a budget of $2,000, and then ran for every month for two years on that initial start-up budget alone.
Adds Holmes – "It was painful. But it was that 'fake it until you make it' thing. We really wanted to create events in empty spaces."
Still, Alexander was devoted to making it work. "Music is pretty transportable," she muses. "Marti Heil was great – she helped us develop everything and book the bands for the Hear NoHo events."
Meanwhile, Councilmember Tom LaBonge had been asking the women to organize a Valley Art Walk for years.
Holmes recalls, "It was hard to get momentum because everything – the economy, our neighborhood – was still in decline. It was like paddling upstream. We were doing these small gestures with no budget. Everybody volunteered and none of us got paid. The only people who got paid were the musicians. We had full crew of volunteers, sound crew — people gave us venues for free."
It was exhausting work for all concerned. But the enthusiastic reception was their payoff. Says Alexander, "It was really great and every time we did it people would come from over the hill and say, 'This is really fantastic!'"
Since then, NoHo has grown exponentially and it's perhaps one of the only districts in Los Angeles that has evolved.
Now the women are taking their Hear NoHo initiative and rolling it into a much bigger festival, the 'Experience NoHo Festival,' which will encompass everything that the NoHo Arts District has to offer. Enthuses Holmes, "It will be theatre, dance, music – we'll have an outdoor stage – art, fashion, food – everything."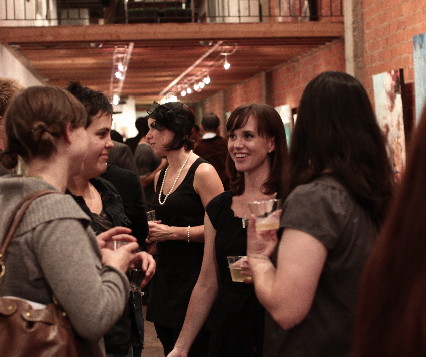 Holmes goes on to add, "That's the reason why we've moved Hear NoHo into the Experience NoHo Festival because we needed to do something that was bigger, that had more of an impact initially. We have a five-year plan and will start doing it annually, but eventually hope to stage it biannually. So we can really have the 'wow' factor – you need to have something big enough so that it draws crowds instead of trickles of people; from just 100 to ten thousand or twenty thousand. It has to be local, created by the people who are here day in and day out, not just vendors and talent that we bring in from the outside."
Experience NoHo is part arts-walk and part festival. A large main stage area for music will be located at the north end of the festival, while a dance stage will anchor the festival on Lankershim Blvd. at the south end. Art will be everywhere – from public art stations inviting patrons to create their own art, to gallery installations. There will be incredible discounts and offerings from local restaurants and retailers. To top it off, 15 of NoHo's live theatres will offer performances, classes and demonstrations for FREE during festival hours.

So come SEE, HEAR, TASTE… Experience NoHo!
About the NoHo Arts District:

The NoHo Arts District has become one of Los Angeles's trendiest neighborhoods. Just think of it as an urban cocktail of bohemian and yuppie with a twist of edginess. It's a hip enclave of all things artistic. Within a one-square mile, NoHo is home to more than 20 live theaters, music recording studios, art galleries, dance studios, boutique clothing stores and gourmet restaurants. Within the heart of the NoHo Arts District you will also find The Academy of Television Arts and Sciences, The Art Institute of California – Hollywood and the Los Angeles home of The Knitting Factory Music at the The Federal Bar. With easy access from METRO red and orange lines, NoHo is your one-stop arts & entertainment destination.
WHEN: Saturday, November 12, 2011 from 12-8 PM.
WHERE: In the NoHo Arts District, spanning Lankershim Blvd. from Chandler Blvd. to Camarillo Blvd.; Bakman Ave. to Vineland Ave.
ALL EVENTS ARE FREE! (cheap!)
More information here.

Festival Sponsors:
Universal Studios, Monster Energy, Councilmember Tom LaBonge, NoHo BID, LA Inc., METRO, The Knitting Factory, The Art Institute of California, Midtown North Hollywood Neighborhood Council, Laemmle Theatres, Time Warner Cable, The Federal Bar, nohoartsdistrict.com, Universal City / North Hollywood Chamber of Commerce.