Soak up one or more of the many free theatrical events on offer during the Experience NoHo festival, taking place November 12th, from 12pm – 8pm.
This day-long multi-arts festival and celebration (did I mention it was free?!) will feature live theater, dance, music, art, and food, all being staged within the heart of the booming NoHo Arts District on Lankershim Blvd. between Otsego Ave. and Weddington St.
Experience NoHo is part festival and part arts walk.  A main stage area for music will be located at the intersection of Lankershim Blvd. and Weddington St., while a dance stage at Lankershim Blvd. and Otsego Ave. will anchor the festival.  Art will be everywhere – from public art stations inviting patrons to create their own art, to gallery installations.  NoHo theatres will offer performances and classes during festival hours. To top it off, there will be incredible discounts and offerings from local restaurants and retailers.

So come SEE, HEAR, TASTE… Experience NoHo!
THEATRE EVENTS:

Fifteen NoHo Theatres take center stage with free performances of comedy, drama, musicals, and improv, as well as free classes. Theatre programming runs 12:30pm to a final showtime of 5:00pm. Entry is on a first come, first served basis.
Participating theatre and theatre companies:  Actors Forum Theatre, Actors Workout Studio, Antaeus Classical Theatre Company, Avery Schreiber Theatre, Crown City Theatre, The Group Rep, J.E.T. Studios, The NoHo Actors Studio, The NoHo Arts Center, NoHo Stages, The Raven Playhouse, The Road Theatre Company, Secret Rose Theatre, Whitmore-Lindley Theatre Center and Zombie Joe's Underground.
The line-up:
Actors Forum Theatre: The Wizard of NOHO, a family friendly magic show with magician/storyteller Brandon Scott; Audrey M. Singer reads selected poems from her book, Stories In Rhyme; Eugene H. Butler, director/actor/award-winning playwright will premiere a new one-act; Music-Songs And Pizzazz!  Julie Barry sings favorite tunes accompanied by Billy Revel, Brandon Scott and Friends variety show with special guests Mhairi Morrison, a Scottish Highlands comedian, and singer/actress, Bonnie Gordon.
Actors Workout Studio:  Offers a free Acting Class with master acting coach and Emmy Award winner Fran Montan.
Antaeus Classical Theatre Company @ Deaf West Theatre:  Join some of the actors from the current critically acclaimed production, Peace In Our Time, singing the  Noël Coward songs, an afternoon cabaret of Coward's war-time music as featured in their our show. You can read my recent review here.
Avery Schreiber Theatre:  Total Improv, KIDS!  Linda Fulton, directs funny little ones performing improv; hysterical all male improv group The Schtickheads directed by creator, Paul Storiale; and award-winning Group Therapy, all female improvisation group voted 2011 Best of LA City.
Crown City Theatre:  Improv group Champagne Jam with Dane White (A Big Gay North Hollywood Wedding), sketch comedy performed by Cool Table, one of Chicago's most popular groups, improv group Not From Here, who recently had a successful run at CCTC and open mic, with various performers…singing, stand-up – basically anything goes.
Group Rep Theatre Company@ J.E.T. Studios:  Put On Your Shorts – Best of the songs and one-act shows by the Group Rep that have recently enjoyed successful performances at the Lonny Chapman Theatre.  This theatre, of course, is the home to full-length plays, as well as shorter one act plays, songs and sketches.  The common denominator for all these forms is story.  They all use character to tell some kind of tale.

 The Group Rep is presenting ten of these short pieces to demonstrate a wide range of theatre, including seven theatre songs and four short plays featuring the talents of members: Laurie Morgan, Henry Holden, Linda Alznauer, Lloyd Pedersen, Lareen Faye, Colette Rosario, Irene Chapman and Diana Martin.  Wizard performer and musician Wayland Pickard will accompany the singers and lend his own brand of genius to the proceedings.
 J.E.T. Studios:  This new theatre facility serves as host to the Group Rep's PUT ON YOUR SHORTS; Free Acting Class with The Kristofer McNeely Acting Studio, a unique, intensive, in‐depth acting class; and Zombie Joe's Underground's Takin' A Break From Sex created and performed by Andy and Joleen Mullins.
NoHo Actors Studio:  The esteemed Young Actor's Studio's "Method Acting & Comedy Improv Demo Class" for young and aspiring actors ages 9-18 will offer a free class with Jeff Alan-Lee.   Jeff's students include many top talents, including Shia LaBeouf and Scarlett Johannson. 
NoHo Arts Center:  That's Amore! An American Italian Songbook, a musical autobiographical revue, starring Gilmore Rizzo, is filled with fun music, laughs and stories about a boy growing up in an Italian-American household when music was king and so was the food!
NoHo Stages:  Selected scenes from Love Letters by A.R. Gurney, world renowned, Pulitzer Prize winner's two character play which covers the lifetimes of two friends born in the 1930's who communicate throughout their lives using the lost art of letter writing.
The Raven Playhouse:  Joy Theatre presents NoHo's longest running kids and teen comedy shows Giggle Gaggle and Detention Span will present comedy improv, sketch and stand-up, written and performed by kids and teens, and a Free Teen Kid Comedy Class.  Joy Theatre is the Winner of Nickelodeon's Parent's Choice number one children's theatre in Los Angeles.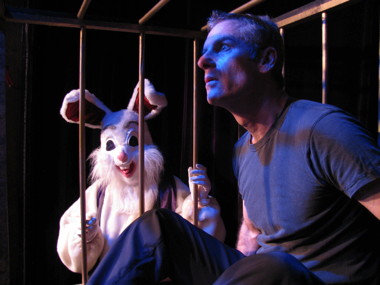 The Road Theatre Company:  Smorgasbord, a one-woman cooking show, about a woman who 'unravels' while demonstrating a recipe, written and performed by Janet Chamberlain; excerpts from Smoke and Mirrors, a magic show with a story, a fantastical journey featuring Albie Selznick and Bettina Zacar;  Free Intentional Cold Reading Workshop for actors ages 8 + with award-winning director and top acting coach Loren E. Chadima; Playing Doctor, a coming of age story about a young girl's struggle to care for her ill parent, her early sexual awakening, and lots of lots of food, featuring Lauren Clark.
Secret Rose Theatre:  Put the Kettle on Productions presents Bob Cratchit And Mr. Tightwad, a holiday musical with a twist, a version of the classic story with an eclectic mix of contemporary songs and extraordinary adventure just right for you and your family;  DHM & Angry Amish Productions present songs from the hit show currently running at the Secret Rose Theatre, Don't Hug Me, I'm Pregnant, a musical comedy about an 8½ month pregnant lady who goes into labor in a Minnesota Bar during a snowstorm. Featuring: Greg Barnett, Rebekah Dunn, Bert Emmett, Patrick Foley & Natalie Lander.
Whitmore-Lindley Theatre Complex:  Monkey Butler presents Occupy Noho! Come protest the lack of laughter in America by watching the best of Monkey Butler putting on a completely improvised comedy show. Winner of the 2011 iOWest LA Improv Festival Harold Competition.
Zombie Joe's Underground@ J.E.T. Studios: Takin' A Break From Sex by Andy and Joleen Mullins, a clever, fast-paced comedy show exploring relationships.
About the NoHo Arts District:

The NoHo Arts District has become one of Los Angeles's trendiest neighborhoods. Just think of it as an urban cocktail of bohemian and yuppie with a twist of edginess. It's a hip enclave of all things artistic. Within a one-square mile, NoHo is home to more than 20 live theaters, music recording studios, art galleries, dance studios, boutique clothing stores and gourmet restaurants. Within the heart of the NoHo Arts District you will also find The Academy of Television Arts and Sciences, The Art Institute of California – Hollywood and the Los Angeles home of The Knitting Factory Music at the The Federal Bar. With easy access from METRO red and orange lines, NoHo is your one-stop arts & entertainment destination.
WHEN: Saturday, November 12, 2011 from 12-8 PM.
WHERE: In the NoHo Arts District, spanning Lankershim Blvd. from Chandler Blvd. to Camarillo Blvd.; Bakman Ave. to Vineland Ave.
ALL EVENTS ARE FREE! (cheap!)
More information here.

Festival Sponsors:
Universal Studios, Monster Energy, Councilmember Tom LaBonge, NoHo BID, LA Inc., METRO, The Knitting Factory, The Art Institute of California, Midtown North Hollywood Neighborhood Council, Laemmle Theatres, Time Warner Cable, The Federal Bar, nohoartsdistrict.com, Universal City / North Hollywood Chamber of Commerce.