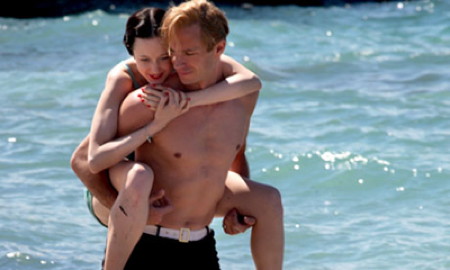 Perhaps it was my movie companion's whispers "Can't you tell this is genius?!" that had me thinking I was actually loving Madonna's newest stab at directing a feature film, W.E.  I wasn't and turns out he was being sarcastic.  Maybe my meter is off.
Imbued by a constant ambush of strings and dramatics, W.E. goes on for way too long.  In the end it doesn't tell any sort of any consistent story besides a sort-of glamorous biography of Wallis Simpson. Simpson, of course, was the divorcée whose third husband, Prince Edward, Duke of Windsor, formerly King Edward VIII of the United Kingdom and the Dominions, abdicated his throne to marry her in 1936.
Co-screenwriters Madonna and Alek Keshishian juxtapose this period tale with a more contemporary (late 90s) mirrored plot of a dreamer Wally Winthrop (Abbie Cornish) who is obsessed with Wallis' belongings that are to be auctioned off at Sotheby's, and the random love affair between her and the security guard on constant watch.  Sure, the costumes are extraordinary. Yes, the actors are beautiful. Cornish is stunning as are Andrea Riseborough as Wallis Simpson and Oscar Isaac.  In fact, I found Riseborough's performance as Simpson rather charming.
The scenery and the photography are gorgeous as well. But what isn't is Madonna's distorted and unrealistic approach to creating a film comparing the human qualities of a historically and publically scorned woman and a modern day housewife distracted by fantasy and incidentally abused by her husband. While the parallel stories are supposed to connect and reflect, instead they come off as disjointed and out of touch, unfortunately seeming to be a reflection of Madonna's present lifestyle.  Whilst occupying multi-million dollar penthouses she somehow forgot that hero/geniuses posing as security guards dingy Brooklyn apartments don't often appear straight out of Architectural Digest…
Perhaps Madonna sees herself as some sort of modern day Wallis?  An American fighting the tide of negative public opinion after thrusting herself into British culture, even trying out the accent for size, and later becoming tarnished by her very public divorce with adored Brit filmmaker Guy Richie. I don't know. No matter what she was trying to do, it simply doesn't work.  The only thing that speaks in this film is the incredible amount of money that went into its production.
W.E. is now showing in L.A. cinemas.  Check your local listings.
Review by Lucy Griffin.