The Japan Foundation has produced a documentary film about a memorial project created to honor the tens of thousands who lost their lives in the Tohoku region of Japan in the Great East Japan Earthquake of March, 2011. For the project, entitled "LIGHT UP NIPPON", young volunteers sought to launch thousands of fireworks as a display of solidarity with the survivors.
This film will be broadcast in approximately 120 countries around the globe through cable TV and satellite, and will send a message to the world of the youth of Japan's powerful wish for recovery from the disaster, and set down a challenge for all by these dedicated people.
*** The "LIGHT UP NIPPON" documentary will be broadcast on the internet as well, here.  ***
Date:
December 15 (Thu.) 16:30
December 16 (Fri.) 0:30, 8:30
Channels:
UTB 18.2
The other channel (All states): search here.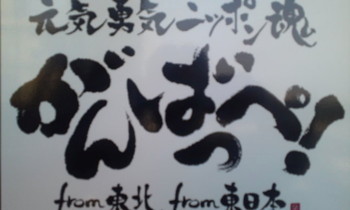 Contents of the TV Program:
The project "LIGHT UP NIPPON" was carried out as a tribute and commemoration at 10 disaster-stricken areas in Tohoku simultaneously on August 11, 2011, exactly five months after the day of the Great East Japan Earthquake. Young businesspeople from various organizations in Tokyo volunteered their time, raised donations, found sponsorships, and visited the disaster-striken areas many times in order to build relationships with survivors.
The efforts culminated in the simultaneous fireworks displays. The documentary covers the planning of the project and the story of one of its representatives, Yoshitake Takada. Challenges he worked to solved include restrictions on activities in the wake of the disaster, the complicated emotions of the locals, and negotiations with fireworks manufacturers and local governments. But the wishes for a requiem and a way to symbolically mark the recovery of the devastated areas united the project members and the locals, resulting in the beautiful and cathartic display of fireworks in the night sky.
"LIGHT UP NIPPON" honors the victims of the earthquake and is a prayer for the recovery of the devastated areas. It has been realized through the tremendous efforts of a dedicated group of young people, and the 28-minute documentary will provide a full picture of this project.
Outline of the TV Program:
Title: "LIGHT UP NIPPON"
Airtime: 28 minutes
Language: With English narration and English subtitles
Production: The LIGHT UP NIPPON Committee
Music "Aka-tombo" Arranged & played by Ryuichi Sakamoto.
For more information, go here.
This program is available on the official website of Japan International Broadcasting Inc.
A special software program (free) may be required depending on your PC environment.