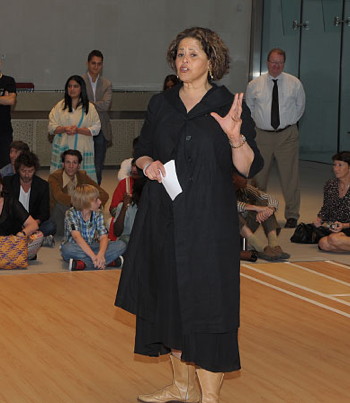 On January 26th, noted actress and playwright Anna Deavere Smith joins artists Carrie Mae Weems and Eileen Cowin for an evening of conversation and readings at the Getty Center. They will discuss Cowin's and Weems' works on view in the exhibition Narrative Interventions in Photography, and explore how storytelling impacts their art making.
Anna Deavere Smith is currently the artist in residence at the Center for American Progress. She is known for her documentary-theater style, showcased in plays such as Fires in the Mirror and Twilight: Los Angeles, in which she performs multiple roles. Smith has also appeared in numerous films and television programs.
In this unique meeting of artists at the Getty, Smith urges the photographers to explore their interest in storytelling through performance.
Carrie Mae Weems' work is part of her 1995 series From Here I Saw What Happened, in which she appropriates historical photographs of African Americans and superimposes her own narrative onto the images. Weems' texts add an additional layer of interpretation to the photographs, which depict racial stereotypes, brutality, and injustice.
Eileen Cowin's 2002 series I See What You're Saying consists of large-scale diptychs in which images of books are juxtaposed with close-up details of faces; together, the pairs explore the tension between what simply exists on the page and what is viscerally understood. The work asks viewers to consider the subjectivity of storytelling, specifically the notion of lying.
Storytelling and Photography complements the exhibition Narrative Interventions in Photography, on-view at the Getty Center through March 11, 2012.
Storytelling and Photography
Thursday January 26, 2012
7:30 p.m.
Harold M. Williams Auditorium,
Getty Center
1200 Getty Center Drive,
Los Angeles, California
This event is free, but reservations are required.
For reservations, visit www.getty.edu or call (310) 440-7300.
About the Getty:

The J. Paul Getty Trust is an international cultural and philanthropic institution devoted to the visual arts that includes the J. Paul Getty Museum, the Getty Research Institute, the Getty Conservation Institute, and the Getty Foundation. The J. Paul Getty Trust and Getty programs serve a varied audience from two locations: the Getty Center in Los Angeles and the Getty Villa in Malibu.

The J. Paul Getty Museum collects in seven distinct areas, including Greek and Roman antiquities, European paintings, drawings, manuscripts, sculpture and decorative arts, and photographs gathered internationally. The Museum's mission is to make the collection meaningful and attractive to a broad audience by presenting and interpreting the works of art through educational programs, special exhibitions, publications, conservation, and research.

Visiting the Getty Center:

The Getty Center is open Tuesday through Friday and Sunday from 10 a.m. to 5:30 p.m., and Saturday from 10 a.m. to 9 p.m. It is closed Monday and major holidays. Admission to the Getty Center is always free. Parking is $15 per car, but reduced to $10 after 5pm on Saturdays and for evening events throughout the week. No reservation is required for parking or general admission. Reservations are required for event seating and groups of 15 or more. Please call (310) 440-7300 (English or Spanish) for reservations and information. The TTY line for callers who are deaf or hearing impaired is (310) 440- 7305.

The Getty Center is at 1200 Getty Center Drive, Los Angeles, California.

Additional information is available. Sign up for e-Getty here to receive free monthly highlights of events at the Getty Center and the Getty Villa via e-mail, or visit their official site for a complete calendar of public programs.