Tickets are still available for this Saturday's Zoo event!
Chefs and celebrities—including the fabulous Betty White—were on hand to promote the upcoming annual fundraising event. The Greater Los Angeles Zoo Association's (GLAZA) 43rd Annual Beastly Ball, celebrating the Zoo's forthcoming Rainforest of the Americas habitat and honoring Wells Fargo and actress Pauley Perrette, is set for Saturday, June 15, 2013, 6 pm, under the stars at the Los Angeles Zoo in Griffith Park.
Ever the trouper, GLAZA Co-Chairman Betty White posed with a boa constrictor, commenting, "I'm 91—how old are you?" Quick with the quips, she introduced the chefs who have created dishes for the event in tribute to the animals of the rainforest, foreshadowing the new Rainforest of the Americas habitat that is set to open later this year.
Councilman Tom LaBonge also joked, mentioning that Betty was 1 year old when El Cholo Mexican restaurant first opened its doors in LA back in 1923. "I know!" the feisty nonagenarian shot back, "It was delicious!"
Tickets to the Beastly Ball are $1,000 per person, plus an additional $500 for "Bash Before the Ball"; individual and corporate sponsorship opportunities at higher levels are also available. INFO below.
Beastly Ball participating restaurants, all donating their services, are:
Bar Celona, Canelé, Celestino Ristorante, El Cholo L.A., El Coyote Mexican Café, The Federal Bar, Glorious Gourmet Catering & Garnish Café, Georgetown Cupcake Los Angeles, Green Street Restaurant, Il Fornaio Cucina Italiana, Ix∙Tapa Restaurant and Cantina, Jersey Mike's – Pasadena and La Canada, Maison Akira, Pink's Hot Dogs, Taix French Restaurant, Villa Sorriso and Yummy Cupcakes (Brentwood, Burbank and Santa Monica).
For the 43rd Annual Beastly Ball, guests are invited to dress in casual or safari attire and stroll through the Zoo after hours observing its inhabitants, watching animal feedings, chatting with keepers, viewing small animals up close, enjoying entertainment by Central and South American music groups, dancing, and dining on bountiful fare provided by some of L.A.'s most popular restaurants.  Also featured are silent and live auctions comprised of hundreds of remarkable items and one-of-a-kind opportunities, with comedian Jimmy Pardo serving as MC and auctioneer.
New this year is "Bash Before The Ball," a pre-party soiree featuring animals, hors d'oeuvres, cocktails and a "meet and greet" with guest of honor, actress Pauley Perrette. The Beastly Ball traditionally attracts 1,000+ attendees and raises more than $1 million annually.
Perrette, a long-time advocate of the Los Angeles Zoo, will receive the Tom Mankiewicz Leadership Award, which honors entertainment industry professionals to recognize outstanding leadership in local or global wildlife and environmental conservation or for efforts to promote civic pride and harmony in the multi-cultural community.  She succeeds actress Sarah Michelle Gellar (2012 honoree) and rock icon Slash, a GLAZA Trustee (2011).  According to GLAZA President Connie Morgan, "Pauley exemplifies the vision of this honor, as she is an ardent social and civil activist who is involved in many charitable organizations that work on behalf of animal rescue and adoption, the homeless, disaster relief and AIDS."  Perrette is currently known to millions around the world as "Abby Sciuto," the brilliant and offbeat forensic scientist on CBS's NCIS, the #1 rated drama in the world.  Among many examples of her service to the Los Angeles Zoo, she created the "Meet the Keepers" video presentation now playing at Elephants of Asia.  She is on the board of Project Angel Food, and also supports Habitat for Humanity, PATH (People Assisting The Homeless), EQCA (Equality California), AIDS Walk LA, The Humane Society, AIDS Task Force, NOH8 Campaign, Hope Gardens, Union Rescue Mission, DonorsChoose.org, APLA (AIDS Project Los Angeles), The Amanda Foundation, American Red Cross, Out of the Closet, Alley Cat Allies, Top Cops, 5p21 (AIDS Clinic), Strike Out AIDS, Petfinder.com, Hollywood Homeless Lunch, Campaign for Care and Save the Children.
Perrette's award was established in memory of former GLAZA Chairman Tom Mankiewicz, a beloved and highly regarded film and television writer and director.  Mankiewicz, who passed away in 2010, was associated with such films as "Superman," "Diamonds Are Forever" and "Live and Let Die," and the "Hart to Hart" television series, among many others.  He championed the cause of saving and protecting wildlife and the environment through education and on-the-ground conservation.  He also promoted the Zoo's universal appeal and its accessibility as a gathering place for all in Los Angeles' diverse communities.
Wells Fargo, which is being recognized for its pivotal community philanthropy, has a long history of charitable contributions to the Greater Los Angeles Zoo Association including partial funding for all three great ape habitats and the award-winning Elephants of Asia exhibit.  "It takes support in many forms in order for the L.A. Zoo and GLAZA to fulfill our mission," comments Morgan.  "Exemplary corporate partners such as Wells Fargo provide both leadership and resources in multiple ways for our work in the community."  Representing Wells Fargo at the Ball are John Manning, Executive Vice President, Division Manager, Commercial Banking Group; John Sotoodeh, L.A. Metro/Orange County Regional Bank President; and Jonathan Weedman, Senior Vice President, Wells Fargo Foundation.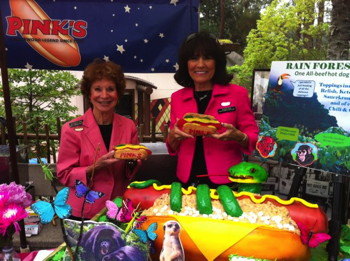 Rainforest of the Americas, under construction near the current Zoo aviaries and scheduled to open later in 2013, provides an immersion experience in the rainforest, enveloping visitors as they enter into a lush, tropical setting.  The key element of the exhibit's eclectic nature is its central theme of "Everything Needs a Home" and water as one of the most essential ingredients to the health and welfare of the rainforest environment.  Mixed species (mammals, reptiles, birds, and insects) are presented in seamless exhibits that protect the individual needs of the animals, allowing visitors to experience the world they inhabit.
Among the vast array of auction items are a Hawaiian getaway in a beachside villa on Kona's Anaehoomalu Bay; an evening with GLAZA Co-Chairman Betty White, who leads a backstage tour of Rainforest of the Americas followed by a cocktail party among the animals; a private luxury suite at STAPLES Center for one Lakers game, one Kings game, and one Clippers game, including parking passes and a dinner buffet with cocktails; and an African safari with travel in opulent comfort on Turkish Airlines with a stay in lavish tented camps under the stars.
The Beastly Ball is presented by the private, non-profit Greater Los Angeles Zoo Association (GLAZA), founded in 1963.  Over five decades, GLAZA has funded exhibits, plant and animal species conservation, capital projects, and education and community outreach programs at the Los Angeles Zoo, an international leader in the preservation of endangered species and a conservation center for the care and study of wildlife.  GLAZA also builds and invests endowment funds and already operates six essential departments on behalf of the Zoo, including development, publications, membership, volunteers, special events and oversight of the Zoo's food/retail concessions.  There are 73,000 GLAZA member households representing more than 300,000 adults and children, the largest membership base of a cultural organization in Los Angeles, and a volunteer corps of over 800.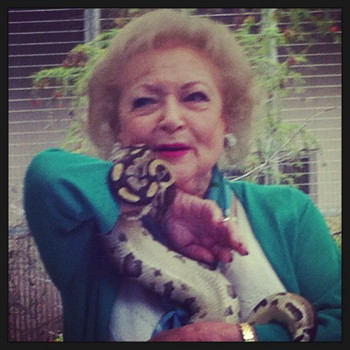 43rd Annual Beastly Ball
Tickets:
$1,000 per person, plus an additional $500 for "Bash Before the Ball"; individual and corporate sponsorship opportunities at higher levels are also available.
5333 Zoo Drive
in Los Angeles' Griffith Park, at the junction of the Ventura (134) and Golden State (5) freeways.
For tickets and information, call (323) 644-4753.