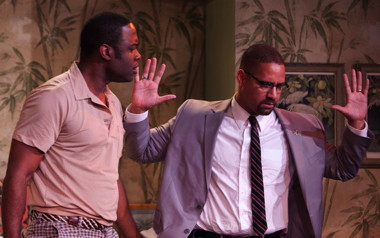 ::STOP PRESS::

This marvelous play has been EXTENDED *once again* through September 15, 2013.
Previously reviewed:
It's not every day you get to be heavyweight champion of the world—for a professional sportsman it's a once in a lifetime event, at least the first time is… In 1964, at the tender age of 22, boxing legend Cassius Clay (soon thereafter known as Muhammad Ali) ascended to the pinnacle of his chosen sport.
When Kemp Powers' superb play One Night in Miami opens, Cassius Clay (Matt Jones) has just conquered Sonny Liston in a ferocious and historic six-round boxing match and earned the belt. The brash young fighter is on top of the world.
He retires to a hotel room to celebrate with his best friends—football legend Jim Brown (Kevin Daniels), singing sensation Sam Cooke (Ty Jones), and political leader and confidant Malcolm X (Jason Delane).
All four men are at a crossroads in their lives and chosen careers. Tempers flare, recriminations are raised, stories are told and even songs are sung… We're a fly on the wall of some private (if imagined) conversations between these longtime friends, each of whom are legends in their own time.
Matt Jones is great as the cocky and charismatic boxing champ, bringing his high energy and elation into the room, especially when he vividly describes to his mates what just went down in the ring. Ty Jones is wonderful as Sam Cooke, demonstrating the singer's charm and presence more than once. Portraying Jim Brown, Kevin Daniels brings humor and even menace to the towering role. Jason Delane manages to convey the human—even the geeky—side of political leader Malcolm X. Jason E. Kelley and Jah Shams are also good in supporting roles.
One Night in Miami is an astounding debut for playwright Kemp Powers (it's his first full-length play) and he is clearly one to watch.
This play needs to be seen for a number of reasons; it's simply brilliant and its subject matter is weighty. Script, direction, performances, set design (by Stephanie Kerley Schwartz)—everything is superb across the board. Rogue Machine seldom disappoints and this show is breathtakingly good. There just aren't enough superlatives…
I don't just want to see it again—honestly, I want to experience it for the first time again.
Powerful, funny, exhilarating—what a play.

Do not miss this production.
Photos by John Flynn.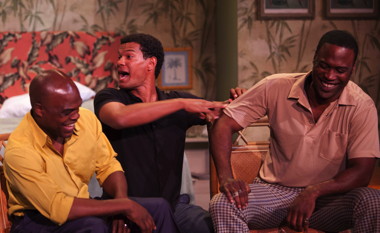 One Night in Miami
5041 W. Pico Blvd.,
Mid-City.
Approximately 85 mins, no intermission
Performances:
8 June—EXTENDED through September 15, 2013
***No performance July 6th***
8pm Fridays and Saturdays,
3pm on Sundays
Tickets:
$30.00
855-585-5185