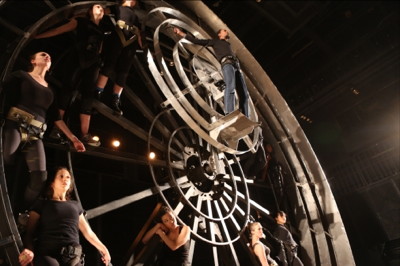 Dear readers!
A theater article I wrote for the LA Weekly is about the new production of an ancient play Prometheus Bound, now playing at The Getty Villa in Pacific Palisades.
Click here to go to the LA Weekly's theater blog.
Prometheus Bound is not your typical Getty Villa production.
A massive steel wheel will serve as the central set piece for the avant-garde version of the ancient Greek classic tragedy. Portraying the tortured Prometheus, Ron Cephas Jones will perform the entire show lashed to a small platform set in a smaller, rotating wheel that traverses the gigantic one much like a hand on a clock does. The chorus of 12 women, often speaking in unison, will climb on the 23-foot-tall, five-ton wheel (designed by Efren Delgadillo Jr.), at times mechanically setting it in motion.
The show began previews August 29 for its month-long run, and is part of Radar L.A., the international theater festival that started in L.A. in 2011 and is returning in late September.
Boasting a new translation by poet Joel Agee of the Greek classic text ascribed to the tragic poet Aeschylus, Prometheus Bound is a co-production with CalArts Center for New Performance. It's also an opportunity for director Travis Preston, the dean of CalArts' School of Theater, to revisit a play he directed decades previously in Poland, not long after he had worked with experimental theater director Jerzy Grotowski.
To read my review of the play, go here.