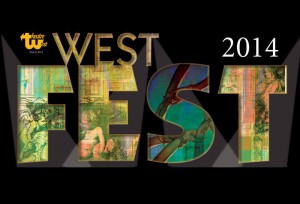 Theatre West presents WestFest 2014, their annual festival of new and developing works—a celebration of the best of the Theatre West workshops. The festival will run from November 14—December 7, 2014, on Friday and Saturday evenings at 8:00 p.m., as well as Sundays at 2:00 p.m. (Dark over Thanksgiving weekend.)
When Theatre West was founded fifty-one years ago, its initial purposes included serving as a laboratory situation where writing, acting and directing could be developed and perfected. This included the development of new and exciting works, works of a non-commercial and experimental nature, as well as the loving reconsideration of established material with an eye to enhanced performances but presented with minimalist production design. At least once each year, Theatre West has included a festival of such works, providing audiences to see interesting work they might not otherwise have a chance to see at a bargain ticket price. The WestFests have become among Theatre West's most enduringly popular attractions and biggest ticket-sellers.
WestFest 2014 presents three full weekends of shows, a totally different presentation each week, to entice the loyal audiences who have returned for WestFest every year, as well as to introduce new audiences to the richly varied work of the city's longest-running, continuously operating professional company. Performances are Fridays and Saturdays at 8, Sundays at 2.
Calendar of events:
  November 14-16, 2014:
Poems for Mary.  Written and directed by Lloyd J. Schwartz. Featuring Kathie Barnes and Alan Schack. After their father's death, his two grown children find a box of poetry that they didn't know he wrote. By reading the poems, they are surprised, moved, and amused to discover things about the man they thought they knew.
         November 21-23:
Words. Written and performed by Bill Sehres. Directed by Joe Nassi. In two segments, (a) a white bigot comments on the bad driving of the women drivers and non-white drivers around him; (b) a middle-aged man talks to his buddies about a date with a needy and lonely woman.
Gay for Pay. Written by Benjamin Scuglia. Directed by Ernest McDaniel. Featuring Lukas Bailey and Frank Gangarossa. A seen-it-all straight-male star of gay porn schools another straight guy who wants to get into this unusual line of work.
            What I Do Best. Written by Roy Battocchio. Directed by Stu Berg. Featuring George Tovar. A mob hit man goes to visit the home of his mentor. He reminisces about their good times together. Then comes the reckoning.
Trust. Written by Maray Ayres. Directed by Donald Moore. Featuring Maray Ayres and Roger Kent Cruz. A contentious physician and his female patient undergoing rehab achieve a rapprochement.
            Sloppy Seconds. Written by Benjamin Scuglia. Directed by Ernest McDaniel. Featuring Lukas Bailey and Ian Lerch. Out of the clubs, a guy upends his relationship with his buddy when he rebels against their wingman-player agreement, with unexpected results.
           The Other Half. Written by Garry Michael Kluger. Directed by Arden Teresa Lewis. Featuring Lacy Blake, Katherine Henryk, Dianne Travis and Sandra Tucker. Three women gather together to choose the right outfit in which to bury their departed friend. Then a secret is revealed that is a shock to everyone- well, almost everyone.
December 5-7:
          What's in a Name? Written by Judith Allen. Directed by Ann L. Gibb. Featuring Heather Alyse Becker, Sara Shearer and Elizabeth Lande. Can three generations of women agree on a name before the Jewish princess arrives?
           In the Shade of the Old Oak. Written and directed by Linda L. Rand. Featuring Layla Galloway, Jill Jones and David Mingrino. Not just another day in the park. Physical challenges and life changes collide when three unlikely people's lives are touched….shining in the shade of an old oak tree. And she's not a normal oak.
           The Hit. Written by Kerr Seth Lordygan. Directed by Donald Moore. Featuring Yancey Dunham, Rebecca Lane and Joe Nassi. A knock on the door in the middle of the night—client or friend? Knowing the difference can change your life.
            It's a Guy Thing. Written by Judith Allen. Directed by Ann L. Gibbs. Featuring Frank Gangarossa. Will a man's love for his vintage Porsche jeopardize his romantic relationship?
             You're Never Too Old for Polka Dots. Written and directed by Linda L. Rand. Featuring Maria Kress and David Mingrino. A happenstance meeting on the Staten Island Ferry brings two strangers together in a most unusual way—but it beats speed dating!
            Open Door. Written by Jule Selbo. Directed by Arden Teresa Lewis. Featuring Leona Britton and Eddie Alfano. Roz really wants this date to work out. So does Sam. But there's someone else in the room.
WestFest producers: Donald Moore and Lukas Bailey. Theatre West executive director: John Gallogly.
            WestFest 2014.
November 14—December 7, 2014.
Fri. & Sat. at 8:00 p.m., Sun. at 2:00 p.m.
Theatre West
3333 Cahuenga Blvd. West,
Los Angeles, CA 90068. (Near Universal City, North Hollywood and Studio City.)
FREE parking in a lot across the street.
N.B. Dark on Thanksgiving Weekend, Nov.28—Nov. 30.
General admission: $20.00 ($15.00 online).
Seniors: $15 ($12 online). Students under 25 with I.D.: $5.00
Reservations: (323) 851-7977. Online ticketing here.