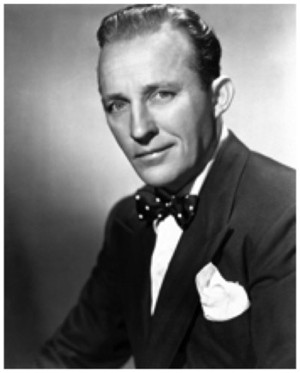 The crooner/actor, Bing Crosby (1903-1977), became an American cultural icon rather early in his career, when he sang (or crooned, a useful codeword for romantic sexuality in the voice) over the radio and into film and, eventually, television. His 1941 rendition of Irvine Berlin's White Christmas still stands as the purchased record of all time, with over 100,000,000 copies sold.
Writer and director Robert Trachtenberg, in his new filmed biography Bing Crosby Rediscovered (from PBS' American Masters' series), does a masterful job of exploring the man, his life, and his career. One of the built-in problems with bios is allowing the full range of a person onto the screen or the printed page. Trachtenberg slides over the downside of this talented man's relationships with his wives and his four disturbed sons by first wife, Dixie, an alcoholic who died middle-aged, and the better-balanced son and daughters by actress Kathryn Crosby.
But he does a fine job in summarizing Crosby's importance to 20th Century culture. In 1931, for instance, he either performed solo or was featured in ten of the top fifty songs for that year. He won an Academy Award in 1944 for his quiet, solid work in Going My Way, and was nominated twice more for the sequel, The Bells of St. Mary's (opposite Ingrid Bergman) and 1954's The Country Girl (opposite Grace Kelly).
But it was his seven "Road To…" pictures ("…Singapore," "…Zanzibar," "…Morocco," "…Utopia," "…Rio," "…Bali," and "…Hong Kong") that helped him in the Guinness Hall of Records as the third most watched actor in Hollywood (after Clark Cable and John Wayne). While still remembered, his work is now decidedly "old hat," even while beloved.
This documentary is a solid addition to the history of American artistic culture, as complicated a figure as he was, and can be enjoyed over and over again on DVD.