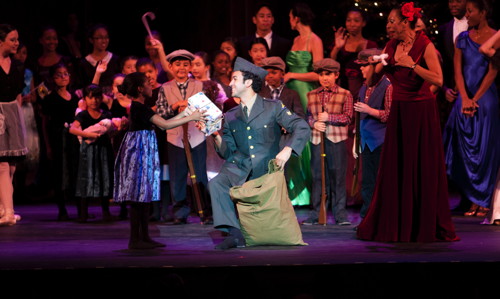 One thing is for sure: Los Angeles is not now, nor has it ever been, renowned for its whole-hearted support for the artistic world of ballet. A shame, for outsider dance is very much appreciated when it deigns to travel to our world-of-film and small-theater environment.
But there are sputterings of excellence here from those who not only love the craft and the art, but also for those who have trained in it as well as those training the next generations of dance-excellence.
One such company is the City Ballet of Los Angeles (CBLA), headed by Robyn Gardenhire, now 50, who founded her company fourteen years ago. Based in downtown L.A., just west of Staples Center, her company is deliberately multi-racial, with a desire to make it "look like Los Angeles."
And to show that off, they are once more producing their Nutcracker at the fabled Wilshire Ebell Theatre, in Hancock Park, December 19th and 20th. But not your traditionalist 19th Century Russian take. Oh, no, Gardenhire has set it in World War II's Los Angeles. So why mess with tradition? "As a black woman, I was never given the chance to play the lead girl [Clara/Masha/
Maria]. But I wouldn't have been cast if I were Asian, Spanish or American Indian, either. As a famous ballerina once said, 'What color is a Sugar-Plum Fairy?' However, I'm from Los Angeles and I thought the 1940s a terrific time-period to place it in."
The Nutcracker is a fairy-tale ballet in two acts about a young girl's coming of age during a Christmas Eve celebration at her home. Adapted by Alexander Dumas, Senior, from a story by E.T.A. Hoffman, it was originally choreographed by the Moscow Imperial Theatre's Marius Petipa and his assistant, Lev Ivanov, debuting in 1892.
In Gardenhire's adaptation, The Nutcracker Swings is set in 1942 with the traditional score by Pyotr Ilyich Tchaikovsky abetted by the music of Duke Ellington. Sixteen-year-old Maria has aged out of her orphanage and Mrs. Shuck has taken her on as a mini-housekeeper, just in time for her yearly Christmas party. Jim is Mrs. Shuck's son, and a war hero soldier to boot, but has known Maria since childhood, so on Christmas Eve he offers her a Nutcracker as a Christmas present. The Drosslemeyer character, Mrs. Taubes, is a magical person who makes things happen magically. She engineers Maria's change, having her fall asleep, keeping to the regular story. As it is World War II, the mice are Nazis, so in her big dream, the Mouse King is killed. The second act is set in the land of the sweets, but at the Coconut Grove, a major nightclub then attached to the Ambassador Hotel. There, the dances take place in a flower garden, Japan, Spain, Arabia, China, and Bon-Bon's, etc.
Gardenhire has put a narrator (actress/staff member Sloan Robinson) in-and-out of the ballet, which is useful for an audience with little or no relationship to ballet. Gardenhire has brought back this ballet for its ninth year, explaining, "In building a company, you have to have a stable ballet to bring in the audience – every year; tried and true. A tradition we have made our own. I wanted to keep the tradition of a nutcracker propelling the theatricality and the style and, keeping it classical – just less so." In addition, it allowed for more interracial casting. "Anybody can be in it. I want to make it look like the Los Angeles I know. The classics should be cast for the quality of the dancer, not the color of their skin. Children of color don't [usually] see themselves reflected in the classics, but I pick dancers irrespective of race. The children in the ballet are orphans, so it gives any girl the possibility of being the lead."
Her CBLA auditions dancers every year. However, they don't yet have a stable company due to finances. "Well, I'm steady right now. My mission is being served: raising a community of artists in addition to everyday folk. We're also bringing different productions to new audiences. For instance, I've built a Peter and the Wolf, the Prokofiev version dancedto a Jimmy Smith jazz recording, set in a 1960's London, which will play at the Wilshire Ebell, next May, perhaps."
How many in her company? "From show-to-show, at least twelve dancers. Some are taken from our school, which is my pride-and-joy. We're housed in a donated Salvation Army community space of 4,000 square feet, consisting of the large studio and two smaller ones. We are open to any child who wants to study ballet, and I keep the fees small: $20-$40/month, depending on their level, three years of age up. I'm training kids to be dancers; these are academy classes for those who want to be there."
Gardenhire grew up in Los Angeles, studying at the Los Angeles Ballet Company, under John Clifford, Irena Kovsmaska, and Tanya Lichine. Then she studied in New York at the American Ballet Theatre School, and joined the Joffrey Ballet (in their second company), at age 15. She has principle'd at the Cleveland Ballet, and joined ABT under Baryshnikov. "Now I'm 50. I started CBLA in my late 30s, after retiring from dancing. I didn't know what I wanted to do, but, y'know, dancers teach. I looked around the world of dance in L.A. and was disappointed in what was there, so I re-thought the process. I began to understand how dissatisfied I was working for other people. My experience as a black woman in the ballet world taught me that we needed to reach out to minority kids, especially because of the expense in studying. Toe-shoes alone can break a budget. Plus, the structure wasn't there for me, as I wanted to create something new."
At the beginning, she set up her academy in a church basement, then learned of the Salvation Army's Red Shield space. "I was in awe of this amazing studio. The angels must have been with me. I am so grateful. Our being there meets their needs as well as mine, having a professional dance program on site, and one they can offer to their members. So we trudge along on a budget that – depending on donations and tiny grants – goes from $50,000-$60,000/year. I take a small salary, and have a small paid staff."
She choreographed this Nutcracker, beginning in 2005, changing it in small ways every year, but keeping the storyline intact. In addition, she plays the Drosslemeyer character, usually played male. In 2012 they filmed the ballet, but also included comments of the audiences arriving and leaving, holding it for a future documentary. "Most of our paying audiences come from the Hancock Park area, which is fantastic. We pack the house every year, priced between $20 and $60 a ticket [plus half-priced tickets on Goldstar]"
Second in age to her competitor, Los Angeles Ballet, she does muse on why our city is so not receptive to year-round ballet. "Well, Hollywood and film is the focus, not dance. Audiences tend to not take in a ballet situation, unless it's famous: Baryshnikov, or Alvin Ailey, ABT, etc. But we are slowly developing in our own pool, as the Los Angeles Dance Project, under the direction of Benjamin Millepied, former head of the Paris Opera, [based at the ACE Theatre downtown] is proving their worth by their quality fund-raising. But that money is still not coming to us…yet." Building an institution is a difficult thing and takes its own time."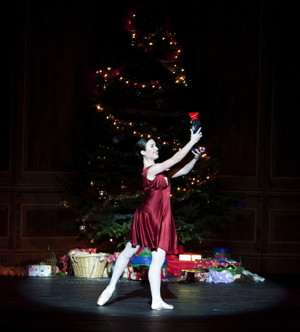 The Nutcracker Swings performs December 19th and 20th, 2014, at 8:00pm, at the Wilshire Ebell Theatre, 743 South Lucerne Boulevard (at Wilshire Blvd) in Los Angeles, CA 90005. Tickets available here and here.   Or call 323.292.1932 x2.