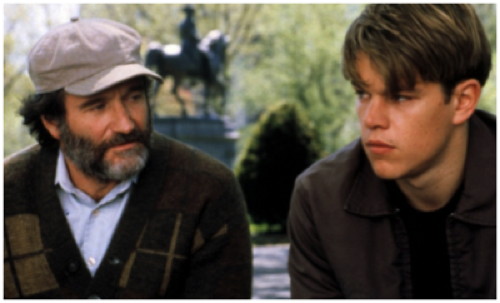 This PBS documentary enshrining the late Robin Williams' path into television and film history is a sober reminder of how even the best comics in the world often suffer from intense depressions that, as in this case, compelled one of our genius' into taking his own life at age 63. That sad news broke on August 11, 2014.
Williams made a major impact on the art of comedy, especially in his brilliance in the field of improvisation. His ability to take any idea and riff it to death, rather like watching a dog shake a rat, made for hysterical laughter and head-shaking admiration.
This hour-long documentary, written by Michael J. Trinklein and directed by Steven J. Boettcher, mainly touches on the legendary funnyman's professional career (well documented on film) but only glancingly examines his private life. Of maximum importance in that, though, is the way they spotlight his internalized demons, which showed up in his abuse of alcohol and illicit drugs. (One of his most telling lines, from a stand-up album, was the observation that "Cocaine is God's way of telling you you have too much money.")
Various people who knew him well are interviewed, always with positive things to say as, apparently, he was a kind and supportive friend: co-star Pam Dauber from his first success, the sit-com Mork and Mindy; Whoopi Goldberg; the late comic-guru Jonathan Winters; director Penny Marshall; Henry Winkler; Yakov Smirnoff; Jimmie Walker; Paul Rodriguez; and producer George Schlatter.
This is a sad and enriching documentary. Williams was, indeed, gifted at what he did, including his more serious work in feature films. He is already missed and will be so for years to come. There are a number of films available for purchase that demonstrate his talents. There are many to cherish, including this fine exploration of his life and work from PBS.
DVD reviewed by Dale Reynolds.