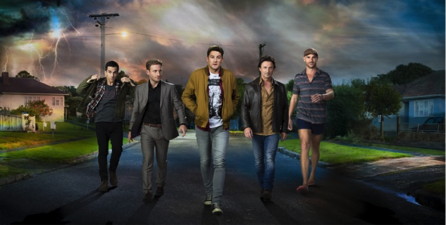 The Almighty Johnsons is an entertaining, if preposterous, New Zealand-produced TV series (it lasted three seasons) that is skewed towards the young and impressionable. Expect a lot of frank sexuality, nudity, swearing, and, oh yes, story-telling.
"The Almighty Johnsons is a new South Pacific Pictures comedy-drama series about four brothers, raised in heartland New Zealand, who also happen to be the living incarnations of Norse Gods. They even have their own super-god-powers. Sort of – it's just that their powers aren't actually all that powerful. Well, not yet – but that could all change soon." From the IMDB website.
Created by James Griffin and Rachel Lang, the four brothers, ranging in age from 21-38, are normal New Zealand blokes: lots of drinking, sex, and discussions of sex. Each has a job, but are in varying degrees of debt and relationships. When the youngest, Axel Johnson (Emmett Skilton) turns 21, his other brothers, Mike (Timothy Balme), Anders (Dean O'Gorman), and Ty (Jared Turner), plus their youngish grandfather, Olaf (Ben Barrington), reveal to Axel that he is a Norse god – not only a god, but Odin, THE main god, himself. And it is in Axel's destiny to marry the chief goddess, if only they knew who she was… (Don't forget, they're all undercover.) The acting isn't great, nor is the writing, but their personalities shine through, and the series also stars Keisha Castle-Hughes as a potential life-mate to Axel.
So, as silly as the premise sounds, and as amusing if boorish as it plays out, The Almighty Johnsons will keep you rocking from, "Yeah, what fun!" to "Oh, god(dess) no, they didn't just say/do that!"
It's evident the actors are having fun with their characterizations, so if you allow yourself to drift from a place of logic into semi-unconsciousness, you'll have much the same fun as they are – hopefully minus the hangovers or an sexually transmitted disease.
Written mostly by James Griffin, and directed by Mark Beesley and Murray Keane, The Almighty Johnsons is an innocuous, amusing, and sometimes exciting, if never intellectually-stimulating, TV series.
Great for the under-25 set and acceptable to the rest of us. Plus, the show is visually quite splendid with the picturesque New Zealand as beautifully photographed as ever.
The Almighty Johnsons TV series, Seasons 1-3, is available for purchase on DVD format through MHz Releasing.
Review by Dale Reynolds.