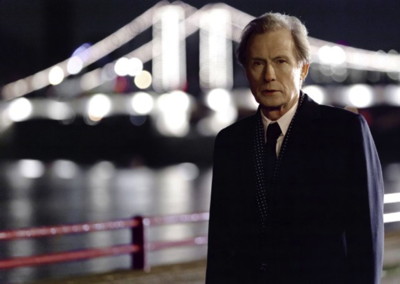 Critically acclaimed English playwright, screenwriter and theatre & film director Sir David Hare has also written extensively for television. His sensational trilogy about ex-spy Johnny Worricker (starring the always dependable Bill Nighy) was filmed over a three-year period. Penned and directed by Hare, the three made-for-BBC TV movies dovetail nicely, apart from one casting hiccough. Rachel Weisz played Johnny's neighbor and political activist Nancy Pierpan in the first movie, Page 8, but dropped out of the series after she won an Oscar for her performance in the feature film The Constant Gardner. Weisz was replaced by Helena Bonham Carter as Margot Tyrell, Johnny's new love-interest.
As Hare himself describes the first of the three full-length spy-thrillers, "Johnny Worricker is a long-serving MI5 officer. His boss and best friend Benedict Baron (Michael Gambon) dies suddenly, leaving behind him an inexplicable file, threatening the stability of the organization and of the UK government. Meanwhile, a seemingly chance encounter with Johnny's striking next-door neighbor and political activist, Israeli Nancy Pierpan (Weisz) seems too good to be true. Johnny is forced to walk out of his job, and then out of his identity to find out the truth. Set in London and Cambridge, Page Eight is a contemporary spy film which addresses intelligence issues and moral dilemmas peculiar to the new century." From the IMDB website.
Page 8 (2011), the first film: Like most analyst/spies, Johnny's has had a rotten relationship with his wives and his only daughter, who is now all grown up. And his relationship with Nancy is not what it seems to be on the surface. So most of the  satisfaction connected to this show is finding out why she is in his life and how it is impacting on her. Gambon, as his friend, Benedict, dies and the onus of finding out what he was hiding from MI5 falls to Worricker.
TURKS & CAICOS (2014), film two: Worricker has hidden himself in plain sight on the islands of Turks and Caicos, part of the Bahamas island chain, still a British Overseas Territory. Our Johnny is fearful that his former boss, Jill Tankard (Judy Davis) and the MI5, working for their corrupt Prime Minister (Ralph Fiennes), will find and eliminate him. But when a group of industrialists – all crooked, all mean as cobras – are introduced to him by a rogue CIA officer, (Christopher Walken), Worricker becomes suspicious, so he and Margo must flee. Rupert Graves (an actor who has truly earned himself a career) is one of those who might be of grave danger to the pair.
SALTING THE BATTLEFIELD (2014), film three: The final film in the series, here we see Worricker and Margo traveling incognito from one part of Germany to another to protect their lives. But when Johnny finds the truly incriminating evidence of the PM's allowing torture for American CIA/Homeland Security captures, the stakes grow stronger.
Hare has done a bang-up job on these three films (his first in two decades) and, while the violence is kept off camera, the films are stirring and blood-pulsing in their excitement , as well as spot-lighting political dilemmas. Well-written, directed, acted and filmed (DP is Thomas Townend, editor is Nick Fenton), the three films, sold separately at this stage, are worthy of a place on your video/DVD/Blu-ray shelf.
The Johnny Worricker Trilogy TV series, Seasons 1-3, is available for purchase on DVD format through PBS.
Review by Dale Reynolds.