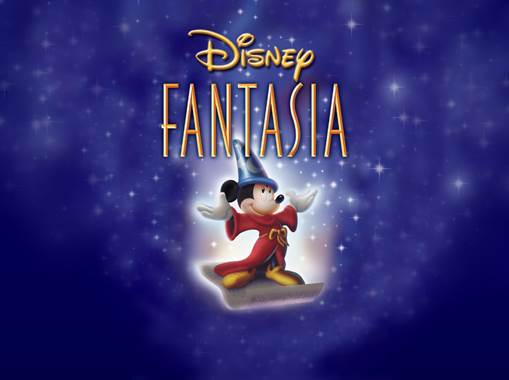 This Sunday – audiences can experience a very special classic animated film screening as Valley Performing Arts Center presents Disney's Fantasia – live in concert on March 29, 2015
Valley Performing Arts Center is excited to announce its presentation of Disney FANTASIA – Live in Concert on Sunday March 29 at 1:00pm so families can easily attend. With this presentation Disney shares one of its crown jewels of feature animation with the CSUN Symphony Orchestra, conducted by John Roscigno, accompanying scenes from Walt Disney's original Fantasia (1940) and Disney FANTASIA 2000. The show highlights a selection of the magnificent repertoire from both films including Tchaikovsky's "The Nutcracker Suite" and other iconic moments of Disney's stunning footage, such as Mickey Mouse as he dabbles in magic to Dukas' "The Sorcerer's Apprentice" and the mythical unicorns and winged horses that accompany Beethoven's "Pastoral" Symphony, all performed live while the animation classics scroll in high definition on the big screen.
The CSUN Symphony is regarded as one of the finest University Orchestras in the Western United States. Under the direction of Dr. John Roscigno, the CSUN Symphony offers a full range of orchestral experiences including four major concerts a year as well as choral, opera and musical theater performances.
The CSUN Orchestra has been invited twice to perform as the orchestra in the Virginia Wearing International Piano Competition in Palm Springs. The Orchestra also tours regionally each year for the purpose of recruiting, outreach and education. The orchestra typically performs at high schools, middle schools and elementary schools while on tour.
Alumni of the CSUN Symphony have gone on to careers with Los Angeles Philharmonic, the Los Angeles Chamber Orchestra, the New World Symphony, and the Symphonies of San Francisco , Houston, Toronto, San Diego and many others.
Tickets range from $35 – $50 and can be purchased here.
About Valley Performing Arts Center:
The 1,700-seat LEED Gold certified Valley Performing Arts Center has established California State University, Northridge, as a hub for culture and live performing arts in the region. It was recently ranked number three on the Best College Ranking's list of "The 25 Most Amazing College Campus Theaters" in the U.S. and was voted one of the top ten performing arts centers and theaters in Los Angeles by Time Out Los Angeles.