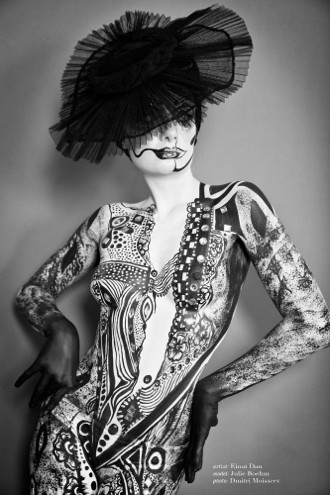 From Mariah Carey and Beyoncé to Game of Thrones and MAC Cosmetics, body painting has invaded every part of American culture. Now for the first time on the West Coast, artists from around the world will compete as they create live pieces of art at the Body Fine Art Competition, Saturday, May 16 at The Springs in the downtown Los Angeles Arts District. The art of body painting is a way of illustrating the energetic, psychological and spiritual activity below the surface of the skin.
Among 30 competing artists and photographers is David Gilmore of Long Beach who has body painted for Mariah Carey, Beyoncé, and MAC Cosmetics and was a multiple year winner for the annual Belmont Shore Sidewalk Chalk Art Contest. Originally an ad agency illustrator working with clients such as Absolut and Orbitz, it was seeing Keith Haring's body paintings of choreographer Bill T. Jones and Grace Jones that led to his "Oprah moment," says Gilmore. "Working on canvas is one locked moment, but body painting is a fluid interaction of two people creating beauty together. I knew that I had found my calling."
In 2014, Julie Hassett, a recent Sherman Oaks resident, garnered worldwide attention by creating a live, body painted version of the infamous Iron Throne from the television show Game of Thrones. Hassett grouped multiple models into the shape of the throne and painted them with swords to create a haunting effect. Her company, Let's Gogh Paint is often hired to body paint guests of entertainment power brokers and society doyennes at private house parties.
While body painting traces back to the birth of man, the modern evolution of its style blossomed when actress Demi Moore posed in full body paint for a 1992 Vanity Fair cover.  In 2012 Gotye's music video for Somebody That I Used To Know created a sensation as the lead singers were body painted and camouflaged into a painting.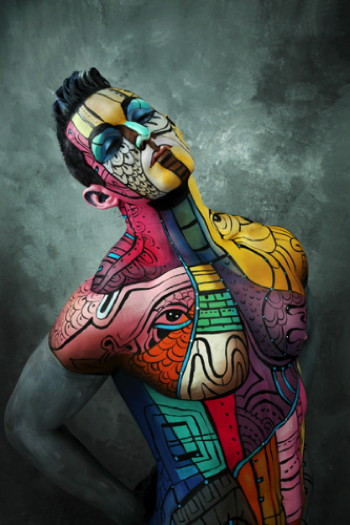 "Sacred Body," the theme of this year's competition, offers artists the opportunity to explore the vast possibilities of representing the mysteries that lie beneath the exterior of the human form, as well as the inherent beauty of the human body.
Additional featured artists competing for the grand prize of $5,000 include Dewayne Flowers of Flesh and Colors who has amassed a social media following more than 100,000 strong. Cheryl Ann Lipstreau was awarded the 2013 grand prize at the Emerging Artists International Body Painting Competition for Living Art America. Also competing is body painting legend and accomplished graffiti artist Wiser Oner whose clients included NBC, Clear Channel, Playboy, Absolut, Bacardi, Ed Hardy, Tapout, Penn and Teller and more. Learn more about all the artists here at their official site.
The World Bodypainting Association (WBPA), an international alliance for body paint artists and models, is an official sponsor of Body Fine Art's first Southern California event. Hosted by modern burlesque artists the Boulet Brothers, the Body Fine Art Competition will feature live body painting, a competition catwalk, dance group Bijoulette, live music from Robbie Fitzimmons and DJ sets by KCRW-FM's Jason Bentley, DJ Wolfie, Uru Majik and iPunx. Celebrity judges include host of KCRW-FM's 'Morning Becomes Eclectic' Jason Bentley, CEO and Founder of the World Bodypainting Festival Alex Barendregt, world renowned body paint artist Filippo Ioco and world champion body painter and GSNTV's Skin Wars judge Craig Tracy. More than 30 body paint artists and photographers will compete for prizes up to $5,000.
On Saturday, May 16, artists will begin painting earlier in the day.
Doors open to the public at 7:00 pm.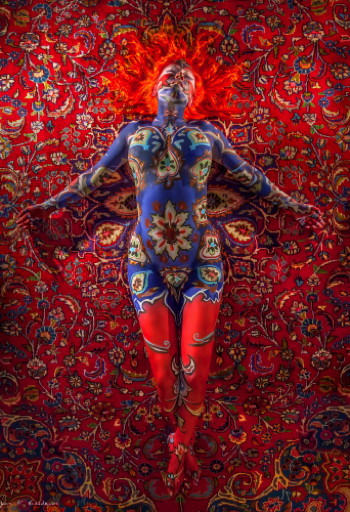 The Springs
608 Mateo Street
Downtown Los Angeles Arts District
Saturday May 16, 2015.
VIP tickets are $50 and include early entry to the venue at 4:00pm plus a beverage.
General admission tickets are $20 in advance and $25 at the door.
Tickets can be purchased here.
Follow Body Fine Art on Facebook, Twitter and Instagram: @bodyfineart and #BFALA2015.