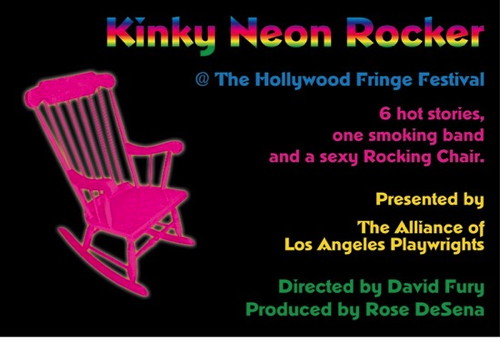 Regrettably this show is not about some glam 70s David Bowie wannabe pop star. Sure, there's a live rock trio upstage, but they don't really add much. Kinky Neon Rocker is actually a compilation of six one-act comedy sketches that are linked by a single set element — a brightly colored rocking chair that features in each of the pieces.
Playwrights Dan Berkowitz, Elin Hampton, Rom Watson, Michael Van Duzer, Judith Allen and Ron Burch offer a motley bunch of 10-minute plays involving a lesbian Nazis, the aftermath of a tornado, a financially struggling couple, a failed relationship, advance funeral plans, plus an irresistibly sexy chair.
The show starts promisingly enough with the comedic Lesbian Vixens of the SS in "Hitler's off his Rocker" by Dan Berkowitz. Royana Black and Melissa Brandzel are good as the sultry actresses, perplexed by a clueless director who thinks he's making a movie. There's a shout out to the Pro99 movement as well as a direct slam to Actor's Equity, so the political humor – plus the good performances – makes this play the best of the lot.
Rom Watson's play Mr Cuddles, about a couple begging for financial assistance from a parent, has the amusing addition of a creepy giant rat character that the mother insists is a cat. In Gardening for Beginners, Michael Van Duzer's bittersweet play about a couple who buy a house together, Duzer makes sophisticated use of the flash forward technique to illustrate their painful breakup.
One performance of Kinky Neon Rocker remains — more information here.