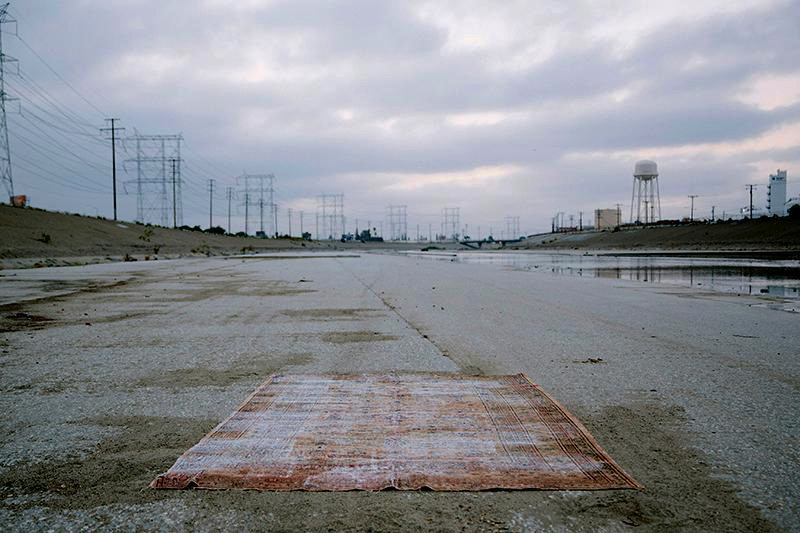 Consider the carpet. That's what artist Cole Sternberg did, looking down at the stretch of fabric that runs between his feet and the floor. They're usually taken for granted, something to wipe our shoes on, or woven of silk by the finest craftsmen and unfurled in royal halls.
"Normally I deal with readjusting and layers of things and erasing things and exposing things to the environment, and I kind of translated this to the journey of these rugs," Sternberg tells ArtsBeatLA about his current show at Woven Accents in West Hollywood. "The youngest is ninety-seven years old, the oldest is around one hundred-fifty years old. At this point they've gone around the world several times, the way rugs are traded and moved."
Ranging in style and size, some hang on walls with others on the floor surrounded by gratified gallery goers, careful not to spill their Prosecco on the artwork on opening night. Sternberg drifts among them, energized but inconspicuous in a black t-shirt and black-rimmed glasses. When asked about his process, he becomes animated, pointing out the screen-print handwritten text on the carpets, which were then exposed to elements specific to Los Angeles.
A hundred-year-old Indian carpet endured a pounding by the surf at Point Dume while another bore spiked heels and abandoned lingerie at a strip club. Chlorinated at the bottom of a swimming pool, trampled by denizens of downtown, each absorbed a level of punishment that added a random layer of grime, but more importantly, experience, another chapter in the long lives of the carpets, tying them to present day.
"These things have spent many years in a lot of different contexts, mainly sitting in nice homes, I would guess. But now we're in L.A. and there's a big shift of environmental context," he explains about the rigors he put his rugs through. "I just wanted it to have its own soul a little bit."
A Northern California native, Sternberg has lived in L.A. for nearly ten years after studying business at Villanova University and earning his law degree from American University, which may account for the political and social commentary often alluded to in his oeuvre. that covers multiple disciplines. He has shown internationally but calls MAMA Gallery his L.A. home, where current projects include a series of large-scale watercolors painted onboard the maiden voyage of a Japanese cargo ship, then dragged in the ocean.
"He has incredible ideas that are really outside the studio process, outside his painting practice," says LA><ART founder Lauri Firstenberg, who participated in a picnic in the park on one of the rugs as a way of linking the past and the present. It adds a performance layer to the piece, while the text adds yet another dimension. Words are used as a screen, obfuscating instead of clarifying, Sternberg's customarily oblique way of addressing censorship.
"I think the social and political components motivate me to create it, but the work's pretty subliminal," is how he explains it. "So you wouldn't see 'Vote for Bernie,' or 'Feel the Bern,' but you might read something that has environmental text that is from him."
When Chinese artist Ai Wei Wei smashed a Han Dynasty vase as part of his artwork in 1995, many condemned the senseless destruction of a rare antique, particularly by an artist. Likewise, one can only imagine what the anonymous craftsmen of generations past might think of Sternberg's treatment of their handiwork. Hung in a gallery instead of being walked on or rolled up and rotting in a basement somewhere, their legacy is being honored, according to the artist. "They were a little bit invisible to begin with," he says of the rugs. "I think it's actually doing a bit of justice to the people that originally made them."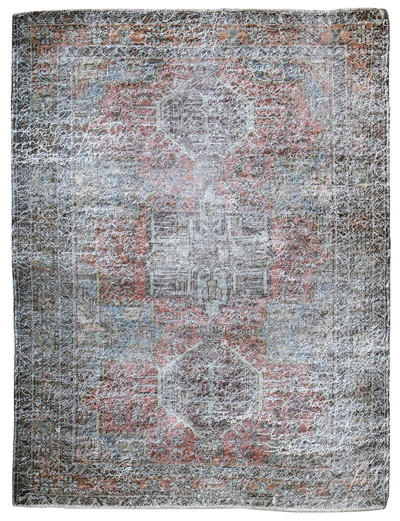 From the press release:
"For this body of work, Sternberg created a series of unique hand-painted rugs, each painted on and exposed to the elements of Los Angeles. During this process, the works decayed, faded, and created additional abstract components as they were affected by human and natural elements. For instance, an early 20th century Indian rug was pounded by the waves on the rocks of Point Dume in Malibu, while others were tramped on the sidewalks of downtown Los Angeles, chlorinated at the bottom of a Hollywood Hills pool, and wine-stained at a Griffith Park beggars banquet."
Textile works reimagined by Cole Sternberg
At Woven Accents
8674 Melrose Ave,
West Hollywood, CA 90069
On view through April, 2016
Tues-Sat, 11:00-6:00
More information can be found here.
About Cole Sternberg:
Cole Sternberg works in a range of formats including painting, installation, video, and writing. His series have focused on a variety of social issues, from current human rights activism and it's relationship to the law, to the environment, to the media and concepts of content overload. He is interested in the intersection between humanity and humankind and how their lack of congruity hinders social progression and development. Sternberg has exhibited nationally and internationally, including exhibitions at The American University Museum (Washington, DC), El Segundo Museum of Art (El Segundo, CA), Hochhaus Hansa (a Ruhr.2010 Museum, Dortmund, Germany), Primary (Miami, FL), David B. Smith Gallery (Denver, CO), Los Angeles Nomadic Division (LAND, Los Angeles, CA), Paris Photo | LA (Los Angeles, CA) and e105 Gallery (Berlin), Arted House (East Hampton, NY) and MAMA (Los Angeles,CA). His works are held by major collections throughout the world.
About Woven Accents:
Woven Accents is a fiercely independent rug company, located in a freestanding gallery on Melrose Ave in West Hollywood, California. Woven actively engages in conversations and collaborations with contemporary artists and designers to explore the notion of rug as place, where rugs ground the idea of home, culture and comfort. Working closely with interior designers who treasure its distinctive curation of antique and vintage rugs, Woven also designs and sources contemporary heirloom pieces rooted in traditions inherited and evolved over time rugs that carry memories and values from one generation to the next.