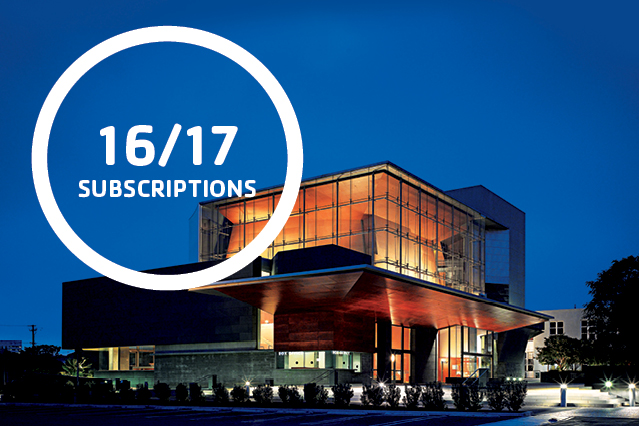 Single tickets are now available for the Broad Stage's 2016/2017 season.
Browse through the calendar to find tickets.
You can get great seats to various shows, including performance artist Anna Deavere Smith, Jazz specialists Brad Mehldau & Joshua Redman, musical sensations Béla Fleck & Abigail Washburn, to name a few.
16/17 Season:
Compelling drama, delicious circus cuisine, and improvised holiday nostalgia are in their theater pipeline this season.
Theater at The Broad Stage made possible in part by a generous gift from Laurie and Bill Benenson.
The popular Sunday series returns with more shows than ever. Satisfy your classical music cravings with first-rate talent and exquisite programming.
This series made possible by a generous gift from Barbara Herman.
Their Broad Stage Artists-in-Residence continue their rapturous, multi-year Beethoven String Quartet cycle. This inventive and passionate quartet explores the profound beauty of Beethoven's String Quartets paired with exquisite classical and contemporary works. The new works are all commissioned for this series, inspired by the Op 59 quartets and themes of patronage in the past and in the present, to create concerts full of beauty.
The Calder Quartet Residency at The Broad Stage is made possible in part through a generous grant from the Colburn Foundation.
From breakout stars to established legends, their popular Jazz series returns with an eclectic and stellar lineup of five incredible shows.
Jazz at The Broad Stage made possible by a generous gift from Richard and Lisa Kendall.
The stars of tomorrow align with this new series showcasing a broad array of talent! Featuring spoken word, bluegrass, troubadours, and classical offerings.
A whirlwind of music and song from around the globe come to the Westside for three incredible shows.
Set the stage in motion with local favorites and a highly anticipated Broad Stage debut.
You are invited to take the family on wildly imaginative adventures. Enjoy pre-show kids activities and live performance when you subscribe to our Family subscription.
This series made possible in part by the generous support of the City of Santa Monica and the Santa Monica Arts Commission, and the Los Angeles County Board of Supervisors through the Los Angeles Arts Commission.
The ever-popular Nat Geo Live series returns for a sixth season.
Browse through the calendar to find tickets.
Seating Map
Click here to view a pdf of The Broad Stage seating map.