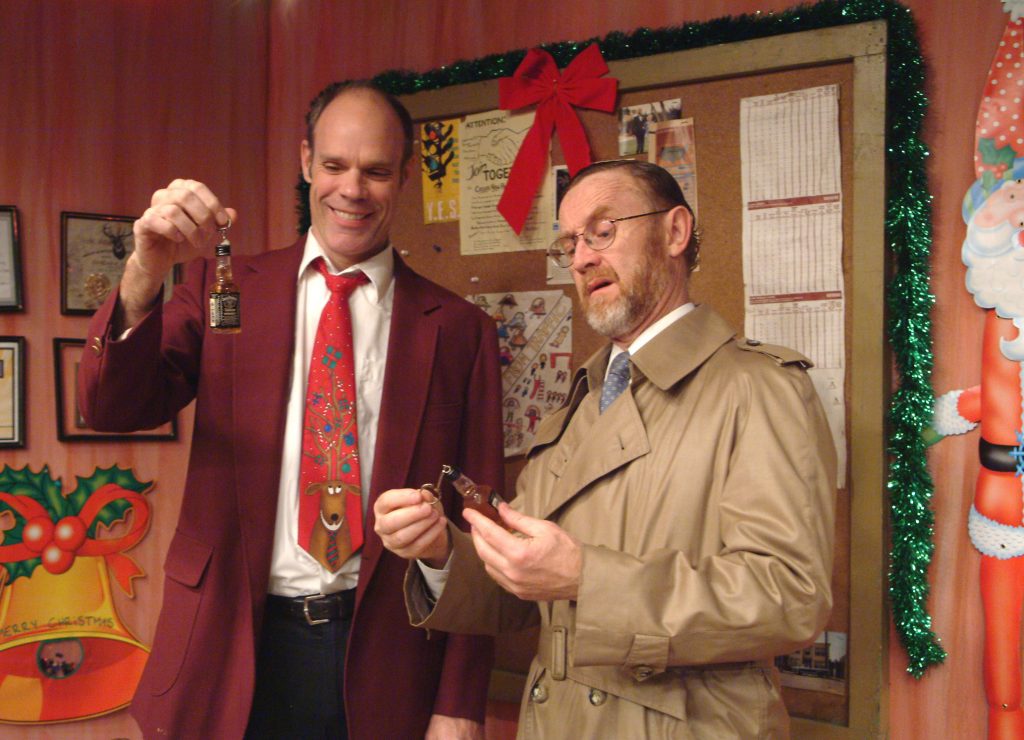 Bob's Holiday Office Party XXI  transcends time with a basic story line that lends itself to improv adaption. An insurance salesman named Bob Finhead, who operates in Neutergurg, Iowa, throws a Holiday party for the locals at his E-Z Insurance Agency. Attending the party are the sheriff, two farmers, the town drunk and- most notably – the Mayor's wife plus a minister's unstable wife who transforms into the town's 'loose woman' to make out the party guests. Pay close attention to those last two characters, as it's hard to believe that one actress, Sirena Irwin, plays both roles, but she does and with aplomb.
This play is brilliantly written by Joe Keys and Rob Elk, both whom are in the cast. Directed by Matt Roth, Bob's Holiday Office Party XXI  is set within this year, and so the story takes liberty to poke fun of the current state of political America.  Maile Flanagan and Melissa Denton play the two farmer twins LaDonna and LaVoris. These two in humorous Christmas dress are intoxicatingly funny as political 'tea party' members though not teetotalers. They are joined in their drunken revelry by the local Sheriff and the local drunk fender bender Marty (role shared by Mark Fite and Cody Chappel).
The local Mayor is played on alternating nights by David Bauman or Pat Towne, and his wife, played by either Andrea Hutchman or Mary Scheer. The pair is in a marriage perhaps of convenience as his interests do not lie with her, and we learn that her's are with Bob…  Much like the plot point in It's A Wonderful Life, Bob wants to leave his small town for something bigger.  Elwin Bewee (Pat O'Brien or Michael Halpin) offers Bob a ticket out, but it turns out Elwin has false motives that turns the annual party into comical chaos.
The show is raunchy and full of broad and physical humor that might make some audience member blush.  From cheez whiz to Trump and Hillary jokes to exploding tee-shirt cannons, this play is not for the young of age. However, if you're old enough to partake of a beer bong, then you're eligible for one funny ride.
Bob's Holiday Office Party XXI  by Joe Keyes and Bob Elk.
Atwater Village Theatre
3269 Casitas Ave.,
Los Angeles, CA 90039
Performances:
Runs until December 18th
Thursday through Saturday, 8 p.m.
Sundays, 7 p.m.
Running time: Approximately ninety minutes, with no intermission.
Tickets:
Range from $20.00 – $34.99
Box Office:
Purchase tickets here or call (323) 251-1603