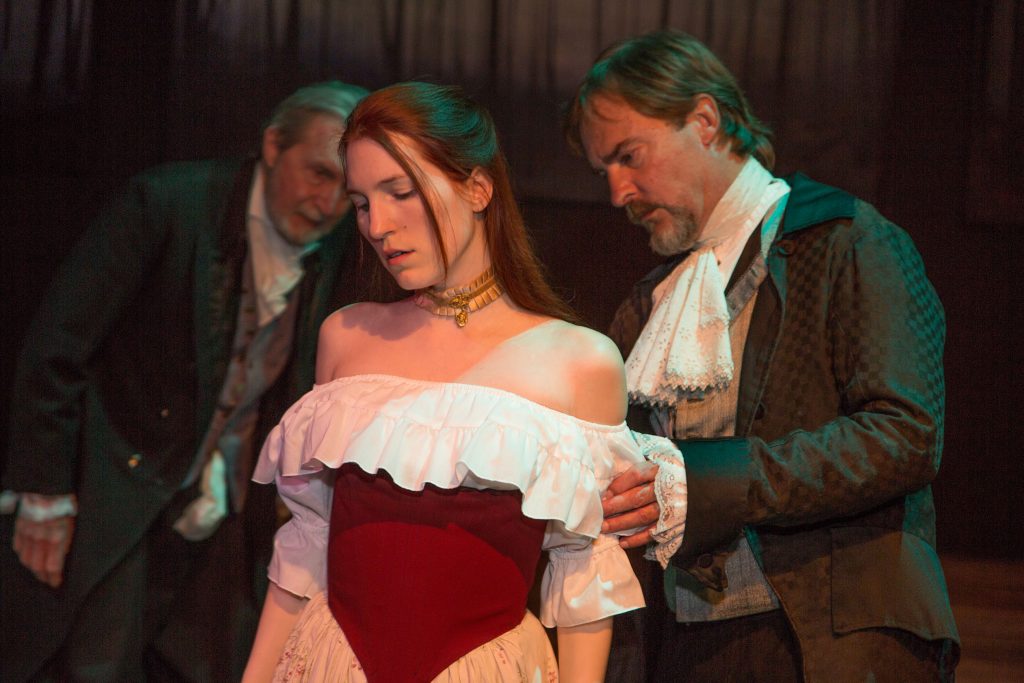 Jovanka Bach's play Devil's Salt fictionalizes what resembles historical truth—the trial and persecution of a midwife as a witch in King James Colony of Plymouth Bay in New England during the 17th Century.  Now playing as a guest production at the Odyssey Theater in West L.A., and presented by John Stark Productions, this age-old tale of sexual obsession turned into religious zealotry reflects deep issues of today including sexism, bigotry, misogyny, overt conservatism, and injustice.
The story centers around the colony's governor Hooker Wainwright, played by Tom Groenwald, and the local midwife Hannah Mulwray, played by Katharina Magdalena.  Hannah is a vibrant, passionate woman and skilled midwife and in the very first scene we see her offend Wainwright's dignity and virility.  It becomes clear that Hannah's transgression within the community, however, involves more than just lewd attraction but also a demonstration of political power.  Thanks to her medical skills, Hannah has saved many lives and has gone on to deliver sermons to members of her community. But this behavior is perceived as one that challenges the town authorities. Her actions as a self-appointed leader clash with the community at large's perception of her rightful place as a subordinate female, which causes the town to begin to fear her.
In many ways Devil's Salt resembles other fables describing a chosen one seeking to improve the world, only to be thwarted by jealousy and obsession.  The costumes, language, accents, and physical actions of the cast together evoke a time when witchcraft existed as a common yet illusionary threat to local order.  Women who gathered secretly to discuss scripture and administered herbal remedies taught by the native American's existed only long enough to be burned at the stake.
This powerful story, written by the late Jovanka Bach and directed and produced by Bach's husband of 28 years John Stark, transports the audience to an earlier time yet also reflects the undercurrents of today's political arena. While these days women face less violent yet relatable degradation, many still face obstacles and censure for having a sharp and honest tongue. Bach's insightful historical drama reflects the scary truisms of the socio-economic relationships of men and women in political power, regardless of the setting.
The remarkable cast appearing in Devil's Salt also includes Robert Brettenaugh, Dana Kell Jr, Joseph Harris, Mona Lee Wylde, Erin Hammond, Lynn Wanlass, Alexander Wells, Susan Ziegler, Gillian Brasher, Phil Donlon, Tanya Starcevich, and John Landis.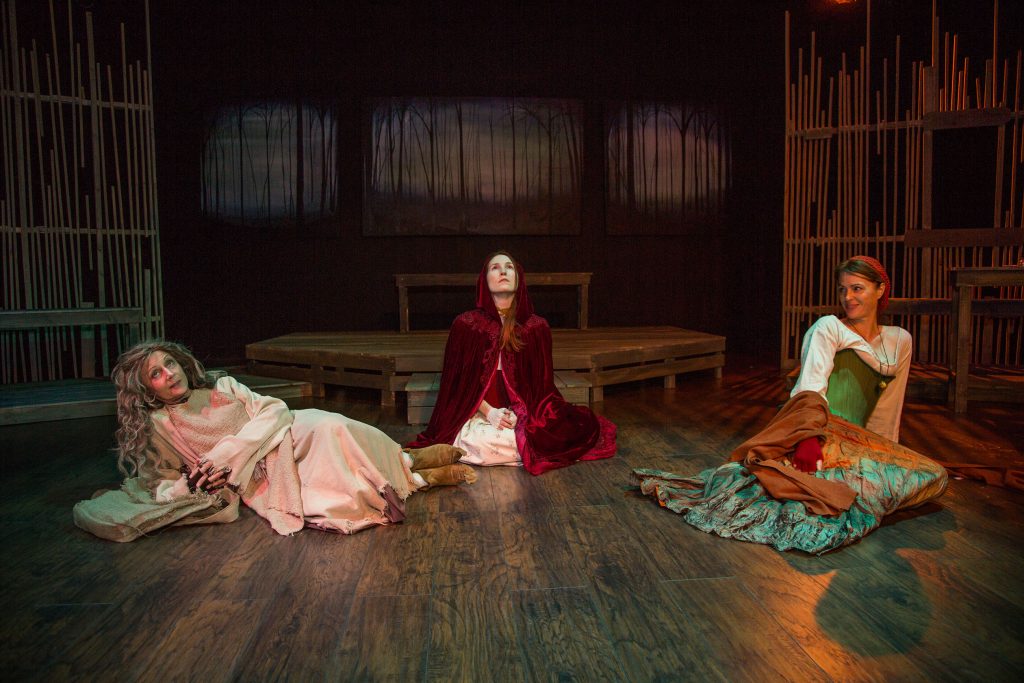 Devil's Salt by Jovanka Bach.
A guest production at the Odyssey Theater.
2055 Sepulveda Blvd.,
West Los Angeles, CA 90025
Performances:
Runs until December 18th
Thursday through Saturday, 8 p.m.
Sundays, 2 p.m.
Running time: Approximately 120 minutes, with one intermission.
Tickets:
Range from $15.00 – $18.00
 Box Office:
Purchase tickets here or call (310) 477-2055.
Additional information is available at: www.johnstarkproductions.com
Devil's Salt is a guest production at the Odyssey Theater, not part of their regular season. 
For more information about Devil's Salt visit the Producer/ Director's website John Stark. 
For information on the Odyssey visit their site.