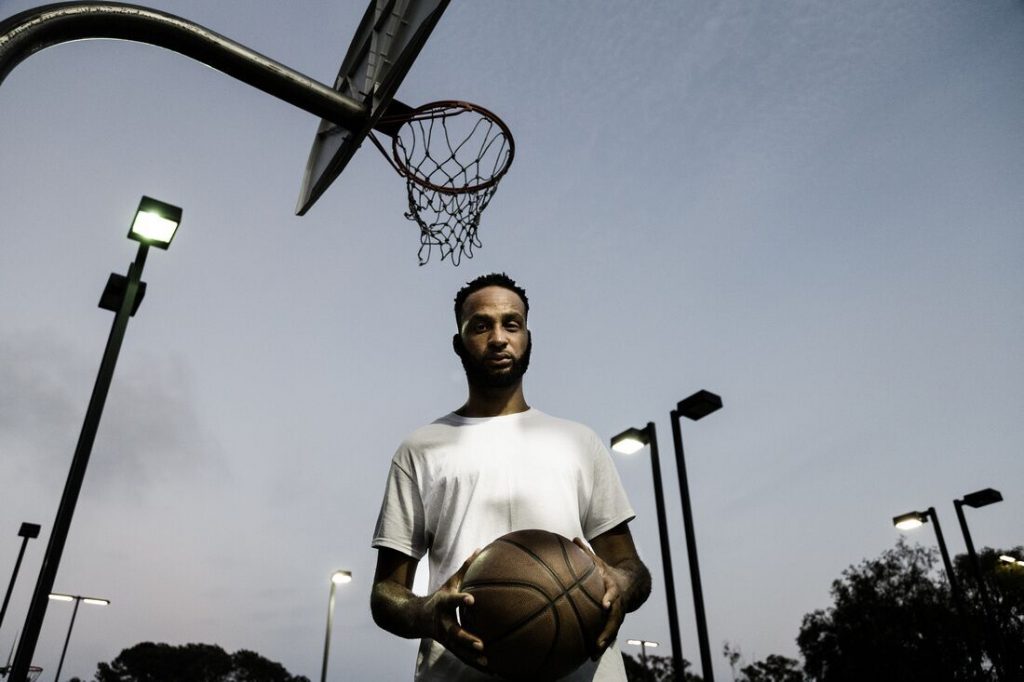 This winter, visit a reimagined Skirball gallery for the inaugural Performance Lab—a specially curated season of innovative dance, theater, and multimedia performance. With three L.A. premiere performances and two new works-in-development, discover inspiring new voices and the diverse possibilities of storytelling in the twenty-first century.
The Performance Lab, designed to spark the imagination and move your spirit, invites you to be a part of the Skirball's growing creative community. Moderated discussions follow all performances.
Schedule:

The Bitter Game (January 27 and 28), The Bumps (February 3 and 4), Lula del Ray (February 11 and 12), Unexploded Ordnances (February 17 and 18), Inflatable Trio (February 23, 24, and 25).
Keith A. Wallace—The Bitter Game
Friday, January 27, 8:00 p.m.
Saturday, January 28, 8:00 p.m.
$10 General; $8 Members; $5 Full-Time Students
Step onto the basketball court with this one-man show praised by the New York Times as "high-impact … a sharp reminder of the persuasive powers of live theater." Originally developed for La Jolla Playhouse's Without Walls Festival, The Bitter Game comes to the Skirball following its much-talked-about run at the Under the Radar Festival.
With its five acts structured as the four quarters and overtime of a basketball game, The Bitter Game explores the experience of being Black in America through the relationship between a young man and his mother. Based on the playwright-actor Keith A. Wallace's youth in Philadelphia, this multi-character performance tackles issues ranging from police violence, to coping with trauma, to the value of Black lives.
A facilitated conversation follows each performance.

Rachel Kauder Nalebuff—The Bumps
Friday, February 3, 8:00 p.m.
Saturday, February 4, 2:00 p.m.
$10 General; $8 Members; $5 Full-Time Students
Rising playwright Rachel Kauder Nalebuff, creator of the New York Times bestseller My Little Red Book, probes how we make meaning as we wait in this work-in-progress production. Written specifically for a cast of pregnant performers, The Bumps follows three expectant mothers—at three, five, and seven months of pregnancy—over two generations.

Saturday, February 11, 8:00 p.m.,
Sunday, February 12, 2:00 p.m.
$20 General; $15 Members; $12 Full-Time Students and Children
L.A. premiere! Don't miss this limited engagement of Manual Cinema's critically acclaimed show Lula del Ray. The Chicago-based ensemble—praised by the New York Times for "conjuring phantasms to die for"—uses overhead projectors, shadow puppets, actors in silhouette, and live music.

Split Britches—Unexploded Ordnances
Friday, February 17, 8:00 p.m.
Saturday, February 18, 8:00 p.m.*
$10 General; $8 Members; $5 Full-Time Students
Split Britches, the pioneering feminist theater company cofounded by Lois Weaver and Peggy Shaw, visit the Skirball to develop their new in-progress project, Unexploded Ordnances (UXO), slated to premiere in January 2018.

Thursday, February 23, 8:00 p.m.
Friday, February 24, 8:00 p.m.
Saturday, February 25, 8:00 p.m
$15 General; $12 Members; $10 Full-Time Students
L.A. premiere! Performed on and around an inflatable plastic living room set, Inflatable Trio looks at the ways we attempt to orient ourselves within ever-changing domestic, social, and environmental landscapes.