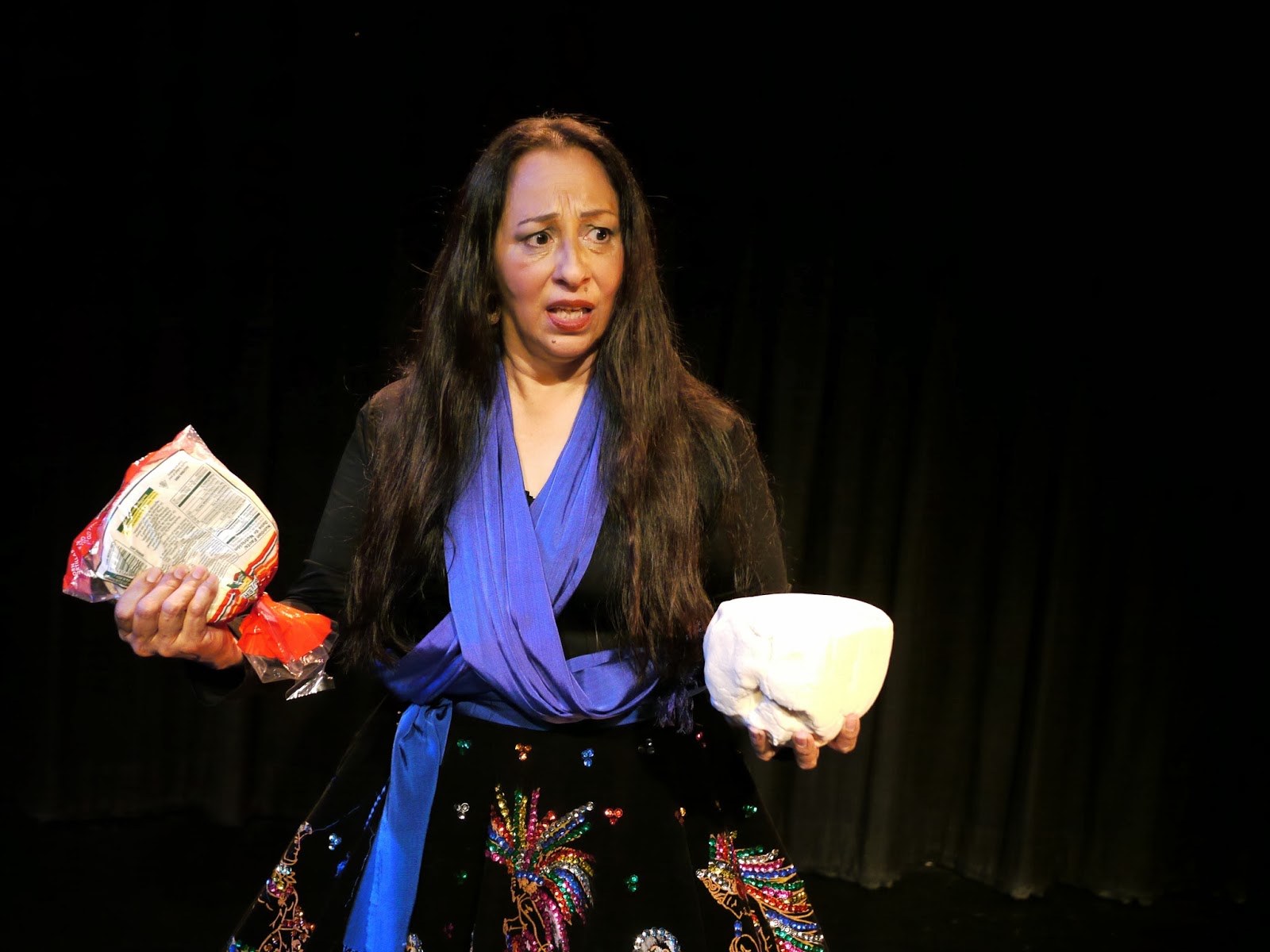 On March 23, 2017 at the Barnsdall Gallery Theatre in Hollywood the Los Angeles Women's Theatre Festival or LAWTF, held the opening Gala for their 24th year.   LAWTF is a festival for solo female performers, and is the longest running festival of its kind in Los Angeles, producing over 500 solo shows.    The rest of the festival happens over the weekend from March 24th to the 26th at the Electric Lodge in Venice Beach.  The theme for the evening was "standing on the shoulders of."  The highlights of the evening were the presentation of the LAWTF awards for Rainbow (2), Maverick, Integrity, Eternity, and Infinity.
The evening festivities were directed by Adleane Hunter and hosted by returning actors Hattie Winston of Becker fame, and Ted Lange best known for his role on the Love Boat.  The opening number was a group of about a dozen women each who stepped forth and told the audience whose shoulders they were standing on.  The answers were as diverse as relatives, ancestors, mentors, employers, friends, to Lucille Ball, Mae West, and Whoopi Goldberg. The guest performer for the evening was renowned Broadway actress, singer, and lyrists Eloise Laws.  She performed two numbers, one with a surprise guest, her sister Debbie.  The second solo was called "Don't Move Don't Blink" and was released in Germany the prior week, a song about not giving up on your dreams.
The Rainbow awards are given to "individuals whose work has set a high standard of individuality and self style creativity."  This evening there were two recipients, Leslie K. Johnson and Estelle Campbell.  Johnson is the Director of Social Strategy, Innovation and Impact at Center Theatre Group (CTG) which encompasses the Ahmanson Theatre and Mark Taper Forum at the Music Center of Los Angeles, and the Kirk Douglas Theater in downtown Culver City.  She has worked extensively in art administration and art education for over 20 years.  Johnson informed the crowd "the work is the reward,"  it "lifts us up."
Estelle Campbell also received a rainbow award and is late to the world of theatre, having had a career in architectural interiors, but is now the Managing Director of the Sierra Madre Playhouse, a position she has held since 2013.  Campbell has produced over 20 equity performances at the Playhouse, including a host favorite, Raisin in the Sun, Our Town, To Kill A Mockingbird, to name a few.  Several have been nominated or  won Ovation awards.  Campbell made it clear that to her this was a "special moment in the theatre" and that the Playhouse "honors the American Experience" a "story of immigration and slavery" and " we are not calling [slavery] immigration."  It is a time for "radical empathy" and a time when there is a need to listen and for "community integration."
The next award granted for the evening was the Maverick Award for setting "high standards of individuality and self-styled creativity" presented to Paulina Sahagun.  Sahagun has performed extensively in the United States and across the Mexican Border, though Host Lange commented "that may change."  Sahagun stressed that they were on the lands of Native American's, her ancestors and standing on their shoulders.  Her work includes being a member of Los Mascarones, and Grupo Cultural Zoo, a PBS special, co-author of a play in the style of clowning, children's theater and she also has worked with UCLA.
The Integrity award, for an "artist or individual who has brought credibility and dignity to her work" was presented to composer, conductor, arranger, and performer Megan Cavallari.  Cavallari has won numerous awards including three ASCAPs and two Telly Awards, and scored more than 50 films, 25 television shows, 16 stage musicals, and countless songs and jingles, including music for the L.A. Kings.  She had one of the most prolific speeches of the evening.  In  her second grade class the kids were asked what they wanted to do when they grow up.  The boys said be rich. The girls said be Mommies.  She said "Leonard Bernstein."  She was so upset by this, she went home and her mother told her to listen to herself and she did.  Cavallari stressed that there are only two percent of women composing in the industry and that needs to change.  She stated "women have a voice… and it is about time people listen."  She went on further to talk about how distinctive women's voices are and that what women have to say is important. "Creativity is the thing that sets us apart and sets us free."  Cavallari should also be recognized for creating The Talk Foundation Project recording the observations of children with life threatening and chronic diseases.
Celebrated jazz and blues singer Barbara Morrison received the Eternity Award for "life time achievements" that "have made a lasting contribution to the world of theatre."  Morrison has a three and a half octave range and has appeared around the world with some of the greats, including Ray Charles, Tony Benet, Keb Mo, Dizzy Gillespie, Joe Williams, Nancy Wilson, and at world renowned venues like Carnegie Hall, and various Jazz Festivals from North Sea to Playboy. She teaches a vocal workshop on Wednesdays nights at her Barbara Morrison Performing Arts Center in Leimert Park area.  She told her father she wanted to be a singer, and he said go be one.  She wanted to be "the best [she] could be."  Morrison stated "we can be the best that we can be….us women." In the future Morrison is working on the California Jazz and Blues Museum.
The final award of the night, the Infinity Award, goes to someone who "has passed on and leaves behind a legacy that will always be remembered."  For this night that award went to Emmy award winning actress Doris Roberts who died on April 17th, 2016 at the age of 90, best known for her work in television on shows like Angie, Everybody Loves Raymond and Remington Steele and winning five Emmy awards, she also appeared in eleven Broadway shows, thirty nine films, and was a philanthropist for the AIDS Foundation, and animal welfare organizations.  Roberts also wrote an autobiography of her life, and in 2012 testified before Congress on age discrimination in Hollywood  Her manager Sandy Ross accepted her award.   Ross told a story of once actually standing on Robert's shoulders to reach a tray up on a shelf and that Roberts would have hated what was going on in the world right now, but would have loved this evening.  For Roberts in her own words," communication is everything."
The final speaker of the night was the Co-Founder of LAWTF Adilah Barnes who brought Board members up to the stage including the Secretary Karen A. Clark, Managing Producer Keith L. Craig, Treasurer Sky Palowtiz, and the Festival Director Adleane Hunter.   She stressed the importance that a board has two responsibilities, one to act as a fiduciary and second to ensure that money is spent ethically. She ended by thanking the technical team especially the Technical Director Debra Morris who came all the way from Arkansas for the event.  This festival to Barnes is a reminder of the talent "in the solo world."
Los Angeles Women's Theatre Festival Opening Night Champagne GALA, co-founded by Adilah Barnes and Miriam Reed.  LAWFT shows to be held at:
Electric Lodge
1416 Electric Avenue
Venice, CA 90291
Performances:
Runs until March 26
Friday 8 p.m.
Saturday 3 p.m. and 8 p.m.
Sunday 3 p.m. and 7:00 p.m.
Running times: varies.
Tickets:
$10.00 to $25.00
Box Office:
For tickets check on line or call (818) 760-0408.
Check LAWFT website for a day of free workshops and evening of ticketed BRAVA performances on April 23rd in West Hollywood.   Also sign up for their mail list.
Submissions are open for LAWFT 2018 deadline August 31st, 2017.