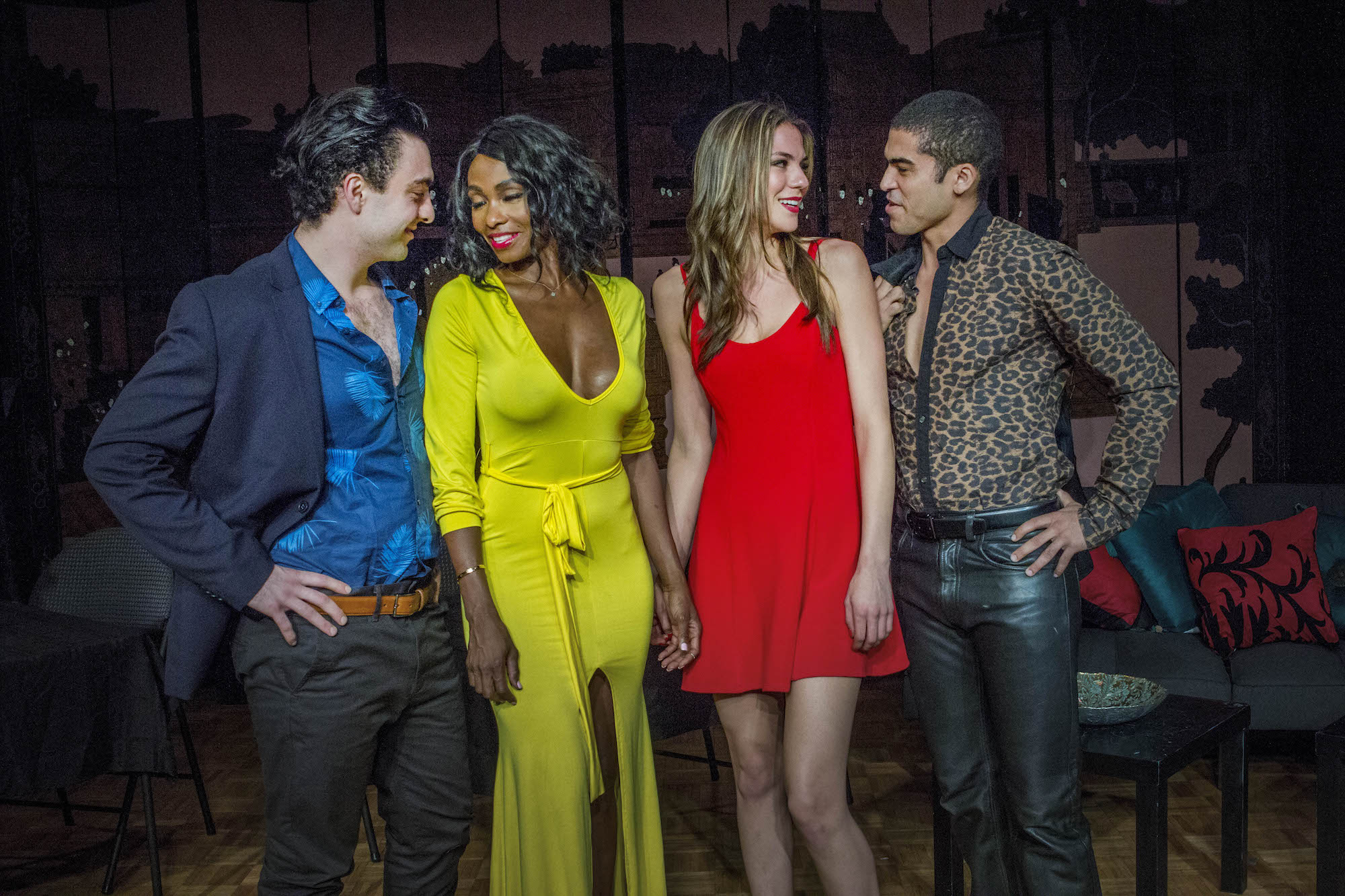 Love Always—a collection of thirteen comedy plays written by veteran writers Renee Taylor and Joseph Bologna—is more a series about lust and unhealthy relationships than it is about love.  There are moments of brilliant humor but also a sense that the series is a period look at love in a time of carefree abandon.  The stories seem as if they were written for an R-rated audience from the age of the Love Boat (TV show) and not today.
This production is great for showcasing a large group of actors as the cast consists of over thirty actors.  Fewer than a dozen appear more than once on stage.  The acting styles and abilities are broad.  Some of the actors need to be coached on the difference between being heard and shouting.  Raven Bowens who plays Susan did a fantastic job of projecting her voice without over doing it.
The skit entitled 'Tony and Madeline' at first seemed to take a stereotypical approach with its scenes of two diva actors in love, but the physical comedy of the Chad Doreck and Jude Warner brought fresh life to the hackneyed scenario.  Though this is also one of the skits that seems transported from twenty years ago.  Justine Estrada as Maureen has potential but there was a lack of focus and zero connection with her acting partner Marlin Chan, losing moments of potential laughter.
There is also a brilliant little story called 'Benny and the Woman' about a guy collecting autographs who has a chance encounter with a woman on a break, played by Michael Barker and Samiyah Swann.  It's both a funny and poignant look at one person trying to connect to another and failing.  Apparently Benny has a talent for collecting autographs of people before they become famous, for instance comedian Steve Harvey. Yet the woman seems oblivious to Benny's hopeful attempts to get hers.
There are no gay relationships depicted in this production, though the first foursome skit does seem to poke fun of the lifestyle.  The scenes that conclude the first and second acts of this production are both about two sets of couples and their complex relationships.  Actors Danny Siegel and Lucy Walsh appear in both.  They are joined by Jeff Hamasaki Brown and Lauren Piaxco in Act One and Chad Doreck and Abigail Kochunas in Act Two.  Both skits are funny and both seem to be about couples reconnecting, yet again in an age where women are tired of mistreatment, both seem out of step.  The final scene emphasized that this show should be called 'Lust Always' rather than 'Love Always.'
The second act is a series of stories all happening in different bed rooms, though one is a makeshift game/ reality show.  The show also is very long and by the second act concentration is difficult; although bedsheets change, the bedrooms start to all seem the same…  Some couples fight, most are dysfunctional.  Some are funny.  Some are twisted.  If one is not sensitive to topics like infidelity, and swinging, and multiple partners, this would be a fun night.  However if a person sensitive to the abuse of women, and degradation and objectification of women, and if you see love as intimacy and beauty and kindness, one might want to not attend.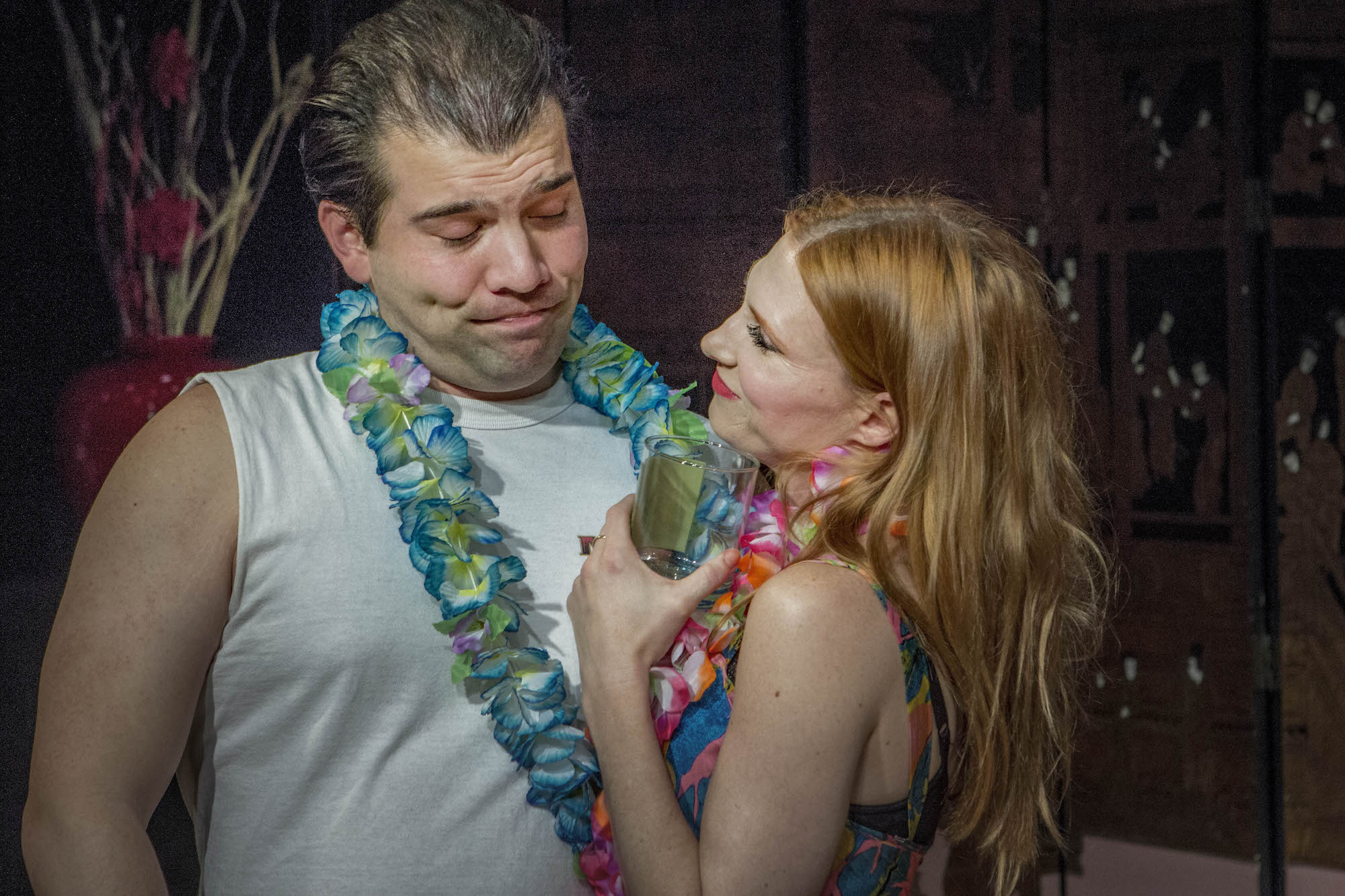 Love Always, by Renee Taylor and Joseph Bologna.
Directed by Gloria Gifford and presented by Jamaica Moon Productions and GGC Players.
Gray Studios
5250 Vineland Ave.
Noth Hollywood, CA 91607
Performances:
Runs until April 25th
Saturday, 8 p.m.
Sundays, 7:30 p.m.
Running time: Approximately two hours and twenty minutes, with one ten minute intermission.
Tickets:
$30.00
Box Office:
Go to Tix.com or call (310) 366-5505 or for more information see Gloria Gifford Conservatory.