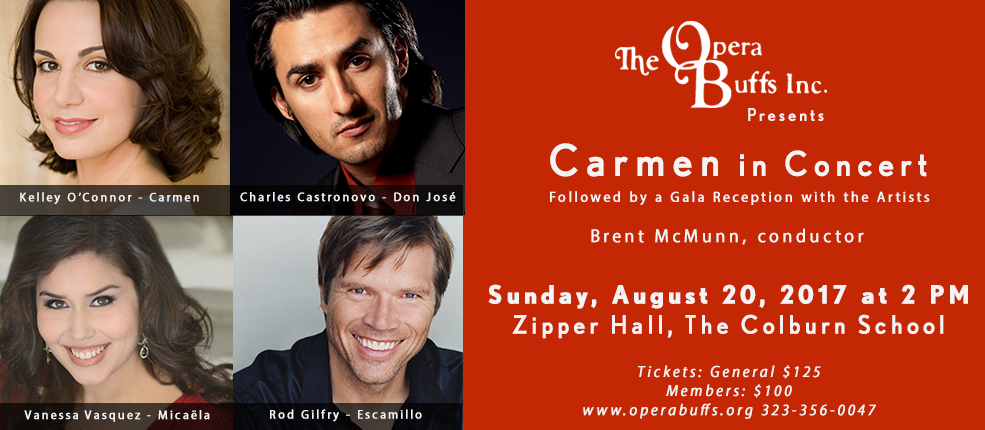 World renowned opera stars KELLY O.CONNER as Carmen, CHARLES CASTRONOVO as Don Jose, VANESSA VASQUEZ as Micaela, and special guest star ROD GILFRY as Escamillo will appear in The Opera Buffs Gala Fund Raiser concert opera with a full orchestra, chorus, supertitles in English of Georges Bizet's Carmen.
The concert will be held on Sunday, August 20 at Zipper Hall, The Colburn School, followed by a gala reception with the artists.
The Opera Buffs, a California non-profit corporation, is dedicated to providing emerging talented opera singers with funds and performing opportunities at the start of their professional careers.
In its 36 year history over 500 artists have been recipients of their support.
All the singers appearing in these gala concert operas were Opera Buff grant recipients at the start of their careers.
These stars are graciously returning to help The Opera Buffs raise additional funds for the future stars of tomorrow.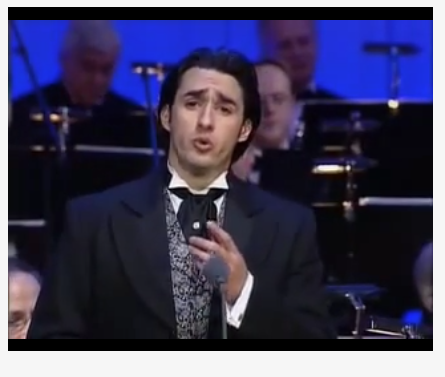 Carmen In Concert
Zipper Hall, The Colburn School
2:00 PM
Followed by a gala reception with the artists.
About The Opera Buffs:
The Opera Buffs, a long-established force in the musical life of Southern California, is dedicated to supporting emerging opera singers at the crucial juncture — the years of transition from student to professional performer. Since 1983, hundreds of Southern California-based singers, including such artists as Brian Asawa, Richard Bernstein, Charles Castronovo, Michelle DeYoung, Julianna Di Giacomo, Greg Fedderly, Jesús León, Danielle De Niese, Sandra Radvanovsky and Deborah Voigt, have benefited in the early stages of their careers from the financial and moral support of our nonprofit organization, and from the opportunity to gain paid performance experience. We provide funding for career-related expenses based on current talent and career potential, filling a niche generally not served by opera companies, competitions and music schools.