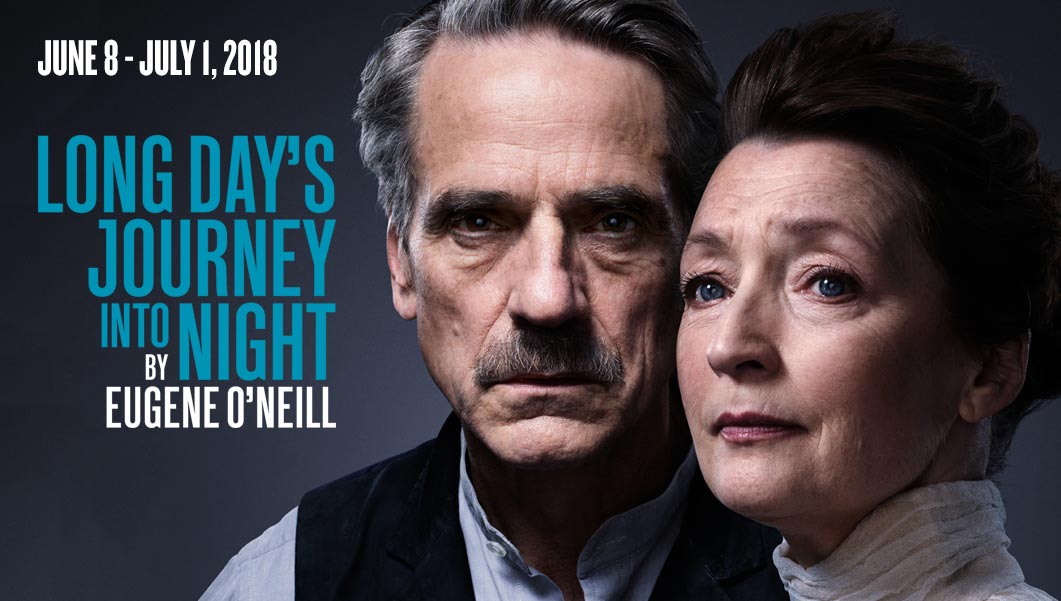 Eugene O'Neill's Pulitzer Prize-winning masterpiece Long Day's Journey Into Night  comes to the Wallis Annenberg Center for the Performing Arts (The Wallis) for a limited three-week engagement from Friday, June 8 through Sunday, July 1, 2018.
Richard Eyre's acclaimed Bristol Old Vic production stars Academy Award winner Jeremy Irons (Brideshead Revisited, Reversal of Fortune, "The Borgias") and Olivier Award winner and Oscar nominee Lesley Manville (Another Year, "Harlots," Phantom Thread). Matthew Beard (The Imitation Game, The Riot Club), Rory Keenan (BBC's "War & Peace," "Peaky Blinders") and Jessica Regan (reprising the role as Cathleen from the 2016 Bristol Old Vic production) round out the ensemble cast.
"I couldn't be more honored to bring this production to Los Angeles," said The Wallis' Artistic Director Paul Crewes. "Sir Richard Eyre is one of the greatest living directors in the world. To present Jeremy Irons and Lesley Manville on our stage is a great endorsement of The Wallis' growing reputation. This is a production that should not be missed!"
Considered one of the most powerful American plays of the 20th century, the production will also play a strictly limited 10-week West End season at Wyndham's Theatre from January 27 – April 7 and Brooklyn Academy of Music (BAM) Harvey Theater from May 8 – 27 before transferring to The Wallis.
Single tickets are now available for $35.00 – $125.00
For more information or to purchase tickets, visit TheWallis.org/LongDays, call 310.746.4000, or stop by in person at the Wallis Annenberg Center for the Performing Arts Ticket Services located at 9390 N. Santa Monica Blvd., Beverly Hills, CA 90210.
Ticket prices subject to change.
The Wallis also offers three different options to subscribe to the 2017/18 season: the Premium Subscription Series; the Design-Your-Own option; and the new 3-show Flex Pass for $99, created for busy young professionals—39 and younger—giving the most flexibility to join The Wallis family of subscribers. Learn more at TheWallis.org/Subscribe.
~~~
About Long Day's Journey Into Night:
Haunted by the past but unable to face the truth of the present, James and Mary Tyrone and their two sons test the bonds of a family caught in a cycle of love and resentment. As day turns to night and each member of the family indulges in their vices, the truth unravels leaving behind a quartet of ruined lives.
~~~
TICKET INFORMATION:
LONG DAY'S JOURNEY INTO NIGHT
by Eugene O'Neill
Director Richard Eyre
Set and Costume Design Rob Howell
Lighting Design Peter Mumford
Sound Design John Leonard
Wallis Annenberg Center for the Performing Arts
Bram Goldsmith Theater
9390 N. Santa Monica Blvd, Beverly Hills, CA, 90210
Season:
June 8 – July 1, 2018
Performance Schedule:
Tues – Fri at 7:30pm;
Sat at 2pm & 7:30pm;
Sun at 2pm
Tickets:
Single tickets: $35 – $125 (prices subject to change)
Online – TheWallis.org/LongDays
By Phone – 310.746.4000
Box Office – Wallis Annenberg Center for the Performing Arts Ticket Services
9390 N. Santa Monica Blvd, Beverly Hills, CA, 90210
LONDON LISTING:

Wyndham's Theatre
Charing Cross Rd,
London WC2H 0DA
January 27 – April 7, 2018
Opening night – February 6
Performance Schedule: Tues to Sat evening at 7.30pm; Saturday & Sunday matinees at 2pm
There will be no matinee performance on Saturday, January 27
There will be an additional matinee performance on Wednesday, April 4
Wyndham's Theatre Box Office: 0844 482 5120
NEW YORK LISTING:
BAM (Brooklyn Academy of Music)
Harvey Theater
651 Fulton St
Brooklyn, NY 11217
About the Cast:
Matthew Beard will play Edmund Tyrone. With credits across stage and screen, Beard is best known for his work in film, including the roles of Guy Bellingfield in The Riot Club, Peter Hilton in The Imitation Game, Howard Raymond in The Look of Love and a young Blake Morrison in And When Did You Last See Your Father? Other screen credits include One Day, Chatroom, Acid Burn, An Education, Panic Buddy and Singularity. Beard made his stage debut as Edward in Skylight (Wyndham's Theatre) starring Carey Mulligan and Bill Nighy, for which he was nominated for a Tony Award when the production transferred to Broadway.
Jeremy Irons plays James Tyrone. A Bristol Old Vic Theatre School graduate, he began his professional career on the Bristol Old Vic stage in 1969. After years of success in the West End, Irons made his Broadway debut in 1984 opposite Glenn Close in The Real Thing, which won him a Tony Award. An internationally renowned actor, he is well known not only for films such as The French Lieutenant's Woman, The Mission, Being Julia, Lolita and Reversal of Fortune for which he won an Oscar,  but also for the variety of his work – everything from The Lion King to "The Borgias." He is one of only a handful of actors to have won an Oscar, a Tony and an Emmy for his body of work. 
Rory Keenan will play James Tyrone Jr. Keenan has a rich list of television credits, best known for the role of Bilibin in the latest BBC adaption of "War & Peace," Simon in "Stan Lee's Lucky Man"and Donal in "Peaky Blinders."Other screen credits include "Primeval," "Birdsong," "The Clinic," "Aristocrats," "Dear Dilemma," a leading role in two series of "On Home Ground," Intermission, Ella Enchanted, Reign Of Fire, Close, Gun and Benedict Arnold. As well as his extensive credits in film and television, Rory has starred in a variety of stage shows including Welcome Home Captain Fox directed by Blanche McIntyre (Donmar Warehouse), Someone Who'll Watch Over Me directed by Michael Attenborough and Liola directed by Richard Eyre (National Theatre).
Lesley Manville plays Mary Tyrone. An award-winning actress, she is a frequent collaborator with director Mike Leigh, winning the London Film Critics' Circle Award for British Actress of the Year for her work in both his 2002 film All or Nothing and his 2010 film Another Year, for which she also won the National Board of Review Award for Best Actress. Manville's extensive stage career includes roles in Top Girls (Royal Court 1990), Les Liaisons  Dangereuses (RSC 1986), His Dark Materials (National Theatre 2005), Pillars of the Community (National Theatre 2005) and Six Degrees of Separation (Old Vic 2010). In 2012, she was nominated for an Olivier Award for her role in Leigh's play Grief  (National Theatre 2011), before going on to win the 2014 Olivier Award for Best Actress for her role in the revival of Ghosts (Almeida 2013) directed by Richard Eyre.
Jessica Regan will reprise the role as Cathleen from the 2016 Bristol Old Vic production. Until recently, Regan played regular Niamh Donoghue in "Doctors"  for the BBC, for which she has won Best Newcomer at the British Soap Awards. Other theater credits include Henry V (Regent's Park Open Air Theatre); Liola  for the National Theatre (directed by Richard Eyre); Stars  In The  Morning Sky for Belgrade Coventry; The Kitchen, The Cherry Orchard  and Blood And Gifts,  all at the National Theatre; and The Flags at the Royal Court Liverpool.
About the Director:
Director Richard Eyre is widely considered to be the UK's greatest living director. Eyre was director of the National Theatre between 1987 and 1997. His most noted theater productions include Hamlet  (twice), with Jonathan Pryce at the Royal Court in 1980 and Daniel Day-Lewis in 1989; Richard III with Ian McKellen; King Lear with Ian Holm; Henrik Ibsen's John Gabriel  Borkman with Paul Scofield, Vanessa Redgrave and Eileen Atkins; and numerous new plays by David Hare, Tom Stoppard, Trevor Griffiths, Howard Brenton, Alan Bennett, Christopher Hampton and Nicholas Wright. He also directed the musical  Mary Poppins in London and on Broadway. He has been the recipient of numerous directing awards including five Olivier Awards, including an Olivier Lifetime Achievement Award, and awards from The Directors' Guild of Great Britain, the South Bank Show, the Evening Standard and the Critics' Circle. In November 2013, he once again won the Evening Standard Award for Best Director for Ibsen's Ghosts  starring Lesley Manville at the Almeida Theatre. This production transferred to the West End and to Broadway.
About the Creative Team:
Richard Eyre is joined by set and costume designer Rob Howell who has designed sets and costumes for numerous plays and musicals in the UK, in London and on Broadway over a 20-year period. Howell has won three Olivier Awards for Best Set Design. The most recent of these was for his work on the Royal Shakespeare Company's Matilda the Musical, for which he was nominated for a Tony Award.
International Lighting Designer Peter Mumford has been working in theater for over 40 years. He is a two-time Olivier Award winner, with work in the West End including Top Hat,  Much Ado  About  Nothing,  An Ideal Husband,  The Lion in Winter and Absent Friends. He has recently worked with Chichester, Sheffield Crucible, Royal Court, Almeida and the Peter Hall Company.
Sound Designer John Leonard ran the sound department at Bristol Old Vic from 1970 to 1976. He went on to join the Royal Shakespeare Company and in 1984 he was made the company's first head of sound and an associate artist of the company. He works regularly for the Almeida Theatre in London, for whom he is Sound Associate, as well as the National Theatre and in the West End.
About Bristol Old Vic:
Bristol Old Vic is the longest continuously running theatre in the UK, and celebrated its 250th anniversary in 2016. Under Artistic Director Tom Morris, the historic playhouse aims to inspire audiences with its own original productions, both at home and on tour, whilst nurturing the next generation of artists, whether that be through their 350-strong Young Company, their many outreach and education projects or their trailblazing artist development programme, Bristol Ferment.
They use their funding to support experiment and innovation, to allow access to their programme for people who would not otherwise encounter it, or be able to afford it, and to keep their extraordinary heritage alive and animated.
Since 2016, while the theatre continues to present work, it has simultaneously been undergoing a multi-million pound redevelopment project to transform its front of house space into a warm and welcoming public building for all of Bristol to enjoy, create a new studio theatre and open up its unique theatrical heritage to the public for the first time. The project is due to be completed in autumn 2018. bristololdvic.org.uk
About Fiery Angel Ltd.:
Headed by Edward Snape, Marilyn Eardley and Jon Bath, Fiery Angel is a theatrical production company that produces and manages drama, comedies, musicals and event theatre in the West End, on tour throughout the United Kingdom and internationally.
Upcoming productions include: Mary Stuart (West End), Young Frankenstein (West End), Love From A Stranger (UK tour), The Jungle Book (2018 UK tour). Recent productions include: Kenneth Branagh Theatre Company (Garrick), Ben Hur (Tricycle Theatre), The 39 Steps (2016 UK Tour after nine years at the Criterion Theatre in the West End, three years on Broadway and presented in over 40 territories worldwide to date; Olivier, Tony and Moliere winner), To Kill a Mockingbird (UK tour and Barbican), The Scottsboro Boys (Garrick), The Ladykillers (Gielgud, Vaudeville and UK tour – five Olivier nominations), Ghost Stories (Arts Theatre), Private Peaceful (UK tour), The Painkiller (Lyric Theatre, Belfast) and Dial M for Murder (UK tour).
As part of The Children's Touring Partnership, a joint venture with Chichester Festival Theatre: Running Wild (UK tour), The Boy in the Striped Pyjamas (UK tour), Goodnight Mister Tom (Duke of York, Phoenix and 3 UK tours – Olivier Award winner) and Swallows and Amazons (Vaudeville and UK tour). As part of Fierylight Productions, a joint venture with Limelight Productions: Peppa Pig Live! (West End, UK tour, US tour and Australian tour), Ben & Holly's Little Kingdom (UK tour) and Octonauts & The Deep Sea Volcano Adventure (UK tour and US tour). fiery-angel.com
About the Wallis Annenberg Center for the Performing Arts:
Since opening its doors in October 2013, The Wallis has produced or presented more than 150 dance, theater, opera, classical music and family programs to an ever-expanding audience. Under the leadership of Artistic Director Paul Crewes and Managing Director Rachel Fine, The Wallis brings audiences world-class theater, dance and music, performed by many of the world's most talented and sought-after artists. Featuring eclectic programming that mirrors the diverse landscape of Los Angeles and its notability as the entertainment capital of the world, The Wallis offers original and revered works from across the U.S. and around the globe.
The mission of The Wallis is to create, present and celebrate unique performing arts events and educational programs that reflect the rich cultural diversity of our community. Nominated for 47 Ovation Awards, four L.A. Drama Critic's Circle Awards and the recipient of six architectural awards, The Wallis is a breathtaking 70,000-square-foot venue that celebrates the classic and the modern and was designed by Zoltan E. Pali, FAIA of Studio Pali Fekete architects. The building features the restored, original 1933 Beverly Hills Post Office (on the National Register of Historic Places) that serves as the theater's dramatic yet welcoming lobby, and houses the 150-seat Lovelace Studio Theater, GRoW at The Wallis: A Space for Arts Education (a gift of Gregory Annenberg Weingarten and Family and the Annenberg Foundation) and the contemporary 500-seat, state-of-the-art Bram Goldsmith Theater. Together, these structures embrace the city's history and its future, creating a performing arts destination for L.A.-area visitors and residents alike.
The Official Sponsors of The Wallis' 2017/18 Season include: Delta Air Lines (Official Airline Sponsor), Montage Beverly Hills (Preferred Hotel) and Mercedes-Benz of Beverly Hills (Official Automotive Sponsor).
For more information about The Wallis, please visit: TheWallis.org.
Like The Wallis on Facebook, and follow us on Twitter and Instagram.