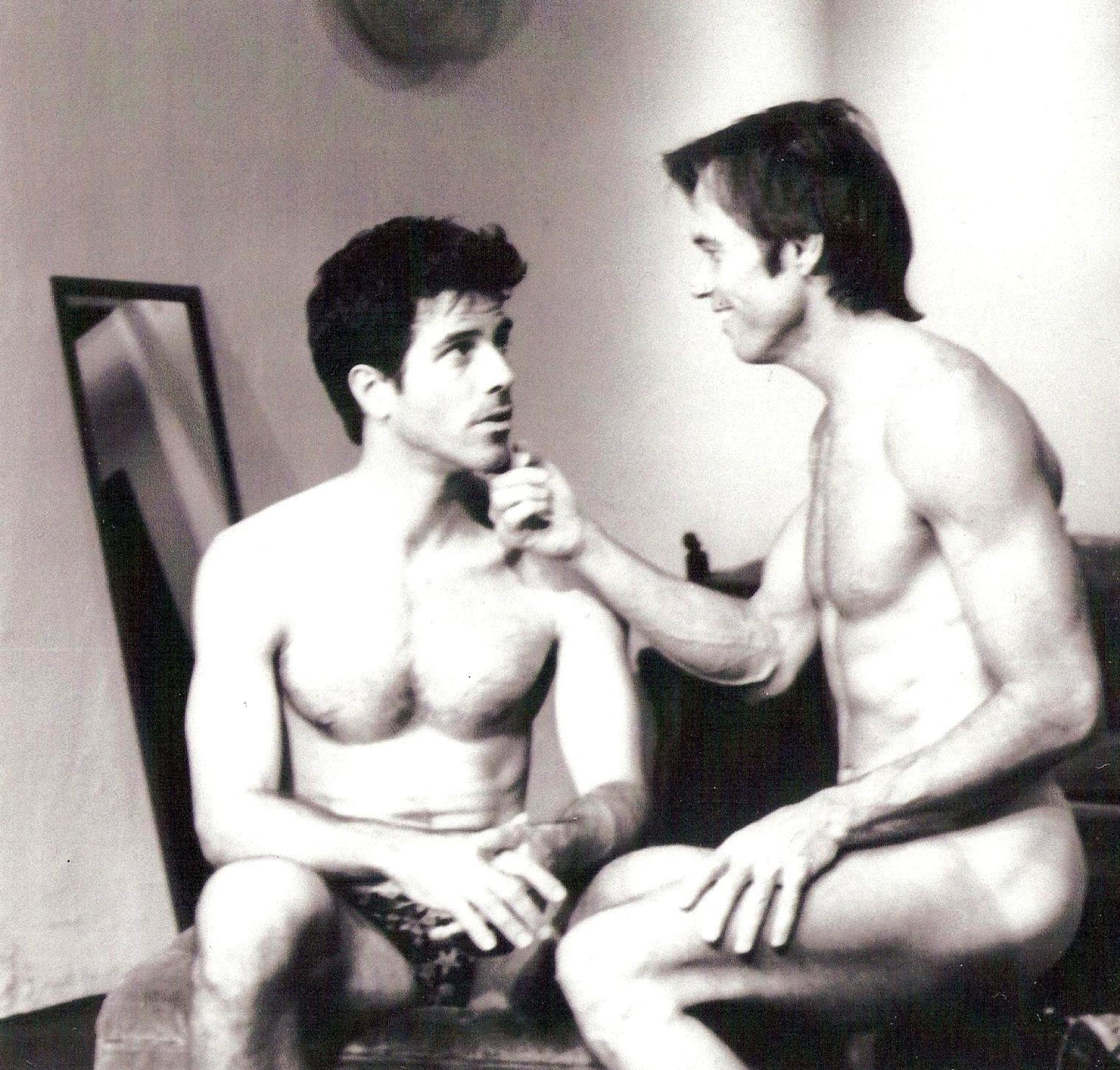 This is Part Two of a four-part series of reminiscences by Neal Weaver, entitled Nudity, the Unconscious and the Creative Process.

You can read more about this author at the end of the article.
Part Two of Nudity, the Unconscious and the Creative Process:
Perhaps I can best clarify this by citing an extremely personal example. Because in my own writing and directing, I was deeply committed to self-exploration, and particularly interested in sexuality, both heterosexual and homosexual. And this led to a good deal of experimentation with nudity. This meant that work with actors was sometimes deeply intimate, and I knew I had to be very careful. My preoccupation with touchy subjects often led to my work being branded as pornographic, though that was not my intent, and I worked very hard to avoid that. But it affected the way my work was perceived, and to some extent worked against me in professional situations. But I knew the course I wanted to pursue, and accepted the consequences.
In 1976, I had realized a long ambition to launch a company of my own. I had come into some money, and decided the time had finally come to start an Off-Off-Broadway company which we jokingly called The Meat and Potatoes Company. My friends thought it was a very good name, and persuaded me to stick with it. The company had mounted some 92 productions in the course of 12 years, before growing deficits and rental inflation drove us out of business.
Sometime in the mid-1980s, I decided to do a production of Tennessee Williams' Vieux Carre, and I cast a young actor named Charles as the young writer, which was the Williams character in this highly autobiographical play. There was a scene in which the young writer was seduced by the older, gay, and tubercular Painter who lived next door to him in a boarding house. I knew I wanted to use nudity in that scene, as it seemed essential to the way I saw the scene.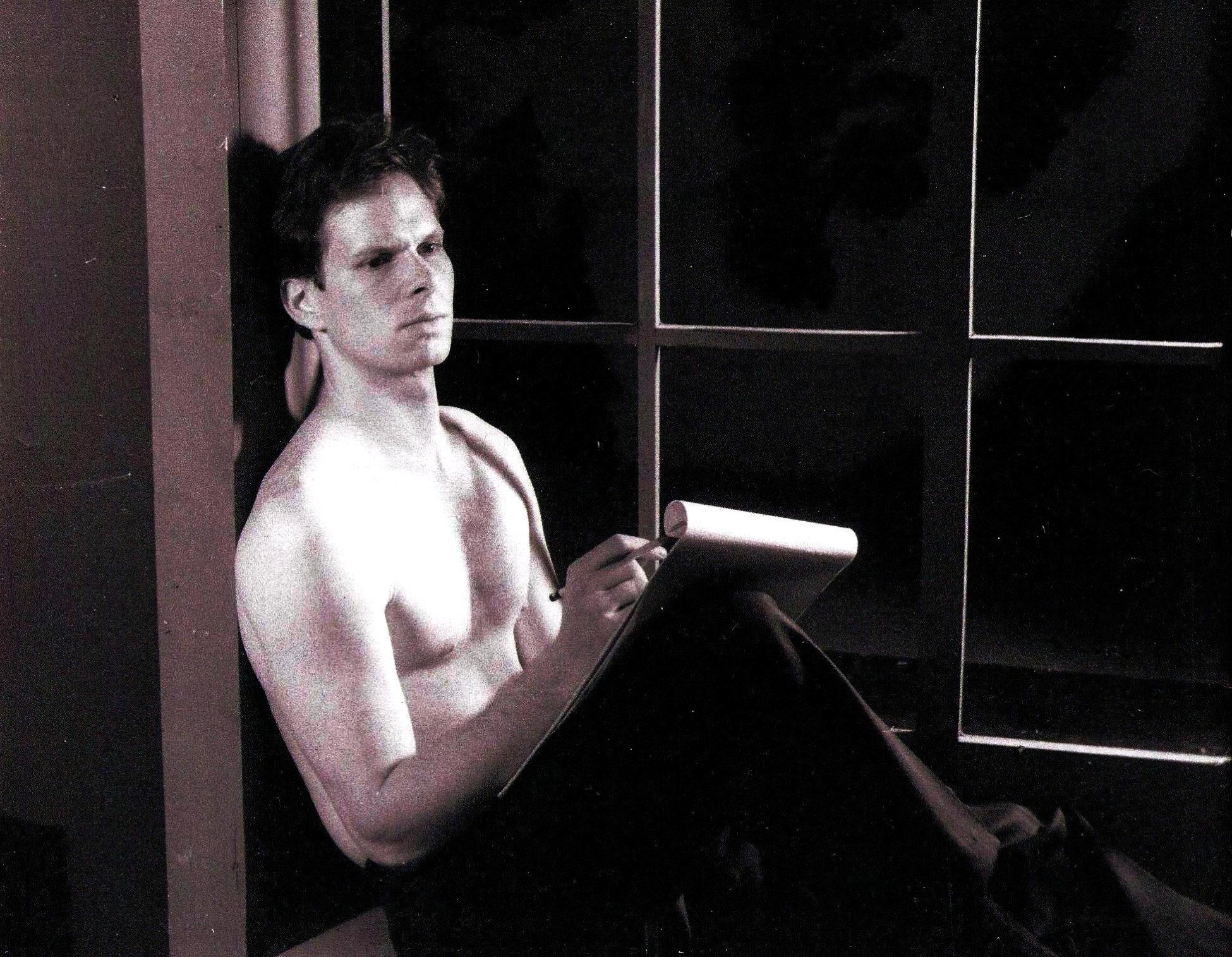 I asked Charles how he felt about nudity. He said he enjoyed it when other people did it, but had not thought about doing it himself. I explained that I saw the scene as involving nudity, and how did he feel about that? I was trying very hard to be responsible, and I didn't want to pressure him into doing something he didn't feel right about.
He said he had no problem with the nudity, but I might, as he had only one testicle. One had been undescended and had to be removed surgically. I was a bit disconcerted by this, but I somehow felt it was not an insuperable problem. I said, "Let's just try it and see what happens." And he agreed.
We had rehearsed the scene a couple of times, but without pursuing the nudity. I wanted to be very careful about introducing it into the rehearsal. Then, one afternoon, we had planned to get down to the scene and really work it. Charles was there, and we were waiting for the other actor to arrive. But he called and said something had come up—an important audition, I think—and he wouldn't be able to make the rehearsal.
Both Charles and I had been ready to work, and were distressed by his cancellation. So we decided to work on the scene without him, with me playing the seducing neighbor, and it would be a chance to tackle the nudity. I said to Charles, it's usual when working on nudity to have a third person present, to avoid too much intrusion of the personal. But we had the time, so did he feel safe enough to trust me in dealing with the nudity without a chaperone? He said he did.
So we set to work. The scene called for him to be alone in his rented room, aching with loneliness as he prepared for bed. I had him remove his clothes, move to the bed, lie down and begin to cry. He did this without self-consciousness, and he looked quite gorgeous. The lack of a testicle was not visibly apparent. In the scene, the boy's crying alerts the painter next door to his vulnerability, and the painter starts to sing the old pop song, "I'm going to buy a paper doll that I can calll my own." Hearing him, the boy quickly covers himself with the sheet. But the Painter comes to his door, and invites himself in, and sets out to seduce the boy.
We decided to try the scene, with me as the painter. I scrupulously avoided actually touching Charles, though I was deeply attracted to him, because that would be dangerously personal. As the scene progresses, the Painter repeatedly raises sexual topics as a means of seduction. It struck me that the Painter would take advantage of the boy's vulnerability by whipping off the sheet and leaving him naked. This I did, and Charles seemed to have no problem with it. I just talked him through the rest of the scene, saying that the Painter would begin kissing his nipples, and then start working his way down the boy's body as the lights faded. When they came up again, the Painter was skulking away, back to his own room. And the boy, feeling unclean, and knowing that the Painter has tuberculosis, grabs a towel from the foot of his cot and tries to scrub the Painter off him.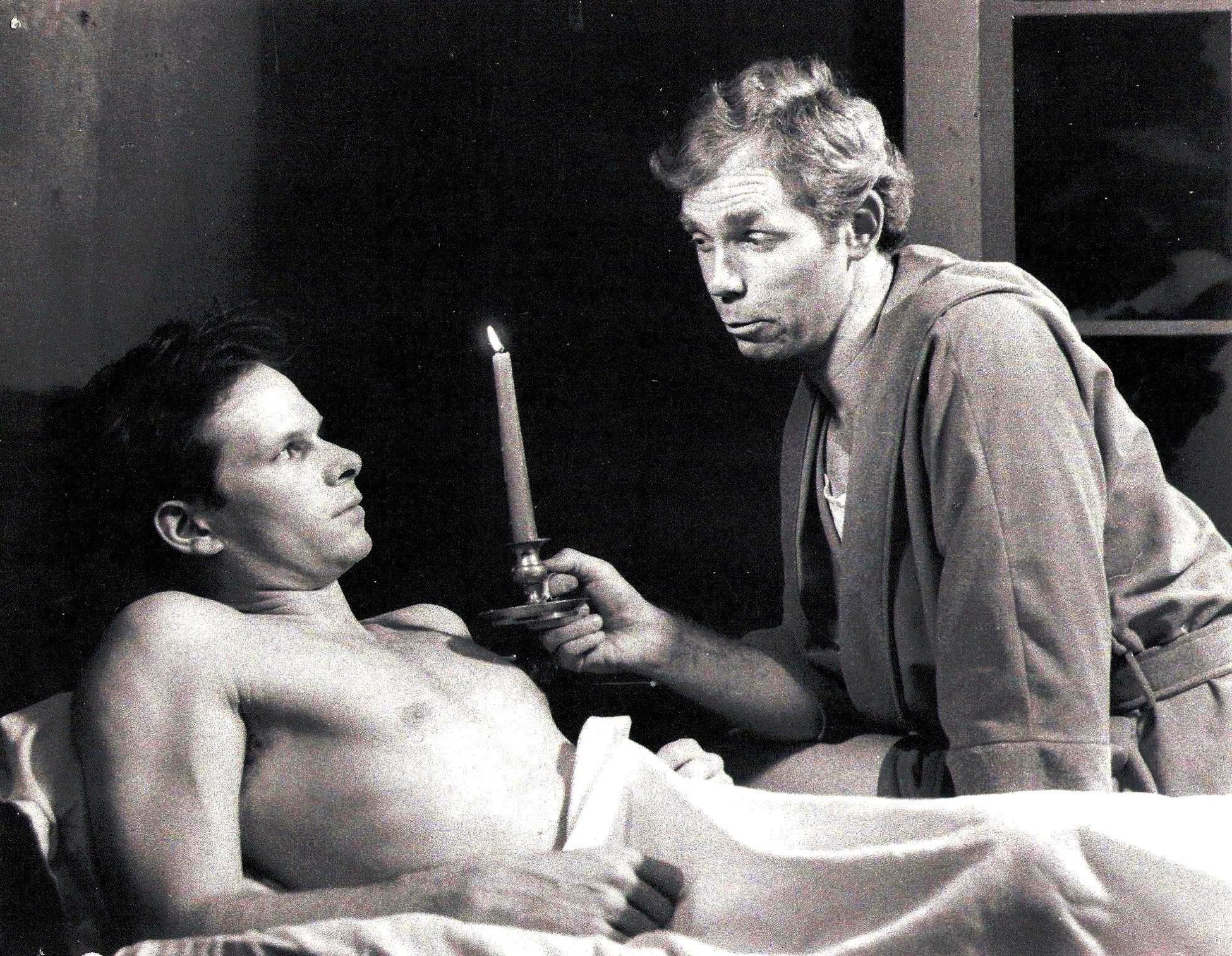 After that, he sat cross-legged on his cot to deliver a monologue about his dearly beloved grandmother, and how she would feel about "this perversion of love." He sat there, naked, though in his cross-legged position he was not much exposed. And he delivered his monologue. The effect struck me as both terribly innocent and quite magical: a naked boy, sitting on his bed, quite un-self-consciously, speaking to the audience about his beloved Gran. I always treasured that moment in the production.
Anyway, at the end of the rehearsal, we were both feeling emotionally drained and needed to relax. I was sitting in the front row, and he lay prone and exposed on the edge of the stage.  I knew I'd been treading on dangerous ground, but had tried to do so sensitively and with due concern for the actor. I asked him if he felt I had taken advantage of him in any way, and if he felt there was anything suspect about the work we had done. He said "No!" There was a feeling of deeply relaxed intimacy between us, a very satisfying feeling.  Then I said, "It seems to me you made a real breakthrough today. Do you think that was because of the nudity?"  And he replied, "Absolutely. When you let go of that much cover, you feel like anything is possible." Then, on impulse, I said, "Can I give you a good hug, naked as you are, without your thinking I'm a dirty old man?" And he said "Sure." He rose, we shared a nice hug, and the rehearsal ended. It had felt like a wonderful rehearsal, and a successful one. I felt I had handled a tricky situation well. But there was an uneasiness about it.
Part Three will be published next week.
About the Author – Neal Weaver:

 A playwright, director, and critic, Neal Weaver has been working in and around theater for 65 years. Over these six-plus decades he has worked as an usher, a puppeteer, a movie projectionist, actor, playwright, publicist, and editor.

Neal Weaver's plays have been produced Off-Broadway, Off-Off Broadway, in LA's 99-seat theaters and in universities.

Weaver was stage manager for the Playwrights Unit of the Actors' Studio in NYC, and he was founder and artistic director of The Meat and Potatoes Co (NYC)., which mounted 92 productions in 12 years.

He began his journalism career in 1968 as associate editor, critic, and feature writer for the now defunct After Dark Magazine, reviewing theater and film. He moved to Los Angeles in 1987, and since his arrival here has reviewed theatre for LA View, Backstage, LA Weekly and Stage Raw, and has been a member of Los Angeles Drama Critics Circle since the mid-1990s.