This is Part Four of a four-part series of reminiscences by Neal Weaver, entitled Nudity, the Unconscious and the Creative Process.

You can read more about this author at the end of the article.
Part Four of Nudity, the Unconscious and the Creative Process:
I was by then well into the casting process, so I put the exploitation issue on the back burner for the moment, and got on with my casting. It was pretty tricky because both roles made heavy demands on the actors, so they needed to be skillful. But the situation was ultimately a romantic one. So the older man had to be attractive enough to engage the feelings of a young gay man. And he was meant to be between 35 and 50, while actors in that range were more leery of dealing with nudity. One older actor came in and did a terrific reading. I asked him if he had any reservations about nudity, and he said no. He worked in construction when he wasn't acting, and when I asked him to take off his shirt, he did so willingly. I discovered that he had the remains of a magnificent physique, but he also had some serious scars as the result of a construction accident. He looked like a damaged Michelangelo masterpiece. He seemed like perfect casting, and I wanted him for the show so much that I could taste it. But after reading the script, he called me up and told me that he'd been cast in a movie whose shooting schedule overlapped with my rehearsal schedule. So he wouldn't be able to do my show.
I didn't really believe him. I knew that most actors are allergic to the idea of simply turning down work, so they claim some kind of serious conflict.
But I was back to square one. I soon zeroed in on two possible actors, Greg Safel and Brian Sheridan. I was considering Greg for the role of the director, though he was really two young for it, because he was my only real choice. I felt that he was young, but he understood the role, and I thought he could make it work. And I had auditioned Brian, and discovered he was a fairly tough guy, with solid opinions of his own. I felt he could bring some steel to the role of the young actor, which was very much needed if the character was not to turn into a patsy. It was only after they were cast that I discovered that they were friends, and were in the same acting class at the Beverly Hills Playhouse. And furthermore, Greg had directed a one man show that Brian had written, and which had involved nudity. And they had dealt with nudity in class, so I wasn't springing anything new on them.
I thought I had made it clear that I wanted to cast them, and called a first rehearsal. I felt we should tackle the nudity right off so the suspense wouldn't build and make them nervous. I gave them a mirror exercise, making the disrobing process as neutral and impersonal as possible. They did the exercise, and then I had them play catch for a bit, to get used to the nudity. Then I announced the rehearsal was done. Brian said, "So, are we doing the show?" I hadn't made my intentions clear, and had given them a nudity exercise before they knew they were cast. Equity would disapprove, but they had no problem with it.
We set to work, in my apartment. I had rented the Hudson Guild for the show, and my living room was large enough to accommodate the ground-plan of my set. We got off to a fairly rocky start, with Brian seeming frozen in place. He was a gutsy actor, and had tackled the nudity at the very first real rehearsal. But then he sort of froze in place, not knowing how to proceed from there. But eventually he relaxed, and I thought the problems had ended. Then one afternoon he phoned me, in obvious emotional distress. "I'm afraid I'm going to have to quit the show." Disaster! "Why?" I asked. He said the rehearsals scared him and he was afraid he might find out he was gay. Well, by this time I knew him fairly well, and I was quite certain he was not gay. He'd talked about his preferred sexual activities, and I told him that "rug-munching" was not an activity that would appeal to homosexuals. I tried to reassure him as best I could, and I thought I had talked him out of quitting the show. But I couldn't be sure. Staving off panic, I called Greg, the fellow actor who was also his long-term friend. He said, "Don't worry about it. He does this sort of things often. It will pass." And at the next rehearsal, it did seem to be a dead issue. But I had some suspicions. His panic attack corresponded to a scene in the play. So I asked him, "Were you aware when you called me yesterday that you were essentially playing out the opening scene in Act II?" He said, "Of course." Apparently he both had and had not realized he was experiencing what the actor in the play had gone through. We were back on track.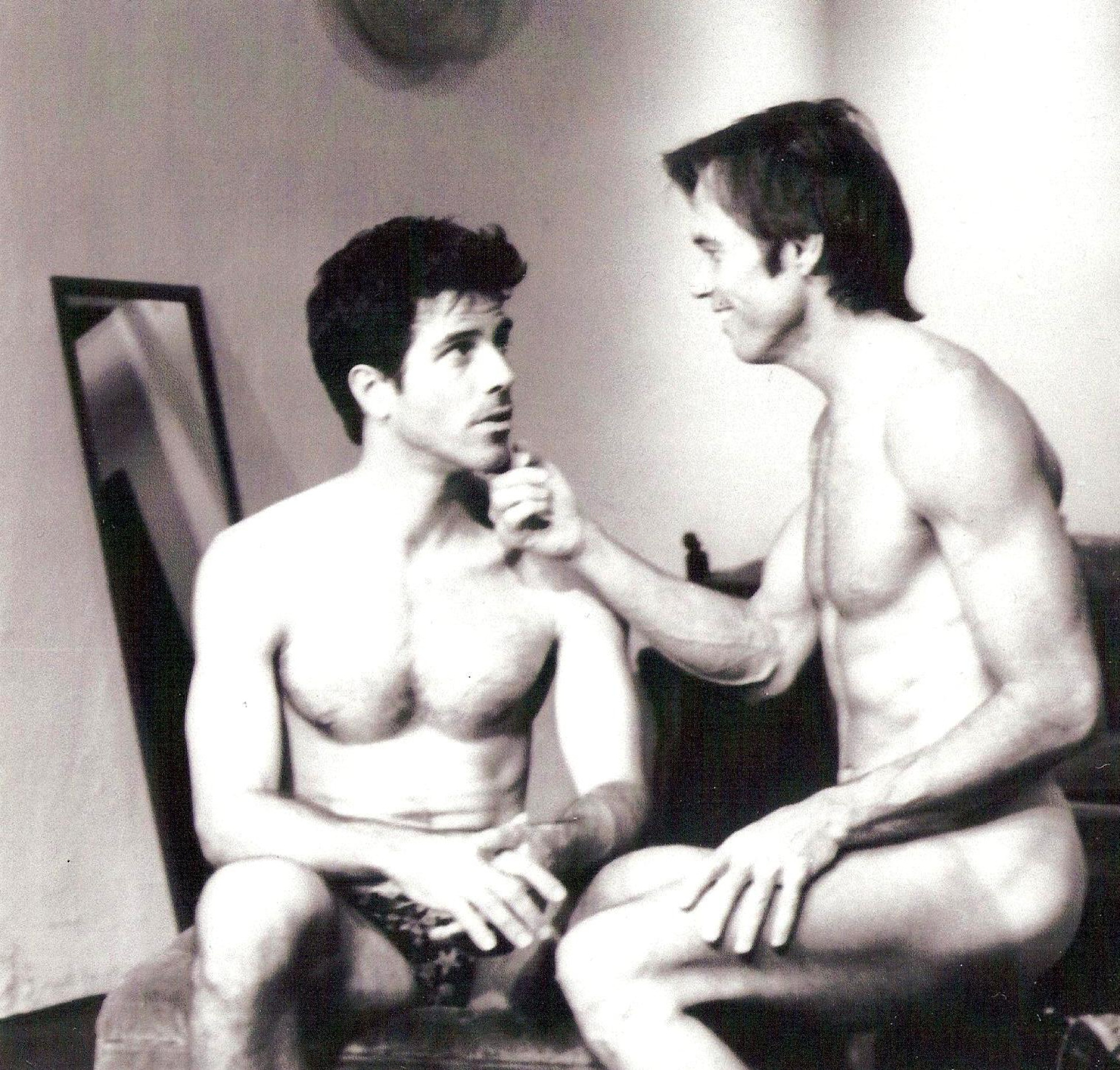 Now I had to deal with the idea of the play's ending being exploitative.
In my script, by the end of the play, and the nudity exercises, the actor has acknowledged his homosexuality and invites sexual overtures from the director, who responds by putting the moves on him. This denouement had always made me a bit nervous. I could never have done that: I felt the rehearsal process was sacred, and to take advantage of the situation seemed just plain wrong. We set to work, and I was in a frenzy of rewrites, trying to find a new ending that was not exploitative and which I and the actors could believe in. I wrote three different endings for the play, before I found an ending I could trust.
In that, when the actor admitted to sexual feelings toward the director, it is the director who demurs, making the actor furious. "You shit! You make me go out on a limb for you, and when push comes to shove, you say 'Let me think about it!" and "You're so worried about protecting me from yourself you can't do anything. I'm a big boy and I can take care of myseIf. And if you can't get off your duff and admit to your feelings, I'm out of here." The director says, "I don't want you to leave." "Then make me stay," the actor says. There's a long moment before the director musters his courage. Finally he rises and moves to the actor, dropping to his knees before him, embracing him. The actor says, "What does this mean?" And the director says, "I guess it means you got me if you want me." The actor says, "That's more like it." And they embrace. It was a richer, more credible ending.
In short, the work was painful and grueling, and I felt that in the new ending I was writing an indictment of myself as a coward and a phoney. But that wasn't what came through on the stage. Once the work is really done, the play becomes an independent object, and people don't stop to worry about the personal feelings of the writer and actors.
No doubt there are people who would still strongly disapprove of the kind of work we had done, but it was a rich, illuminating process for us, and one of the more gratifying rehearsal periods I'd ever experienced. I would welcome more like it. And those who disapprove can go hang.
And my actors, bless them, stuck with me through all the fights about rewrites and cuts. As an actress I'd directed in a number of shows said to me, "It's all a part of the work, even the fights."
About the Author – Neal Weaver:

 A playwright, director, and critic, Neal Weaver has been working in and around theater for 65 years. Over these six-plus decades he has worked as an usher, a puppeteer, a movie projectionist, actor, playwright, publicist, and editor.

Neal Weaver's plays have been produced Off-Broadway, Off-Off Broadway, in LA's 99-seat theaters and in universities.

Weaver was stage manager for the Playwrights Unit of the Actors' Studio in NYC, and he was founder and artistic director of The Meat and Potatoes Co (NYC)., which mounted 92 productions in 12 years.

He began his journalism career in 1968 as associate editor, critic, and feature writer for the now defunct After Dark Magazine, reviewing theater and film. He moved to Los Angeles in 1987, and since his arrival here has reviewed theatre for LA View, Backstage, LA Weekly and Stage Raw, and has been a member of Los Angeles Drama Critics Circle since the mid-1990s.