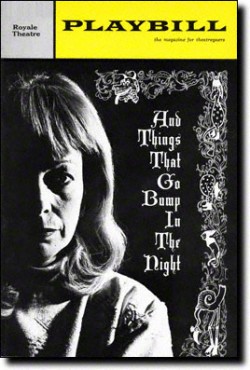 The following is guest article by Neal Weaver that touches on the theatrical history of New York City.
"One of the greatest brouhahas that occurred at the Actors Studio during my time there was a workshop production of the first act of Terrence McNally's And Things That Go Bump In the Night. It was a bizarre play to begin with, with overtones of science fiction. The world was under-going some dread undefined threat that made everyone hide in their homes after dark, while fearing some terrible incursion. The play focused on a flamboyant former opera singer, Ruby, played at the Studio by Madeleine Sherwood. (She was the widow of Pulitzer prize playwright and speech-writer for FDR, Robert Emmet Sherwood. She played Sister Woman in the original production of Cat On A Hot Tin Roof, and the Mother Superior on The Flying Nun.) She has two eccentric children, Siegfried (Ben Piazza) and Lakme (played by Sally Kirkland). Siegfried was a gay muscle boy who picked up other young men and brought them home to be humiliated—and their humiliations were photographed by Lakme. In the first act, Siegfried picks up and seduces a young peace marcher, played by Hal England.  There was also a grandpa played by Wendell Phillips, a bit part was played by James Olson, and the director was John Stix. (I believe Wendell Phillips was a descendant of the famed 19th Century abolitionist whose name he shared.)
First of all, it was a brilliant performance, full of theatrical spectacle: when the Diva Ruby came downstairs toward the end of the day, Lakme and Siegfried played "Norma Cometh" from the opera Norma, and their lives were full of strange rituals. The consensus was that it was a terrific production. This led someone to ask the actors, in the question and answer period, what the work process was like and how much was contributed by John Stix. Madeleine Sherwood was never one to avoid telling it like it was. She said that actually John hadn't been around much and the actors did much of the work on their own.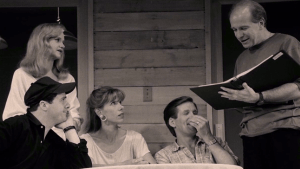 Then, when the discussion turned to consideration of the play itself, all hell broke loose. Marta Ohrbach, the then wife of Jerry Ohrbach, launched the discussion by saying that uttering the word homosexual at the Actors Studio was rather like shouting dirty Jew in Tel Aviv. Everybody was angry, but it wasn't terribly clear who or what they were mad at. Partially, they just didn't want to have to talk about homosexuality, but the fat was in the fire and the discussion became more and more heated, till director Alan Schneider stood up and announced, in appalled tones, "Ladies and gentlemen, I am shocked. Are we so uncivilized that we turn on and attack one of our colleagues because we disagree with what he says?" (I'm paraphrasing his words, since I don't recall them precisely.) Schneider had directed Waiting for Godot and Who's Afraid of Virginia Woolf? and many other major productions, so his words carried great weight. And things calmed down considerably after that.
(Oddly I don't remember where Terrence was during all this. Usually playwright and director were seated with the cast onstage, but the atmosphere was so volatile that I lost track of whether or not he was there. I had reason to be concerned for him both because I liked him, and he'd been a force in getting me accepted into the playwright's unit. In any case, the discussion ended and the session broke up, but all the attendees were gathering in small groups to discuss what had happened.

I was talking to a couple of Studio actresses, Doris Roberts (Ray's Mom on Everybody Loves Raymond) and I think Jane Hoffman (in the original production of Albee's The American Dream, and I think one or both of them had been involved in the Zeffirelli production of Camille, with Susan Strasberg, for which Terrence had been hired to work on the script. (He later denied any active participation, but he'd been there.)
I said, "Poor Terrence! He must be wrecked by all this." Doris said, "Don't worry about Terrence! Terrence is indestructible."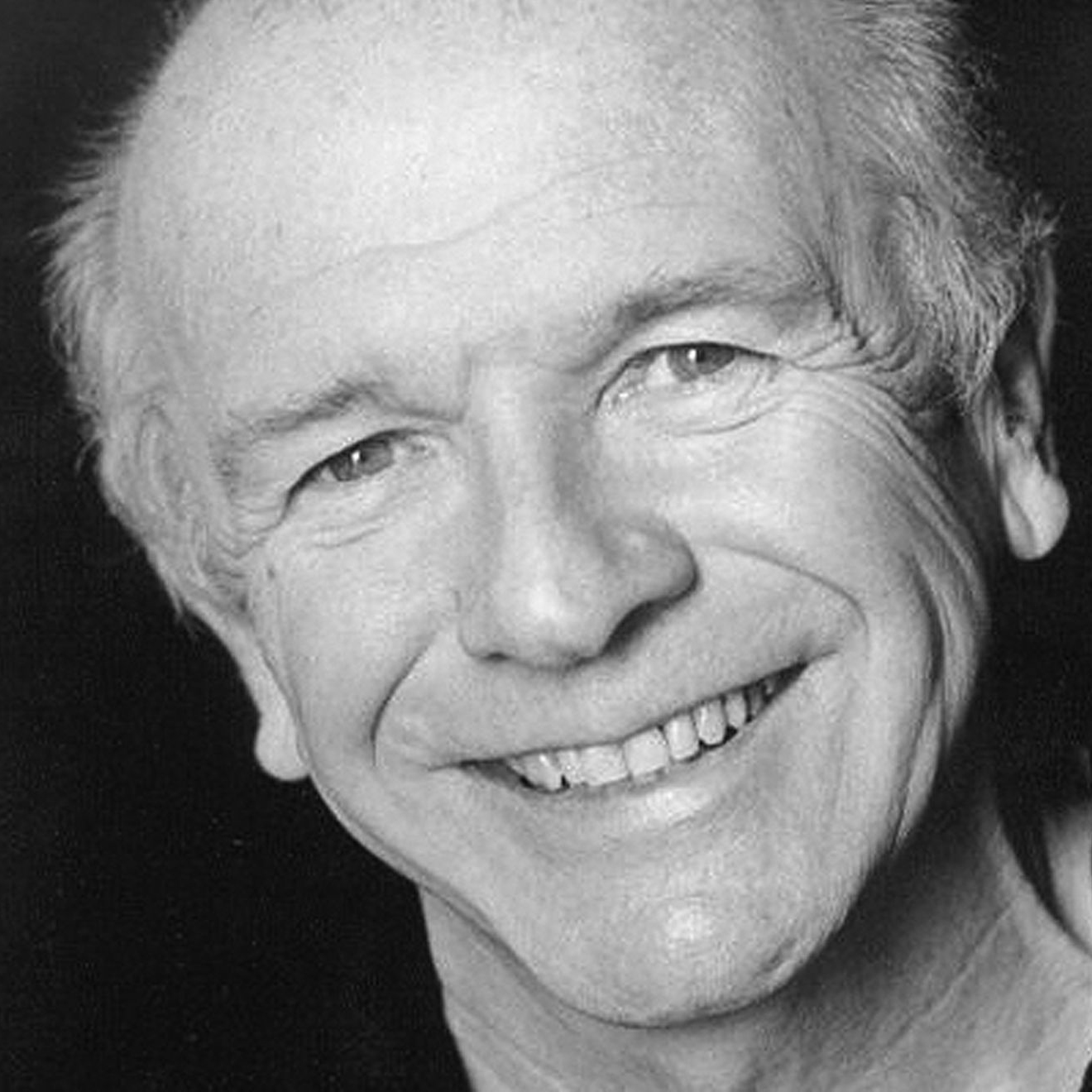 Later the play was to be given a production at one of the Universities—I think it was the U. of Minnesota. But, wherever it was, the controversy was even greater there. There were so many protests against the production, and some of those involved received death threats.I heard that someone had his house torched, but that may be apocryphal. And in the end, the production was allowed to go on, but without an audience.
And later, when I did an interview with Terrence for In Touch Magazine, he told me another story about the Camille production. Zeffirelli had decided to employ a full stage scrim for some scenes in the production, and he was terribly concerned that no one should inadvertently walk into the transparent scrim and wreck it. But he usually had the scrim lowered when he gave notes to the cast onstage. He finished his notes, delivered another warning about not harming the scrim, then turned around and walked right through it.
When the play went to Broadway, it was a total disaster (it lasted 16 performances), despite a stellar cast. Eileen Heckart was playing the Diva, Piazza was replaced by Robert Drivas, Susan Anspach was Lakme, and Marco St. John was the young peace-marcher. While Hal Englund had been wonderfully funny and touching in the role, St. John seemed totally at a loss.
The reviews were horrendous and people were staying away in droves. In order to last through Saturday Night closing, they were selling cut-rate tickets and someone got the bright idea of inviting a tribe of Gypsies to the performance—real Romany Gypsies, not musical comedy kids.
As the last act veered into science fiction, and Heckart had to deliver a very long monologue, there was growing anger in the house, to the extent we could barely hear her for the rustling, and I don't think anyone knew what she was saying. I was embarrassed for her. When the curtain finally fell, the audience was so angry they streamed down the aisles and began attacking the set.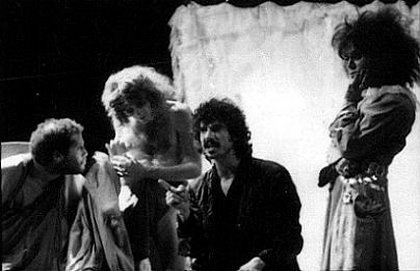 Terrence himself had described the show as "a total flop," but the Studio workshop had been quite exciting and promising. If he had cut the sci-fi stuff, and concentrated on the bizarre family, it could have been quite a viable play. I think Zeffirelli was largely responsible for many of the flaws in the Broadway production—he and whoever cast the feckless St. John.
In the course of my interview with Terrence, he said he'd never met anyone in the theatre that he disliked, which left me feeling that he was either lying, or possessed super-human tolerance.
I had given my interview with Terrence the title THE SCANDALOUS PLAYS OF TERRENCE McNALLY, but when it appeared in print, the title had been changed to SCANDALOUS TERRENCE MCNALLY, and I was appalled, fearing the might think it was my doing.  I called him to explain and apologize, but he was not upset at all. "I just thought it was funny," he said. And I think he was rather tickled to find himself the star of a tabloid type headline.