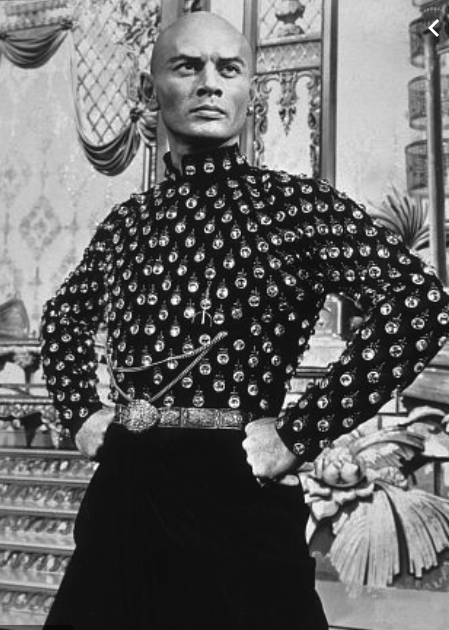 The following is guest article by Neal Weaver that touches on the theatrical history of New York City.
"When I left home, in Mayfield, Kentucky, for Evanston, Illinois, for my freshman year at Northwestern University, one of the opportunities it opened to me was the chance to see professional theatre, and I reveled in seeing the shows I had previously only been able to read about. One of the shows I most wanted to see was Rodgers and Hammerstein's The King and I, starring Yul Brynner. I had bought the original cast album and played it 'till it was worn out. On Broadway, Brynner's leading lady was Gertrude Lawrence, but during the run, she passed away due to terminal liver cancer. For the national tour, she had been replaced by Patricia Morison, who had starred in the original production of Cole Porter's Kiss Me, Kate.
The touring company finally came to Chicago, where it played at the Shubert Theatre, so I took the first opportunity to take the El train in from Evanston to see it. The production was in many ways a revelation: I realized for the first time the mechanical techniques that could be used to enhance a performance. For instance, in the song "Hello, Young Lovers," when the music swelled at the end of the song, the lights were bumped up simultaneously, which had the almost subliminal effect of amplifying the power of the song and the singer. And so it was with every musical number. When the lights and music swelled simultaneously, the effect was almost magical, rather like zooming in for a close up. But I was seriously disappointed by the fact that the King's only solo number, "Puzzlement," seemed to have been cut from the show—and I could not imagine why since it was the song that defined his character. In any event, at that point in time I was more impressed with Ms. Morison than with Brynner. And I decided to try to go backstage to meet her.
She was very gracious until I mentioned that I had seen her in a B-movie called Nyoka the Jungle Girl. She was not pleased to hear that I had seen and remembered it as a low-point in her career.
I really became interested in Yul when I discovered that during the Chicago run of the show he had signed up for some classes—photography and philosophy—at Northwestern. And he was in my philosophy class, taught by Dr. Paul Arthur Schilpp, who had edited a series of weighty tomes called The Library of Living Philosophers.
My good friend Anna, an Italian American girl, who was very attractive, despite a rather beaky nose, had a serious crush on Yul, and begged me to take her to my class so she could see him in the flesh. As it happened, he was due to speak in class that day, and chose to talk about Lee J. Cobb's celebrated performance as Willy Loman in Arthur Miller's Death of a Salesman as an example of self-transcendence.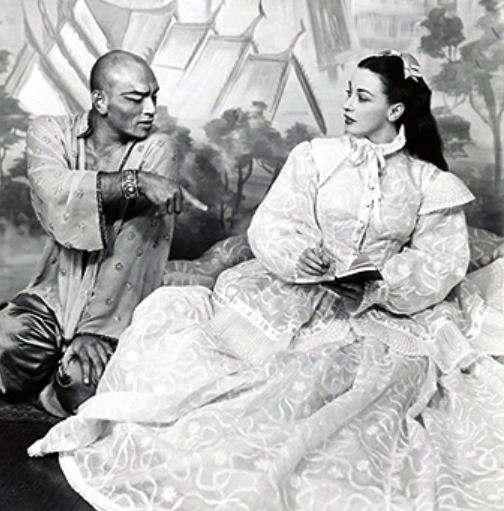 Dr. Schilpp, despite his impressive reputation, was rather an egomaniac, who climaxed every class at semester's end, with the introduction of his own personal philosophy, with the implication that it was the last word, superseding the work of all other philosophers. He also had a reputation as a notorious Catholic Buster. He would zero in on some naïve and unsuspecting freshman of the Catholic persuasion, and engage him in conversation about Catholicism. Then he would skillfully and ruthlessly demolish the kid and all his arguments. Yul had apparently heard about this, and decided to do a photographic essay on Schilpp for his photography class. To insure a lively discussion, he persuaded fellow students to bait Schilpp by defending Catholicism, till the man was sputtering with rage. He got his photos of Schilpp in extremis.
Meanwhile, I don't know precisely when or how, but Anna had managed to strike up an acquaintance with Yul, and he'd invited her to come to see the show and visit him backstage. She was naturally a bit shy, albeit determined, and asked me to go with her to see him. I was delighted to oblige.
We went backstage before the show, and he'd left word with the stage doorman to let us in. When we got to the dressing room, he was wearing only elastic support briefs, and putting on his rather elaborate make-up, which was unique to him. Because he played much of the show bare-chested, and the Siamese garments exposed much of his legs, he had to do a full body make-up. He had found a supplier who provided him with a walnut juice stain, through which, unlike regular heavy grease-paint, it was possible, to sweat and breathe. And it was water-proof and semi-permanent so he didn't need to apply it before every performance. He also didn't think that commercial black liners were black enough, so he carried a small tin box containing a candle. He'd light the candle, and use it to smoke the lid of the box with heavy soot, which he mixed with baby oil to apply.
As a former television director, he was interested in TV dramatic shows, and kept the TV set on his dressing table turned on all the time, with the sound turned off. Over his mirror hung the St. Genesius medal Gertrude Lawrence had given him on the Broadway opening night. And in one corner was an oxygen tank, which he needed on occasion to deal with his breathing problems. (They were apparently the reason why "Puzzlement" was cut from the show. But it was not a permanent cut. Every night the decision was up to him. He'd get on the intercom to inform the company that: "This is the King. Puzzlement is out." Or, on rare occasions, "Puzzlement is in." (Later when I mentioned that I had never seen him perform "Puzzlement," he said he'd sing it that night. But apparently, the strain was too much, and midway in the show, he announced "Puzzlement is out." So, I never saw him perform it except in the movie version.)
Somewhere in the background lurked Brynner's dresser, Don, who was devoted to him. (There were rumors that once in a fit of rage Brynner had hurled him through the dressing room mirror, but that didn't alter his loyalty and affection.)
As curtain time approached, Yul finished his make-up and began to put on his first costume. I was becoming concerned lest we wear out welcome out, so I asked him if we should go away and leave him alone to prepare. He said he didn't need to prepare: he replied on the rise of the curtain to catapult him into character.
He arranged for us to watch the show from the light-bridge above the stage. And there we perched, watching the show from directly above the action. At one point, Yul looked up at us and said, "How you doing up there?" I was shocked at this breach of theatrical decorum, but there were worse breaches later: at one performance the follow-spot man was drunk or distracted, and the follow spot was moving around the stage everywhere except on Yul. He walked downstage, glared up at the light booth, whistled through his teeth, and yelled "Over here!" I think he also threatened to fire the electrician.
The second act began with the ballet of The Small House of Uncle Thomas, in which Yul did not appear, so we visited with him in his dressing-room 'till time for his next scene.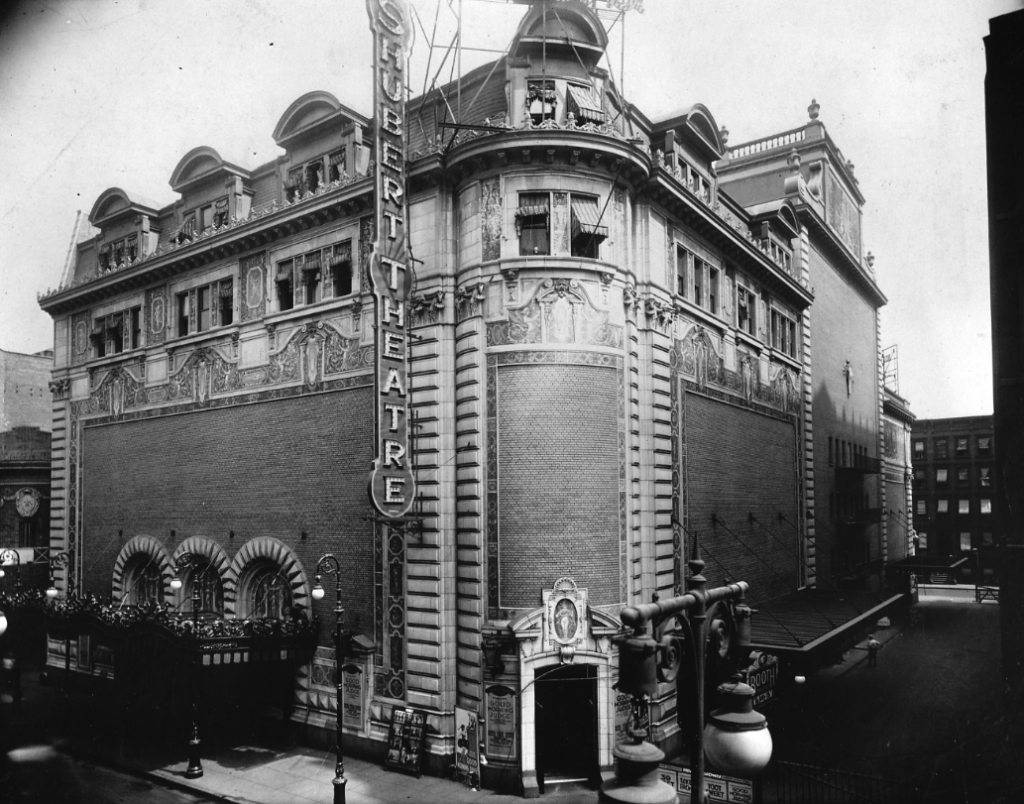 After this, we began practically living at the Shubert Theatre, watching the show every night from overhead, and the preoccupation with Yul and the Shubert wound up putting me on academic probation, to the great distress of my family. And I slowly became aware that Yul was as smitten with Anna as she was with him. They began a love affair, and my role, though I didn't realize it at the time, was to be the beard…
One night when we arrived at the dressing room, there was another visitor—and older man whom Yul introduced to us as Dr. Preble. He was obviously someone important in Yul's life. Later he explained to us that Dr. Preble was a plastic surgeon who had saved his leg for him. When he was touring with Mary Martin in the national company of the Chinese drama Lute Song, Yul had fallen during a violent chase scene, and felt excruciating pain in one leg. When he looked at the leg, the calf and the thigh were at right angles—sideways. Doctors were consulted, and all of them seemed to feel there was no way to save the leg.
Yul refused to let them amputate, and instead he locked himself in his hotel room and called every doctor he had ever heard of. Finally, he reached Dr. Preble, who thought he could repair the damaged leg. He operated, putting a steel rod into the leg, so that eventually Yul had an almost total recovery. The only residual effect was a slight limp, when he was very tired.
Yul had shot a photo essay of Dr. Preble performing a hand operation. It was a quite beautiful series of images, all in extreme close-up, of the good doctor's hands, as graceful as some sort of exotic ballet.
Talk of Dr. Preble led to tales of his other injuries. He'd been mowing his lawn when the mower struck a large rock, which was hurled upward, striking Yul in the face, and almost ripping off his nose. Dr. Preble to the rescue again, and he sewed the nose back, leaving barely detectable scars.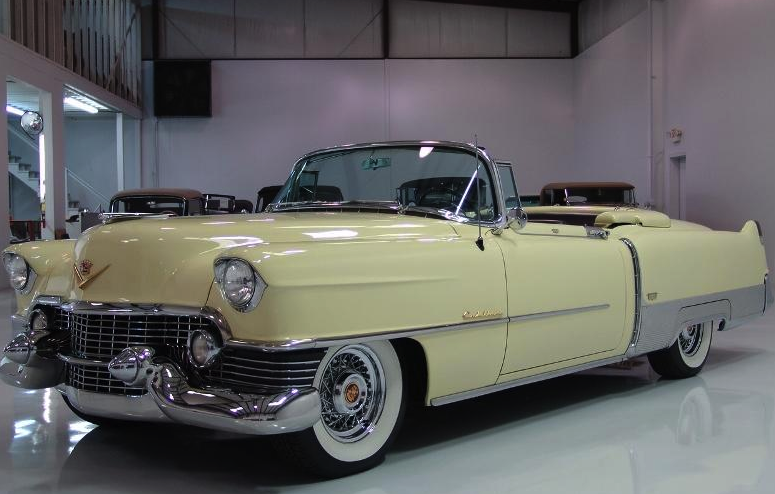 Yul informed us that he also tested new motors for the Cadillac Company, and his own Caddy was so high-powered that steel girders had been welded under the chassis to hold it on the road. One night, he asked me to pick up the car at his garage and bring it to the Shubert. I was terrified, as I'd never driven in city traffic, but I didn't want to refuse. I was able to navigate the Chicago traffic without incident, but I was panicked all the way. Perhaps it was at this time that Yul offered me a job.
He had already shot a number of scenes as the ill-fated Pharaoh in Cecil B. DeMille's The Ten Commandments, and was due to go to Hollywood soon to shoot his remaining scenes. He needed someone to drive the Caddy to the coast for him, and offered me the job. I've often wondered what my life would have been like if I'd accepted that assignment. But at the time, I didn't want to leave Northwestern, and I was afraid of the responsibility of driving that expensive, high-powered vehicle all the way across the country.
I asked him what it was like, working with DeMille, and despite his later public praise of the director, Yul spoke of him rather contemptuously. I said, "You must admit that he has a sense of style." To which Yul replied, "Oh, yes, he has style all right, but that's all he has!" He also spoke about the film of The Brothers Karamazov, for which he had already signed the contracts. "I don't have a clue about how to play Dimitri Karamazov!" But that didn't stop him from playing it.
Yul regaled us with fascinating stories about his life and past experiences. One of the most interesting of his stories concerned the time he spent touring Russia and Western Europe with the company of Vladimir and Ludmilla Pitoëff. He was basically just a stage hand and general understudy. One of the roles he was understudying was Constantine in Anton Chekhov's The Seagull. It was a role he desperately wanted to play, but there was little chance that he might actually go on. So he decided to shape his own fate. He knew the actor playing the role was alcoholic, so on the train to Paris for their next engagement, he gave the man a bottle of liquor. When they arrived in Paris, the man was falling down drunk and in no shape to play Constantine or anything else.
But faced with the prospect of playing the difficult role in front of the murderously discriminating Paris audience, he came down with an acute case of stage fright. He panicked, and hid himself in the fly tower of the theatre. They had to send someone to bring him down and literally push him onstage. Then, fortunately, he calmed down and acquitted himself very well.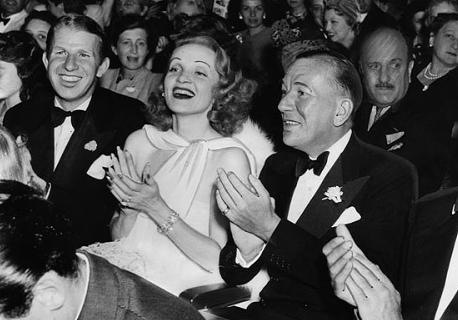 It was in Paris that Yul met Marlene Dietrich, with whom he began a tempestuous affair, and Edith Piaf. Apparently the three of then became inseparable, and Piaf wrote her song La Vie en Rose for them, and it became their song.
Yul was notorious for telling tall tales, so it was very difficult to tell when he was fantasizing, exaggerating, or just plain lying. His affair with Dietrich was verified by many sources. And the Piteoffs did exist, but I could find no evidence that he ever acted with them. And it was difficult even to establish his country of origin. He told us and many others that he was Japanese-Swiss. But when Yul's son Rock wrote a biography of his father, he clarified the matter, establishing that Yul was in fact Russian. He was born in Vladivostok in 1920, as Yuliy Borisovich Briner.
One story that I found fishy was an account of a time when he fell desperately sick somewhere in Africa, and Marlene flew in to nurse him back to health. Later, when Maria Riva, Marlene's daughter, wrote her autobiography, I interviewed her. I asked he about the story. I said, "It sounded to me like a recycled Hemingway story," to which she replied, "Actually, it was a recycled David Niven story." Marlene did get around…
Brynner had hard words for John van Druten, the director of the show. Van Druten was a director/playwright who had written the adaptation of Christopher Isherwood's I Am a Camera, and the slight but charming wartime comedy The Voice of the Turtle. But Brynner insisted that he was a "hitch-hiker"—a director who let his actors do all his work for him. Brynner said that the director's job was to "build a house that the actors can live in."
He was also critical of the other actors who had played the King, saying that they sentimentalized the role. As Brynner and his leading ladies played it, it was a love story, but a very curious one. Anna and the King are strongly attracted to each other, and the attraction is partly sexual. But both are highly restrained. The nature of their respective roles made any sexual involvement impossible, so they buried their feelings deeply. Only once does the underlying passion threaten to break out.
In the scene when the British ambassador is presented to the King, along with his aide-de-camp Sir Edward, who is an old friend of Anna's, and when the King sees her for the first time in a low-cut ball gown, then he's intrigued. And when he sees her dancing with Sir Edward, he is palpably jealous. He insists that Anna teach him this dance, in which the woman is embraced by her partner.
In the song "Shall We Dance?" she tells him the story of a demure English maiden, who is introduced to a young man at a ball, and proceeds to dance with him. They dance the night away, and in the process, they fall in love. So, "In the clear understanding/that this sort of thing can happen. Shall we dance? Shall we dance? Shall we dance?" The swirling polka that follows is the closest they ever come to acknowledging their buried feelings. And the enforced restraint only intensifies the drama. The polka becomes not only an exuberant display of high spirits, but an acknowledgement of their strong feelings. They are both playing with fire.
This is immediately followed by the climactic turning point in the play. Young Tuptim is one of the King's many wives. But she was forced into a marriage that separated her from her lover, Lun Tha. With the help of Anna, she runs away to join him. But she has been captured and brought back. The King is summoned to deliver the expected punishment—a savage horse-whipping. But as he stands menacingly over the terrified girl, whip in hand, the King has an unexpected revelation: when he raises the whip, he suddenly sees the act as Anna would see it. A sadistically cruel act by a barbarian.
Emotionally destroyed, he lowers his head, clutches his temples and flees the scene. By teaching and enlightening him, Mrs. Anna has made him unable to play out the role of the despotic absolute monarch, without enabling him to become an enlightened monarch. She has unwittingly destroyed his faith in his own kingship. There is nothing left for him but to die. (The first time Yul played the scene full out, he clutched his head and ran offstage, crashing head first in the stage left brick wall. After that, two stage hands were stationed in the wings to catch him and prevent him from bashing his brains out.)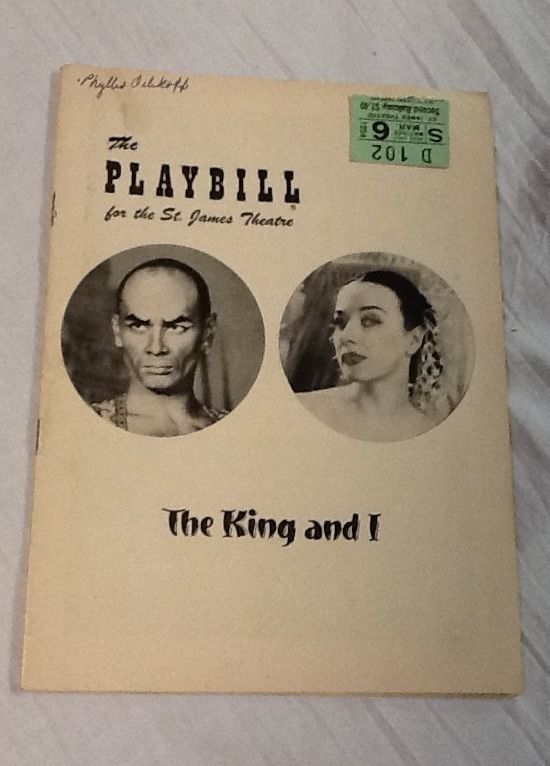 As the time approached for Yul's departure for Hollywood, there was a round of fond farewells. And one of these was paying a return guest appearance on the much-loved TV puppet show Kukla, Fran and Ollie, which was broadcast from Chicago. In his previous visits, it had evolved that one of the characters, Beulah Witch, was madly in love with him. Their farewell was genuinely touching, as both Yul and Fran Allison, the show's only human character, related to the puppets as if they were real people. So, when he sang "The Road to Mandalay" to the love-sick Beulah it was unexpectedly moving.
The show was broadcast between Yul's last matinee and evening performance of The King and I, and a police escort was provided to rush him to the TV studio and back to the theatre. For Anna and me it was quite a thrill to speed through downtown Chicago with Brynner in his Cadillac, accompanied by police cars with screaming sirens.
Meanwhile, back at the Shubert, things were getting emotional. Between the matinee and evening performance, the cast, who seemed universally fond of Yul's dresser Don, had showered him with going away presents. He was depressed and had obviously been imbibing heavily. Grief-stricken, he was wandering around backstage, clutching his presents and weeping shamelessly. For him, as for Yul, it was the end of an era.
Also, Yul was incensed that his then-wife Virginia Gilmore had not deigned to attend his final performance. (Gilmore was also an actor, whose principal claim to fame was playing the title role in Norman Krasna's Broadway comedy Dear Ruth.) Plenty of others had come to pay their farewells. Dr. Preble was there, as was a Chicago cop Yul had befriended and with whom he loved to play pinochle.
Yul believed (mistakenly) that this would be his last performance ever as the King, after playing it for three years on Broadway and on tour. He had gotten through the matinee, and the TV appearance, without breaking down, but he feared the evening performance would be too much for him. He defended himself by turning prankish, playing all sorts gleefully outrageous onstage tricks on his fellow performers. In the scene in which he shakes hands with Sir Edward, he has concealed a "buzzer" in his palm, which delivered a considerable shock to the other actor.
Then the Royal wives decided to get into the spirit of anarchy. In the scene in which they prostrate themselves before the King in their new and unaccustomed hoop skirts, it was revealed to a shocked Mrs. Anna that they are wearing no undergarments. This time, they really were wearing no undies, a fact which was visible to Yul and Morison, but not the audience.
The next victim was Morison. In the scene where he gives Anna the list of conversational topics to introduce at dinner, he usually gave her a tiny scrap of paper which she tucked into her bosom. But tonight, he handed her a large shirt-cardboard. After a moment of confusion, she blithely tore off one corner of the cardboard, and threw the rest away.
Yul was not through with her, however. He knew she was painfully near-sighted, and had to rely on her blocking to tell where she was onstage. So, during "Shall We Dance?" he grabbed her and whirled her maniacally around the stage, finally spinning her off far from her usual position. She was left bewildered, and desperately trying to figure out where the exit was.
As the last scenes began, and the tone of the show turned dark, the nonsense stopped and he played it straight in his death scene.
Mrs. Anna was about to board a ship, with her son, to take them back to England. When she is told the King is dying, she drops everything and rushes to his bedside. In a swirl of her enormous hoop, she swoops in and takes a seat of a pile of the huge folio books from the King's library. And they make their farewells in front of the whole assembled Siamese court, as he names the young Prince Chulalongkorn, as heir to the throne. And in his first act as King, the young Prince declares that in future, no one will be required to prostrate themselves before the King to show respect. The King nods his grudging approval and dies. (In the revival with Lou Diamond Phillips and Donna Murphy, Anna flung herself on the King's body in despair, in defiance of the tradition of passionate restraint that had marked Brynner's performance.) The scene was always extremely moving but on this occasion, it was devastating.
When the performance ended, my friend Anna and I came down from the light-bridge, uncertain of what to do. Yul had scores of people to say goodbye to and his dressing-room was full of friends and well-wishers. Since we didn't want to intrude, we went onto the stage to wait for him to emerge. The stage had been cleared, and there was nothing on it except a wicker costume trunk. The only illumination was from the house lights and the work light, always left on lest someone come along in the dark and fall off the stage. As it got later, everyone seemed to have left the theatre, and the house-lights were doused, leaving only the feeble illumination of the work light. All the weeping had proved contagious, and both of us were in tears.
Finally, Yul emerged, dressed for travel, his camera bag on his shoulder. He came over to us, and realized we were distraught. The camera bag fell from his shoulder with a thud and he took both of our hands. "Don't worry," he said, "we'll meet again."
"I hope so," I said.
"I know so," he said. He turned and went out the stage door, to the alley where the police escort was waiting to rush him to the airport. Anna and I were both still blubbering on the El all the way back to Evanston.
Despite those final words, I never saw him again, though his relations with Anna continued, and I think she gave him a merry chase. He gave her money for a nose job, but she gave it to her boy-friend who wanted to open his own beauty salon. So, Yul forked over more cash for the operation. No doubt she was prettier after the surgery, but I liked her better before.
By the time Yul launched his final farewell tour of King and I, for which he received a second Tony Award, it was generally known that he was suffering from terminal lung cancer. I didn't go to see the show, because I didn't want to obscure my memories of him in his prime. By the time of his death, he had played the King 4,526 times. I was saddened by his death, but only mildly. After all, it was more than thirty years since I had seen him.
But I was to have one more encounter with him, which was quite unsettling, even if it was not in the flesh. By this time, I had launched my Off-off-Broadway company, and one night I was alone in the theatre, working on the set for the show that was about to open. I had the radio on for company, but I wasn't paying much attention to it as I went on with my work. Then suddenly, Yul's unmistakable voice rang out through the theatre. "This is the King," he said, "coming to you from beyond the grave."
I thought at first I was hallucinating, or going off my rocker. Then I realized it was the radio. Unbeknownst to me, shortly before his death, Yul had make some public services spots, warning against the dangers of smoking, to be broadcast on radio and television after his demise. This unexpectedly vivid experience unleashed my emotions, and I grieved for him as I had not been able to do at his death."