Making her Fringe debut this year is singer, actor and Los Angeles native Victoria Gordon, who is bringing her cabaret show to the Complex in Hollywood. The piece, entitled Victoria Gordon — Live at the Hollywood Fringe, is a combination of musical performance and comedy.
In anticipation of her upcoming appearance, Ms. Gordon spoke with ArtsBeat LA about her show and her all-around Fringe experience.
ArtsBeat LA: You performed this show before, right? What's different about this Fringe production?
Victoria Gordon: I did perform a version of this show before — in September 2018 at the Broad in Santa Monica. But I knew that wasn't the finished version. As soon as I got the video of that show back, I started taking notes to figure out what I liked and what I didn't. And I used that to refresh and expand my repertoire, which also led me to write new monologues. At the end of the day, while some of the songs are the same, almost everything around them is different.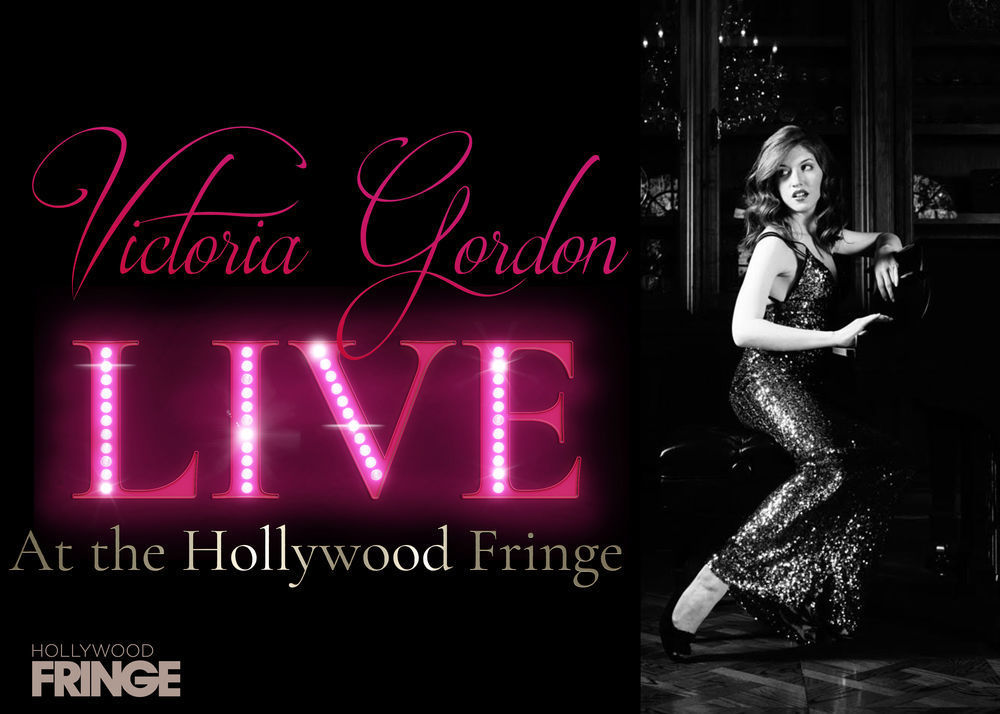 ABLA: And the music… How were the pieces selected?
VG: Everything came to me differently. I love musicals and listen to cast albums all the time, so sometimes, a song just hits me and I think, "I have to sing that!" That's how the song "Another Round," from Bright Star, ended up in the show — I was at the Ahmanson, watching the cast perform it, and I just knew I had to do it. Others are old favorites, like "It Might As Well Be Spring," or characters I've dreamed of playing, like Mabel Normand in Mack and Mabel (that's how I wound up with "Wherever He Ain't," one of Mabel's big moments).
And then there are the songs I never imagined singing, but someone else suggested and I quickly realized that they were right. "I Am What I Am" is one I never saw myself performing, but my sister told me I had to give it a try, and now it's a cornerstone of my act — thanks, Natalie!
ABLA: How about the band? Did they accompany you in last year's show?
VG: Two out of three, yes! I met my Musical Director-slash-drummer, Sam Webster, through two contacts: my arranger and a studio musician I trust. They both recommended Sam, so I contacted him and we hit it off right away. He brought in both my bass player, Chelsea Stevens, and pianist, Adam Bravo. Adam is new for this show. He wasn't available in the fall, but I'm a huge fan already!
ABLA: Is this your first time at the Fringe? How are you enjoying the experience?
VG: This is my first Fringe as a participant. I had no idea what to expect going in, but I'm really thrilled to be part of it! I've met so many incredible people and learned so much about theater and performance. This is such a great and inclusive community.
ABLA: What makes Live a good fit for the Fringe? What can audiences expect?
VG: My show is a throwback. I've been describing it lately as an "old-school nightclub act," back in the day when lounge singers were off-duty Broadway performers. It's not something that many people my age do anymore, but it's the only music I've ever wanted to sing, and I think Fringe audiences are used to less-than-expected offerings.
Audiences can expect to laugh a lot — usually with me, but sometimes at me — and to hear show tunes they know and love (or maybe a few they don't know yet!). It's also just a fun show. I modeled it after Bernadette Peters and Jane Krakowski's shows, and what I love about them is that they're just enjoyable shows, filled with entertaining stories and great songs. Nothing too dramatic or depressing; it's a lighthearted but still touching show.
ABLA: Tell us a bit about your background.
VG: I grew up in Los Angeles, as did both of my parents, so all of my grandparents were very active in my childhood. My mom's family was all musical; my dad's family worked in TV comedy. Both sides were very accomplished, so I got to see what it really takes to be successful in music or entertainment. I grew up playing the violin, but later switched to singing, and haven't looked back since!
I always wanted to be an actress and singer, and got into writing in my teens. I started producing comedic film and TV projects for Amazon while still in college, and post-college, that became my full-time job. But when the opportunity to stage a solo cabaret came up, I jumped at the chance, and Victoria Gordon Live was born. It's been a great way to put everything I know — performance, production, and live events — into practice at once.
ABLA: Since the Fringe is a collaboration, what other shows intrigue you?
VG: So many! I have a folder filled with sixty-ish Fringe flyers and they all sound like great shows. I am especially excited for Bunny the Elf, because Christi Pedigo has brought so much sunshine to Fringe this year; Leaving Prince Charming, because Lara Repko's story is so personal and moving; and Batter Up! My Brain on Baseball, because the idea of a baseball trivia show is just so Fringe.
Victoria Gordon — Live at the Hollywood Fringe plays June 6 (preview) through June 27 at the Complex Hollywood's OMR Theatre, 6468 Santa Monica Blvd. Information and ticketing can be obtained on the Fringe site.