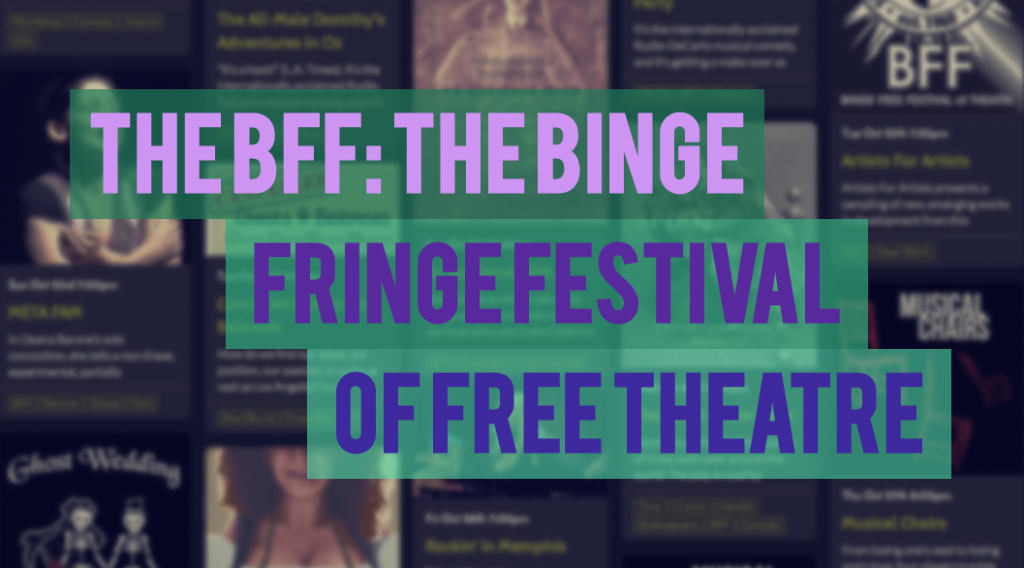 The BINGE Fringe Festival of Free Theatre is happening at the Santa Monica Playhouse from October 12 to 27, 2019.
Encore performances of the festival faves will be staged November 15, 2019.
The BFF aka The BINGE Fringe Festival of Free Theatre – the fourth annual Santa Monica Fringe Festival – features at least three dozen artists, companies and performances by Santa Monica and Los Angeles based artists.
Productions and workshops from the festival touch on a diverse range of subjects from political to personal, love to loss, sensuality to spiritual, hierarchy to hope. All bets are off, limits on boundaries and form wide open, with shows that range in style from classic comedy to poignant drama, from Shakespearian to one-woman-show, from slam poetry to stand-up comedy and improv, from parody to fairytale – something for everyone – and all events are free to the public.
The BFF also includes an overflowing toy-box of family-friendly events and productions, to bring all generations together on and off the stage. Inclusive theatre arts workshops for youth and adults are also on offer throughout the fest.  
The BFF aims to celebrate the range and depth of the human condition and the idea that theatre arts experiences are vital, transformative, and must be available for all.  
On that note, all tickets and admissions to every single BFF event are free to the public. 
See the Calendar of The BFF Events here.
Also, keep checking back – more shows will be added right up until the first day of the Festival (October 12).
Ticket sales go live September 10, 2019.
All tickets and admission to shows and events are FREE!  ​
Participation in all BFF events is FREE but reservations are required. 
To book tickets or reserve your place in a workshop call the Box Office at 310-394-9779 ext 1 or email here.
When emailing, remember include the name of the show you want to see, how many seats to hold, your full name and contact phone number.