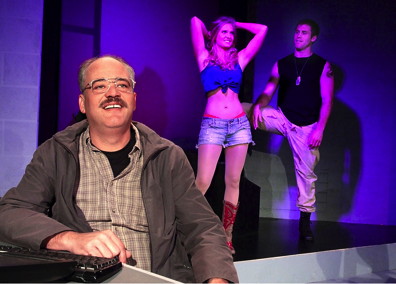 In TALHOTBLOND:, a working man falls for a hot woman he meets in an internet chatroom. His increasing obsession has a dramatic impact on his work and home lives.
Playwright Kathrine Bates has developed an oeuvre taking real life crimes as the starting point for her dramas. Her most notable work is The Manor, a hugely popular and long running production that takes audiences on a tour of one of Los Angeles most majestic and storied homes, Greystone Manor in the Trousdale Estates.
For TALHOTBLOND:, however, Bates takes a true-life story that feels a little past its use-by date…
The events that inspired Emmy Award winning journalist Barbara Schroeder to research and present the results of her investigation in a documentary of the same name—those that, in turn, inspired Bates' fiction—occurred almost a decade ago. But numerous similar 'ripped from the headlines' TV and movie story lines—even a proliferation of online scams—have since explored the same terrain, the most renowned being the documentary Catfish, that recently enjoyed acclaim at the Sundance Film Festival and even coined a new term.
So, for some audiences, this play holds few surprises. Then again, Bates' play The Manor dealt with long past historical events as well. It just that this story seems a bit 'done' already…  How new is the notion that on the internet not everybody is who they appear to be?! But it's not just that the story feels so familiar. A lot of the dialogue sounds too stagey and 'on the nose' — sometimes outright expository; I would have preferred some more subtlety and finesse in the exchanges. Pacing of the play drags from the midpoint, where Thomas' duplicity begins to fall apart a bit too early. This is where there should have been an increase in tension and a ratcheting up of the dramatic stakes, but instead we get a slow limp towards the finale.
While director Beverly Olevin stages the show extremely well, performances from the cast are mixed. Erin Elizabeth Patrick (as Jenny, aka TalHotBlond) beautifully embodies the fantasy girl, with her alluring Southern drawl and tantalizing dialogue. Her sexy outfit of cobalt-blue halter necked top, 'Daisy Duke' cutoff denim shorts and tooled leather boots adds to her magnetic appeal (all costumes nicely designed by Sarah Figoten Wilson). Mark Rimer (as central figure Thomas) negotiates his emotional roller coaster role with aplomb. Playing Thomas' confidently defiant daughter Gwen, Julia Arian gives an excellent and nuanced performance and her scenes are sharply observed by Bates.
Olevin makes good use of shadow play to present her virtual world, cutting back and forth from that realm to Thomas' daily grind. While the play is so much more than two people chatting online, Olevin amps up those scenes of cyber eroticism by staging them in an inventive and compelling fashion, extracting good performances from her "avatar" characters, Erin Elizabeth Patrick and Ben Gavin (as Tommy Marine Sniper).
Minor quibble: Music supervision from either the director, or sound and projection designer Marc Olevin, offers some odd choices. Songs such as the Rolling Stone's "Miss You" (1978) and the trip-hop track "Unfinished Symphony" by Massive Attack from 1991 are heard between scenes and while both songs are suitably atmospheric, their selection reveals the production team's personal preferences more so than aptly underscoring the play's 2005 setting. Additionally, the play's final reveal is not only predictable but also painfully clunky.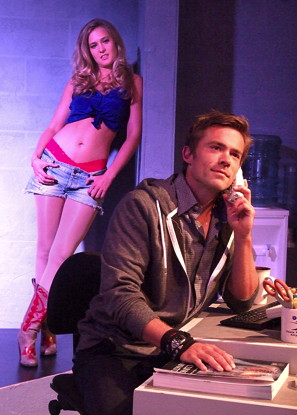 TALHOTBLOND:
Ruskin Group Theatre
3000 Airport Avenue,
Santa Monica, CA 90405.
Runs at 8pm on Fridays and Saturdays, and 2pm on Sundays through April 26, 2014.
Tickets are $25.00 ($2000 for students, seniors, and guild members)
Purchase in advance by calling (310) 397-3244. 
For more information please visit their official site.
Ample free parking is available at the theater.
RUSKIN GROUP THEATRE launched the WORLD PREMIERE of Rex Pickett's Sideways The Play, picked up by La Jolla Playhouse and now slated for Broadway, as well as last season's Paradise-A Bluegrass Musical Comedy. Ruskin's Healing Through The Arts program brings their actors into Mattel Children's Hospital UCLA to work with and entertain the children. The CAFÉ PLAYS, created by RGT are produced monthly and are the culmination of writers, actors, and directors who meet at 9am, where they are given a theme. They then write, produce, and perform a show by 7pm the same day. When celebrating their 8th anniversary, RGT supporters Ed Asner, Dylan McDermott, Chris Mulkey, Olivia d'Abo, and other industry celebrities joined to produce the Best of Café Plays (both shows sold out within hours).  Anthony Hopkins, Anthony Franciosa, David Mamet, Ed O'Neill are just some of the noted guests to have taught at the Ruskin School master classes.