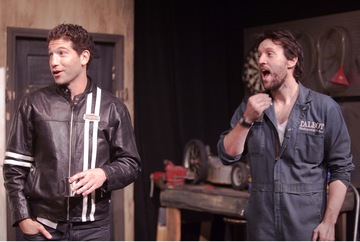 ***
Now playing at Rogue Machine Theatre on Pico is John Pollono's drama about three friends from Manchester, New Hampshire.
You can read my review of Small Engine Repair by clicking the link.
Small Engine Repair
Laced with casual expletives, John Pollono's one-act play packs a powerful punch. When a trio of longtime mates from Manchester, New Hampshire get together for some heavy drinking in Frank's car mechanic workshop — David Mauer's beautifully realized set — they reminisce about old times and chat about women, the internet and the virtues of social networking. The pals, confident Frank (John Pollono), ladies man Swaino (Jon Bernthal) and nervy guy Packie (Michael Redfield) indulge in trading insults and mocking digs as they chew the fat. Inappropriate comments, harsh words and hasty apologies are exchanged, but nobody's sure why Frank is busting out the good whiskey. A young college kid (Josh Helman) arrives to do a quiet drug deal with Frank and all of a sudden the scene erupts into terrifying violence.
Pollono's script is an exquisitely-modulated gem of a play, gripping the viewer with a storyline that is both shocking and sobering in its commentary on modern interactions in the technological age. Director Andrew Block extracts such realistic performances from his cast that we almost forget we are watching a play, as the appalling action unfolds mere inches away.
Small Engine Repair
5041 Pico Blvd.,
Los Angeles;
Fri.-Sat., 10:30 p.m.; Sun., 7 p.m.; Mon., 8 p.m.;
(323) 960-4424
Mondays, 8 p.m.; Fridays, Saturdays, 10:30 p.m.; Sundays, 7 p.m.; Sun., May 1, 7 p.m.; Mondays, Fridays-Sundays, 8 p.m.; Mondays, Fridays-Sundays, 8 p.m. Starts: March 28. Continues through June 12, 2011
Do not miss this play!
Review by Pauline Adamek