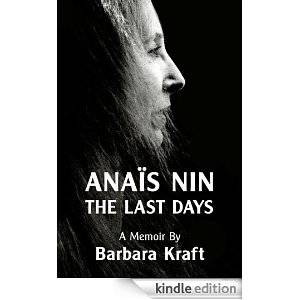 Barbara Kraft's sensitive memoir, Anaïs Nin: The Last Days, captures the humanity, mortality and essence of one of the twentieth century's most celebrated and yet mysterious literary figures, employing sometimes loving and sometimes raw prose.
Kraft intriguingly opens her chronicle with this explanatory paragraph:

"I have chosen to reveal the intimacies of Anaïs Nin's last days as I witnessed them so that the story of her death is not lost. Everything comes back in the mind's eye. Everything comes back in the crucible of the heart. She remains in my psyche all these years later as the most refined and rarified human being I have ever encountered."
Anaïs Nin, noted for her intimate diaries and scandalous, deliciously sensual erotica, was at the height of her fame when she took on Barbara Kraft as a writing student. The two women immediately became intimate friends at the moment when both would encounter tragedy: Nin's terminal cancer and Kraft's impending difficult divorce. These circumstances created an environment of interdependency: Nin, despite her failing health, supported Kraft's writing and life decisions, and Kraft became a devoted and tireless part of Nin's support system during her last two years of celebrated life.
As Noel Riley Fitch, author of Anaïs: The Erotic Life of Anaïs Nin, writes of Kraft's book: "An intimate and beautiful portrayal of the final years and painful death of Anaïs Nin… This compelling memoir is honest, critical, and full of perceptive insights into the relationships between Nin and her men."
"Of all the young women I've worked with, you are the one most like me," Nin told Kraft as she lay dying.
Kraft describes her initial meeting with Nin in February 1974, writing that Nin was poetry embodied and seemed to 'glide' over the rose-colored carpet of her Silver Lake home 'like a swan skimming the surface of still waters.' And in December of that year she begins what was to become a chronicle of Nin's terrible two-year battle with cancer.
Because of the overwhelming reality of cancer, Anaïs Nin was stripped down to her bare essence, which Kraft expertly captures. She poignantly records not only Nin's stubborn grip on life, but also the heroic efforts that Rupert Pole, Nin's West Coast lover, made to shield her from the inevitable pain, agony and humiliation associated with the disease. It is a monumental tribute not only to those fighting for their lives, but also the forgotten ones—the caregivers.
The very personal events in this book will resonate with anyone who has gone through terminal disease or knows someone who has had to endure that challenge. So, like Nin herself, the raw reality of Anaïs Nin: The Last Days becomes symbolic, mythical, and universally inspirational.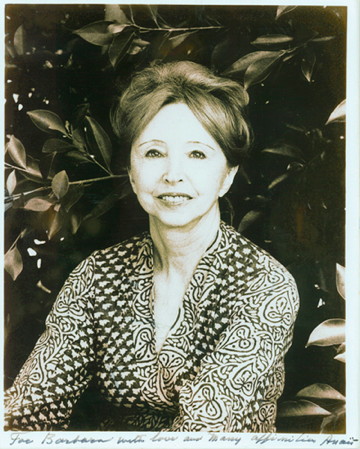 Anaïs Nin: The Last Days is currently available for purchase on Amazon,
and also on Smashwords.
Anaïs Nin: The Last Days is also available directly from iPad (through the iTunes store), Nook, the Sony Reader, as well as other Kindle-friendly devises such as the iPhone and is available through nearly every credible device worldwide.
*** Meet the author at a reading ***
Beyond Baroque Literary Arts Center
681 Venice Blvd
Venice, CA 90291-4805
(310) 822-3006
Saturday, June 23, 2012  at  7 p.m.
About the Author:
A former reporter for Time, Washington Post, People, USA Today, and Architectural Digest, Barbara Kraft is author of The Restless Spirit: Journal of a Gemini, with a preface by Anaïs Nin.  Kraft's work has appeared in Hudson Review, Michigan Quarterly, and Columbia Magazine, and among the many radio programs she has hosted and produced is Transforming OC, a two-part documentary on the 2006 opening of the Renee and Henry Segerstrom Concert Hall in Costa Mesa. Kraft lives and writes in Los Angeles, California.
Visit her website here; Contact: Barbara@bkraftpr.com
ANAIS NIN: THE LAST DAYS
A MEMOIR
BY BARBARA KRAFT
Published as an e-Book by Sky Blue Press.
Sky Blue Press, established in 1996 by Paul Herron, is "dedicated to the preservation of literature as art," and strives to achieve this goal with each publication.
 Previous Works:
Barbara Kraft has written and published in a variety of genres including drama, fiction, non-fiction (essays, book reviews), autobiography, poetry, and opera libretti.  
MAUD GONNE
An hour-long radio play written, directed and produced for KPFK on the Irish revolutionary and extravagant muse of William Butler Yeats; Maud Gonne received the prestigious Ohio State Award as "an outstanding example of original radio drama…" The production featured Julie Adams as the extraordinary Maud.
THE INNOCENTS: WITCH TRIAL AT SALEM
Kraft wrote the libretto for William Kraft's The Innocents: Witch Trial at Salem, a chamber work for chorus and orchestra. The Los Angeles Times reviewer wrote:  "The libretto by Barbara Kraft gives vivid, incantatory fragments to vocal quartets of Magistrates, Clergy, two groups of Innocents and a chorus representing the Populace.  Sections of raucous, conflicting (but tightly written) cries portrayed a community beset by hysteria….the union of words and music bore complete conviction."
THE DREAM TUNNEL: A MUSICAL JOURNEY THROUGH AMERICA
Kraft wrote and performed the narration for The Dream Tunnel: A Musical Journey Through America set to music by composer William Kraft. The work was commissioned and performed by the Los Angeles Philharmonic for the 1976 Bicentennial; the first of the three performances was broadcast live over KPFK Pacifica Radio.
FRAU LOU: "DARE EVERYTHING, NEED NOTHING"
A dramatic documentary written, directed and produced for KPFK Pacifica Radio. The legendary Salome, featuring Julie Adams in the title role, was the object of Nietzsche's thwarted adoration, muse to the poet Rainer Maria Rilke and, late in life, a student of Sigmund Freud's in Vienna.
WAGNER'S WOMEN
A radio documentary written, directed and produced for KPFK Pacific Radio.  An unscholarly conjecture about the women in Richard Wagner's life, both real and 'operatic,' and how they became intertwined in the composer's life and work.
SELECTED WORKS PUBLISHED IN LITERARY JOURNALS:
"Recollections of Anais Nin by her Contemporaries," Ohio University Press, 1996
"Anais Nin A Biography" by Deidre Bair reviewed for The Los Angeles Times Book Review, 1995
"An Edited Life: The Death of Anais Nin," Anais Nin: A Book of Mirrors, Sky Blue Press, Michigan, 1996
"The Last Days of Henry Miller," Henry Miller: A Book of Tributes, 1931-1994, Standish Books, 1994
"The Last Days of Henry Miller," The Hudson Review, New York, Fall 1993; also broadcast over KCRW-FM
"Art is What Artists Do," on John Baldessari, for Articles, published by CalArts, 1984-85 issue
"The Universe of Sidney Sheinberg," Columbia, published by Columbia University Magazine, 1984
"A Conversation with Henry Miller," Michigan Quarterly Review, the University of Michigan, 1981; also broadcast over KCRW-FM
"Interview: Eugene Ionesco," Canadian Theatre Review, York University, Downsview, Ontario, 1981 
~~~