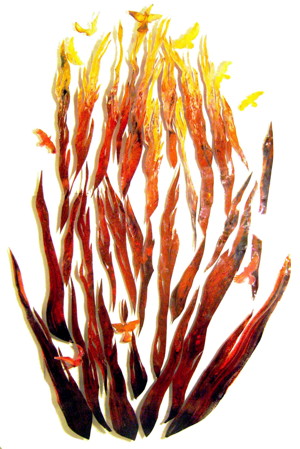 Award-winning painter, writer and professor at the USC School of Cinematic Arts, Pam Douglas, launches the second in a trilogy of art shows inspired by earth's primal energies—Water, Fire and Wind. The Life of Fire opens July 17, 2012 (and runs through August 11, 2012) at Bergamot Station's TAG Gallery in Santa Monica and features Douglas' original paintings that evoke the transformative power of fire.
Special TAG Gallery events related to the exhibition include July 21st Artists' Reception, July 25th Artists Panel Discussion & August 4th Charity Event benefiting Safe Passages.
"Fire is second in a 3-part series—The Life of Water was Part One and Wind will be Part Three," states Pam Douglas, whose previous exhibits include The Los Angeles County Museum of Art (LACMA) sales and rental gallery, juried shows at TarFest, i-5 Gallery at the Brewery Art Complex, and The California Open. Her pieces are in private collections throughout the country. "So the subject of fire is not a climax to the series but a middle point in the journey from the most pliable, sometimes gentle energy of water, to aggressive and powerful fire that defies boundaries and forms, to the ultimate transcendence of air, which will be the subject of my 2013 show."
About the Works:
Douglas will exhibit 10 paintings for The Life of Fire. Five of the pieces use inks and acrylic on raw linen mounted loosely to enhance the fabric's natural texture. The other half are multi-layered transparent plastics. According to Douglas, painting fire led to transforming how she works and introducing surprising new media such as transparent plastic and plexiglass. She says, "The change to sharp edges and the way plastic warps when wet or glued was outside of my comfort zone. But I had challenged myself with interpreting the essence of fire, and there was no way the spirit of fire was going to settle down. The subject pushed me to explore and defy boundaries about the kinds of paintings I do. It's been difficult, and through making me try new materials that react differently with paint, fire 'burned through' my pre-conceptions and forged something new."
Key pieces include:
–       Redemption (36 x 58″, mixed media, plastics in plexi box): emanating from a dark heart of blues and black, flames reach upwards and fan out through reds culminating in tips of yellow and white. Since this piece is constructed with cut strips of thin, transparent plastic, the forms ripple in a way that bounces light. Uplift–the transformation from darkness to light–was my visceral urge while creating the piece, and that's what I mean by the title "Redemption," bringing enlightenment or possibilities from what was past.
–       Flying Fire (28 x 61″, acrylic on raw linen, framed) is an exuberant expression of richly textured hues, where the red spectrum is underscored by touches of brilliant blue. Set against the black ground, it says that energy cannot be suppressed. In terms of the series, this painting is a "rhyme" with "Flying Water" from last year's show, and is the same size and medium as the earlier piece. Expect "Flying Wind" in 2013.
–       Rite of Passage (52 x 23″, mixed media, plastics mounted in plexi) is the only piece in the show that refers to an object on fire–all the others are abstracted interpretations of the idea of fire. The white circular area at the bottom, made of ink and acrylic on paper, suggests the bones of a building arranged in a rhythmic pattern of black lines. Rising from it are red plastic flame-like forms, reaching up in an abstracted pattern. My intention was not to depict a structure on fire — it was more a matter of experimenting with shapes and mixed mediums in an interesting graphic. The title "Rite of Passage" refers to the series theme of transformation: as one thing dies another is born.
–       Heartbeat (25 x 27″, acrylic on raw linen, framed) is the smallest piece in the show and the most simple in form –a half circle. The energy of this painting resides in textures. From beneath the cracks in the red sun-like form, other colors can be glimpsed: blues, greens, and yellows. The intention is abstract–it's not really a sunset or sunrise or a view of some smoldering planet–but an expression of passion, or the fiery energy of a heart, thus "Heartbeat."
–       The Eternal Beginning (diptych; acrylic on raw linen, framed; 28 x 52″) is about transformation; just as the sun and moon go through cycles, so does life on Earth. We are perpetually renewing or understanding that endings are not final, or having the courage to begin again after an eclipse in your life. This is the idea that the sun will shine again and that a new beginning is always possible.
–       Spirit of Fire (50 x 35″, mixed media, plastics mounted in plexi) is the only entirely transparent piece in the show. Layers of transparent plastic ripple on a transparent surface creating an ephemeral work that expresses the flight of spirit as it burns off incarnation. The small pale birds at the top also suggest the flight of spirit released from place and time.
Shared Thread exhibition will be held at California African American Museum at Exposition Park (June 28 – Dec. 30, 2012)
A commentary from the ancient Chinese book I Ching weaves between Douglas' seven paintings on a 20′ wall in the main entry. Douglas is joined by five other artists in the Shared Thread exhibit, that will be on display for 6 months. The installation includes paintings from her 2011 show The Life of Water:
Flying Water, where an exuberant arc of energy flies out of the black background towards the viewer—more an interpretation of the spirit of water than a representation (mixed media on raw linen, mounted, 24" X 56").
The delicate and lyrical A Memory of Rain, where lines of raindrops form a pattern that suggests interruptions and a musical rhythm, and the idea of rain as a memory also evokes nostalgia in a time of loss (mixed media on raw linen, mounted, 32" X 42").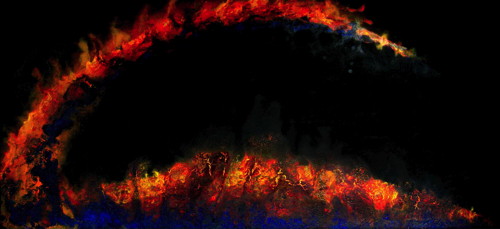 Three Special Events for "The Life of Fire"
Saturday, July 21,

2012

from 5 PM to 9 PM: Pam Douglas will be present at the Artist's Opening Reception at TAG Gallery at Bergamot Station in Santa Monica, which will also include solo shows by two other local artists. 
This event is free and open to the public.
Wednesday, July 25, 2012

 at 7 PM: Artists Q&A Panel, a discussion among the 3 artists moderated by Ezrha Jean Black, art critic and writer at Artillery Magazine.
This event is free and open to the public.
August 4th from 4 PM to 7 PM: wine tasting event benefiting Safe Passages where Douglas' Water Blessing painting from last year's The Life of Water show will be auctioned off to benefit the charity. Safe Passages' mission is to advocate for children, youth, and families with a special emphasis on vulnerable populations; it envisions a community where all young people have the opportunity to realize their full potential.
Open to the public; cost $35.00. 
Inspiring People Through Imagery.
"The art stands on its own as images with intrinsic power," she says. "But by presenting images that inspire wonder or appreciation or aesthetic joy, I hope to offer subtle encouragement towards raising consciousness.
Life of Fire art exhibition
Runs from July 17 – August 11, 2012 
TAG Gallery
Bergamot Station,
2525 Michigan Avenue D3
Santa Monica
Gallery hours:
Tuesday through Saturday 11AM – 5PM;
Sunday afternoons.
For more information, call TAG Gallery at 310-829-9556 or visit them online.
For more information about Pam Douglas and her work, visit her website here.